Twitter wants Virat Kohli to be sacked as the RCB captain
Kohli's captaincy has come under severe scanner this season.
Updated - Apr 3, 2019 5:45 pm
21.7K Views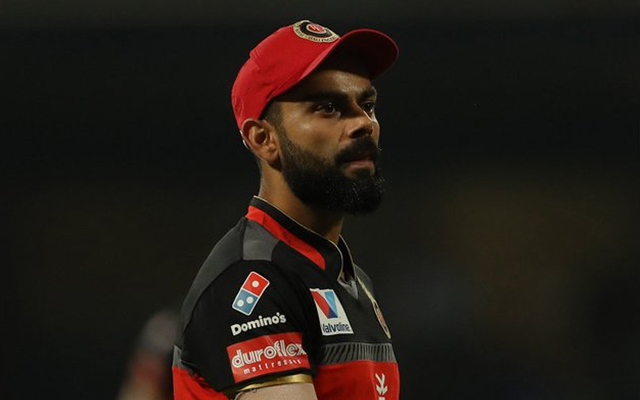 Follow us on Google News
The Royal Challengers Bangalore (RCB) has been the centre of attraction in the ongoing Indian Premier League (IPL). Sadly, not for their good performances. The team has gotten off to one of their worst starts ever in the history of the IPL. They have lost all the four matches so far, the latest being, a seven-wicket defeat against the Rajasthan Royals and Virat Kohli is facing severe flak from the fans.
Kohli has led them in 100 matches now and the team has managed to win only 45 matches. Moreover, despite promising so much, the RCB has never won the title and qualified for the playoffs and final in 2016. Apart from the performances of the players apart from AB de Villiers and Kohli, the latter's captaincy has also come under the scanner this time.
While it was the case of reading the pitch wrongly in the season opener against the Chennai Super Kings (CSK), the team selection has also been horrible so far.
Kohli himself failing
To add to his woes, Virat Kohli himself has failed miserably this time around. In four matches, he has mustered only 78 runs at a poor strike-rate of 98.73 and is struggling to decide his batting position. Also, he has benched the players who should've been in the playing XI for almost every match. Washington Sundar who is one of the best bowlers when it comes to T20 format is yet to play a game and even Tim Southee is warming the bench.
He has already hinted about making significant changes for their next game against the Kolkata Knight Riders (KKR) but to infuse any confidence in his players, Virat Kohli has to be amongst the runs first. The fans have also lost their patience this season after watching RCB lose and they are demanding for his sacking now. It remains to be seen how RCB fares in their next game and better performance is imperative now for them.
Here's how Twitter reacted:
@imVkohli is manhoos for @RCBTweets ! Sack him , sell him. Invest that 17 crore in better player! #truercbian #rcb #rcbvsrr #ipl #ipl2019 #ESCN #ViratKohli #worstcaptain #sackhim #sellhim

— Rash! (@27Bajajrashi) April 2, 2019
It's now 4 out of 4 @imVkohli Time to drop your ego and make way for a new Captain. Sometimes it's good to let go. You r a good batsman, the world cup is near, chill and focus on that. @RCBTweets can't even sack you as Captain as you are now an icon and it may hurt their brand

— Indronil Ghosh (@neelghosh75) April 2, 2019
Hey @RCBTweets do us Bangalore people a favour and sack @imVkohli as captain and Ashish Nehra as the bowling coach. That is when you guys will win the Cup.Until then keep dreaming, #RRvsRCB

— Bargav Rangan (@animeshwar) April 2, 2019
Plz do not captain the rcb team , you may be a good player but you are a terrible captain .

— tapas (@tapas_clothing) April 3, 2019
Plz do not captain the rcb team , you may be a good player but you are a terrible captain .

— tapas (@tapas_clothing) April 3, 2019
Problem for me is that as a captain he is not able to get best of his resources, be it a batsman or allrounder. Dhoni also at some point of time had average resources but he managed to get best out of them.

— Audy N. (@audurn) April 3, 2019
@imVkohli virat pls step down from RCB captaincy and let AB take over. Not because u r a bad captain but that change can bring the champion out from you. RCB will win more games with your knocks.

— Rajesh Nair (@Kunjurajesh) April 3, 2019
How long before someone starts questioning @imVkohli's captaincy? Lost 3 overseas tours (won 1, sri lanka not included), has been a terrible captain for RCB for three years, lost an ODI series to Australia at home (without warner and smith), rests players at the wrong time.

— Rishikesh Kher (@iamrk07) April 3, 2019
Don't think ABD will be a good captain either.. He's just playing, don't think willing to take on leadership

— Mithun Chandrasekar (@mithun13591) April 3, 2019
He should just play in RCB let someone else captain for rest of the tournament !!

— AkshayD (@whatdidya) April 3, 2019
Sack him! He needs a well deserved break…Get the Karnataka players back or ask RCB to disassociate with withdraw from the Bangalore connect!

— Rohit Hangal (@RohitHangal) April 3, 2019
@imVkohli is a great batsman but a worst captain @BCCI should sack him from captaincy before 2019 worldcup if india wants to win WC2019.

— GulchainBali🇮🇳 🌀 (@gulchainbali) April 2, 2019
Forget IPL we need @msdhoni Dhoni as captain for World Cup 2019 #WorldCup2019 #IndiaElects #BCCI #MSDhoni #ViratKohli #IPL pic.twitter.com/SP0kH60fid

— Mohammed Shahab Uddin (@Shahabuddin98) April 3, 2019
Dear @imVkohli I can understand what will be going on your mind now. Being rcb fan even we are feeling same . Only one suggestion play as virat kohli not as rcb captain . All the best for ever rcb ❤️.

— Shiva Doddayya (@Shivaku86351163) April 3, 2019
Pic 1 – Virat Kohli as Indian captain
Pic 2 – Virat Kohli as RCB captain pic.twitter.com/WPhK78afvF

— Hema Řekha & Jaya ✂ (@awk_doc) April 3, 2019
[interaction id="5ca3690a4d45dd968bb1c1b3″]
Follow us on Telegram