Twitterati commend Krunal Pandya's noble gesture for Jacob Martin
Martin is battling for life after having met with an accident on December 27.
Updated - Jan 23, 2019 1:27 pm
257 Views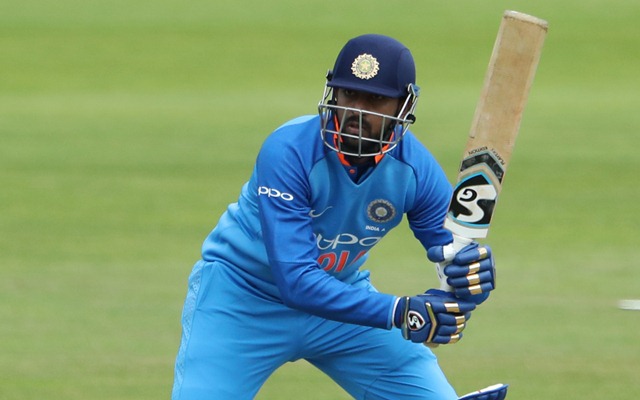 While his brother Hardik was thrashed by one and all for his misogynistic comments, Krunal Pandya only found praise from the Twitterati for his recent deeds. The southpaw came forward to provide financial aid to the former Indian cricketer Jacob Martin. The 46-year-old recently got severely injured in a road accident and is on life support at the moment.
After injuring his lungs and liver, Martin's treatment hit a roadblock as his family fell short of funds. His wife Khyati sought help from the BCCI and the cricketing community and got a tremendous response for the same. Various cricketers, current and former, offered aid to support the treatment the first among them were the Pathan brothers Irfan and Yusuf.
A blank cheque – The contribution for Krunal Pandya
The all-rounder offered to give a blank cheque for the treatment and asked the family to fill up whatever amount is required but with a condition. Reportedly, he asked them not to fill the money column with anything under INR 1 Lakh.
This gesture from Krunal was a heart-warming one. Especially given that Martin has been battling hard with his life since 27 December 2018, the extra funds will possibly help in better treatment. As per the reports, the former batsmen slipped off a speed breaker while riding his two-wheeler when he went out to get his family some ice cream. Martin played a total of 10 ODIs for India between 1999 and 2001. He scored 158 runs at an average of nearly 23.
Twitterati was pleased with the contribution from Krunal Pandya. This heartfelt gesture saw the fans singing praise for him. They commended Krunal as a great person with a beautiful heart.
Here is how Twitterati reacted:
Ram and shyam Jodi, One is Full of ethical Values & another we mum already Social Media Washing Him.Krunal Pandya Gave BLANK Cheque to Jacob Martin's Family for his Treatment. Coins other Side is So different ! A Help in need is Help Indeed. kK Rao pic.twitter.com/Fv4ZkAlMqx

— k kumar rao (@kkrao3107K) January 22, 2019
Cricketer Jacob Martin was hospitalised in December after an accident. Cricketer Krunal Pandya is among those who have contributed to covering Martin's hospital fees, writing a blank cheque to go toward his recovery. pic.twitter.com/zIVQ8Y3au3

— Chirag Vasani 15 (@ChiragVasani15) January 23, 2019
Great gesture shown by Indian Cricket Fraternity who came forward to help ex-India player Jacob Martin, who was battling for his life in Vadodara hospital.
Salute to them.@BCCI#BCA@KrunalPandya#SanjayPatel@ImZaheer@YusufPathan@IrfanPathan@MunafPatel#Dada#RaviShastri

— Vinay Rai (@warrior_vinni) January 22, 2019
Former Team India Cricketer Jacob Martin met an Accident & is on Life Support System.
Many Cricketers including Zaheer Khan, Irfan-Yusuf Pathan, Sourav Ganguly came forward to help him.
Krunal Pandya gave Blank Cheque for his Treatment!
Get Well Soon Jacob Martin! 👍
.
.
.
#… pic.twitter.com/U7rOEVygmj

— Cricket Universe (@CricUniverse) January 22, 2019
Well done Krunal Pandya, for the man who gave Baroda the coveted Ranji Trophy title back in 2001,deserves the respect and help in his hard times.Get well soon Jacob Martin Sir! #KrunalPandya

— Udit (@udit_buch) January 22, 2019
Good job krunal pandya
For Jacob Martin #be_krunal_not_hardik

— Avinashjagaka (@Avinashjagaka1) January 22, 2019
A Great sportsman with a big heart❣
Krunal Pandya handed a blank cheque to the family of hospitalized Ex-India cricketer Jacob Martin.😇❤

He said , "Sir, please fill up whatever is needed, but nothing less than rs1 lakh".❤🙏
Get well soon sir 😞#KrunalPandya #krunal #pandya pic.twitter.com/SDUrlMTPOc

— krunalpandya_fanclub (@Krunalpandya_fc) January 22, 2019
All-rounder Krunal Pandya has handed a blank cheque to the family of hospitalised ex-India cricketer Jacob Martin. @krunalpandya24 #socialmela #krunalpandya pic.twitter.com/A4WKt4HsM3

— Social Mela (@social_mela) January 22, 2019
An Incredible gesture from this Great Man @krunalpandya24 to come out and help Jacob Martin. A huge respect to this Man. A blank Cheque – Really Unimagineable!!! 🙏 @imVkohli @msdhoni #BlankChequeKrunal #KrunalPandya pic.twitter.com/hQbeJ1wXZG

— Shivaraj (@ShivarajBabu) January 22, 2019
Krunal Pandya.
The pure soul for a reason … His gesture towards treatment of former Indian Cricketer Jacob Martin is so wonderful 🤘. pic.twitter.com/Rddrusi7M2

— LALU (@manthenalalu) January 22, 2019
Krunal Pandya (elder brother of Hardik) has left a blank cheque for Jacob Martin saying 'Sir, please fill up whatever is needed, but nothing less than Rs 1 lakh'. 🙏 Hatts off @krunalpandya24 pic.twitter.com/k5caLw9IVz

— Nileshkumar Kulkarni (@NileshkumarMK) January 22, 2019