Twitterati slams Virat Kohli for demoting himself to No.4 in order to accommodate KL Rahul and Shikhar Dhawan
Kohli came in when Rahul got out for 47 runs and stroked some good shots.
Updated - Jan 14, 2020 5:03 pm
2.4K Views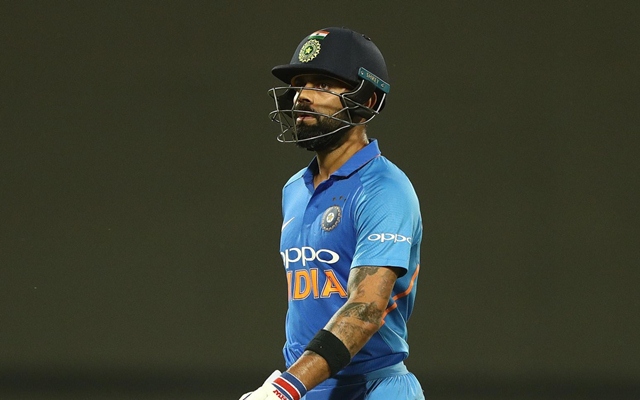 Indian team faced off against Australia in the first one-day international match at the Wankhede Stadium in Mumbai. This is the first of the three-match series between the two sides. The last time these two teams met in India in ODIs in 2018-19, Australia triumphed by winning the last three matches of the series, to complete a limited-overs sweep of Men in Blue, as they had won the T20I series beforehand.
This time around, many speculations were in the air with regards to the playing combination of the Indian team. KL Rahul had done immensely well in absence of Shikhar Dhawan in the opening position during the Bangladesh series and in the limited-overs series against the West Indies. But Dhawan returned to the team against Sri Lanka, scoring a fifty in one of the T20Is.
Virat Kohli came in to bat after the dismissal of KL Rahul
When the toss happened and the playing XIs were announced, it was revealed that all three openers- Rohit Sharma, Shikhar Dhawan and KL Rahul had been accommodated in the playing XI, with skipper Virat Kohli demoting himself to the No.4 batting position for the first ODI encounter. While Rohit Sharma got out early, Dhawan and Rahul added 121 runs for the second wicket with Dhawan making 74 runs.
Virat Kohli came in when Rahul got out for 47 runs and stroked some good shots. He looked like a man possessed, making a classy looking 16 runs in 14 balls. However, in trying to up the ante, he handed a catch back to Adam Zampa. This dismissal continued his poor run at the No.4 spot, where, in 38 innings, he has made 1751 runs before this match, with eight centuries and an average of 56.48.
Compare this to Kohli at No.3, where he has 9509 runs in 180 innings at an average of 63.39 with 36 centuries at a strike rate of 94.45. His recent dismissal came after a line of scores like 16, 7, 12, 11, 3*, 4 and 9 at the batting position, something that doesn't suit the Indian skipper. Also, the logic of not giving your best batsman the most number of balls to face because the team has to accommodate an extra top-order player didn't sit well with the Indian fans on Twitter as they lashed out at the idea.
Here are few of such tweets from angry fans:
This is why you don't fix what ain't broken! Should have kept Kohli at No. 3 as he is the fulcrum. This has unsettled the batting! #INDvAUS

— Nishad Pai Vaidya (@NishadPaiVaidya) January 14, 2020
Kohli's Last 7 Odi innings while batting at No.4

9, 4, 3*, 11, 12, 7, 16#INDvAUS
Ricky Ponting And Dhoni were successful ODI captains because they didn't do un necessary experiments.

— RandomGuy (@mrHJ27) January 14, 2020
India should fix no.4 position. Not fiddle with no.3 position unnecessarily & compound the problem. Kohli has been immensely successful at 3 & must retain that position. Don't muff up no.3 position in order to fix no.4. That's not how things are done. Don't fix that ain't broken.

— Navneet Mundhra (@navneet_mundhra) January 14, 2020
Virat kohli should play at no 3 no matter if all three openers play.@StarSportsIndia

— Suman Kumar Bhartiya (@bhartiya_suman) January 14, 2020
Kohli at 4 doesn't work. He's a no 3 batsman for a reason.

— Prantik (@Frankie__Ball) January 14, 2020
#AskStar @StarSportsIndia I think Kohli should continue batting at No 3 because Shreyas Iyer can come up with good performance on No.4

— Dank Cricket Memes (@DankCricMemes) January 14, 2020
Virat Kohli please don't sacrifice your No.3 position for anyone else
You are best in the World and you owe that position
Nobody can play at No.3 better than you!
It's a very crucial batting order position
So please play at Number 3 only 🤙@imVkohli #INDvsAUS

— Vivek Das (@TheVivekDas) January 14, 2020
What a waste of no 3 spot by @imVkohli sending Rahul at his own position…india would have been in a much better position with kohli set there with 50-60 balls faced…!!!
World's no 1 batsman has played only 5-6 balls and nearly 30 overs of the innings are gone…!!! #INDvsAUS

— Tushar Saxena (@IamTushOfficial) January 14, 2020
King Kohli is Struggling at No. 4. The Mystery continues#INDvsAUS #Kohli #Virat

— Cricket News (@cricketnews_com) January 14, 2020
Please join me in the protest against team management for sending Virat Kohli at no 4.

— Sunil- the cricketer (@1sInto2s) January 14, 2020
KL Rahul can play at any position except No.3!
Decent innings but he can't play like Virat Kohli at that position
No.4 is good for him 👍#INDvsAUS

— Vivek Das (@TheVivekDas) January 14, 2020
It will be if Kohli returns to No. 3

Otherwise it will become One sided…@gauravkapur bhaiyaa will agree

— Rishabh Verma 🇮🇳 (@rvrishabh0306) January 14, 2020