Twitterati troll Hasan Ali who hurt himself amidst the 'bomb explosion' celebration
Hasan Ali ended the innings with a three-wicket haul.
Updated - Jul 16, 2018 5:19 pm
712 Views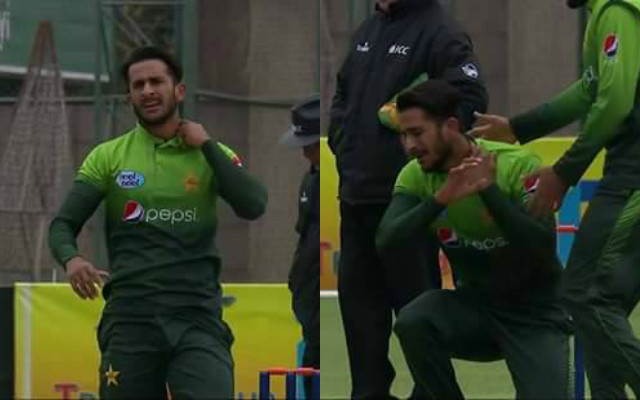 In less than two years Hasan Ali has become the lead bowler in the Pakistan attack. He made his debut in 2016 and is a wicket-taker. Hasan can make the new ball talk and with his pace manages to generate late movement as well. He has picked up 66 wickets in his ODI career to date. The right-arm pacer has a unique way of celebrating a wicket he calls it the 'bomb explosion' celebration. During the 2nd ODI against Zimbabwe, he sent the stumps rolling and went for the celebration but also hurt himself.
On the first ball of the 38th over he was up against Ryan Murray, the ball moved into the stumps after pitching and the batsman who was trying to defend it got nowhere near. There was enough space between his bat and the body for the ball to crashed into his woodwork and the off-stump was uprooted and cartwheeling. Hasan got down and did his celebration shouting 'boom'.
However, immediately after he had his hands on the left side of his neck. It seemed as if he had pulled something while celebrating. He got down as his team-mates surrounded the pacer looking concerned. Skipper Sarfraz Ahmed who was making his way from behind the wickets saw the funny side of it and had to try really hard to hold his laughter.
It was nothing serious and Hasan was up and bowling immediately after though he from time to time put his hand near the strain. The 24-year-old was only fired up with that and was involved in two dismissals after that. He first sent back Masakanda for 12 running him out on his own bowling.
The next was Zimbabwean keeper-batsman Peter Moor who hit one straight up in the air after scoring a fifty. The last wicket to fall in the innings that of Blessing Muzarabani (run out) was also on Hasan's last over.
Twitterati had a good time laughing about the incident and here are some reactions:
Hasan Ali ka bomb jam hogaya 😂 #ZIMvPAK

— Ahmed Ali 🇵🇰 (@ahmedalitweets) July 16, 2018
Wtf Hasan Ali 😹

Does His Trademark Celebration After Taking A Wicket But Pulls His Neck Muscule In The Process 😂

Bhai Jara Sambhal Ke 😂#ZIMvPAK #PakvZim #ENGvIND

— Saurabh Shinde (@imsgshinde) July 16, 2018
Is it football or cricket?
🔴 celebration injury!!🔴#PAKvsratZIM #HasanAli#generator@PSLMemesWalay

— BatBall🏏 (@BatBallSix) July 16, 2018
Hasan Ali castles Ryan Murray and does some damage to his neck as he breaks into his trademark jig celebration style, OUT for 16 #ZIMvPAK

— #IPL2017 (@IndianIPLScore) July 16, 2018
Hassan Ali dhamaka celebration with one hand on his sprained collarbone 🤣

— Ahmed (@azkhawaja1) July 16, 2018
Hassan Ali pulled his neck muscle during his celebration today. 🤣 pic.twitter.com/IVSzwUI3C2

— Hassan Cheema (@Gotoxytop1) July 16, 2018
Hassan Ali Jani Wtf😂

Imao!😂😂😂 pic.twitter.com/xkuzEJkh2T

— Arslan Ahmad (@IamArsal10) July 16, 2018
Bechara @RealHa55an …. boom, boom, phus #HassanAli #ZIMvPAK pic.twitter.com/LDFQnZUYOc

— Imran Kazmi (@ImranKazmi80) July 16, 2018
Hahahah jhatka agaaya hassan Ali ko

— Fahim Farooq (@fahim_parekh) July 16, 2018
Crocked neck/shoulder but celebration to banti hai 😏 don't need more injuries Hassan Ali #ZimvPak

— Farrukh Aziz (@iamfarrukh) July 16, 2018
Lol @ Hassan Ali. Why go on with celebrations when you know you're already hurt. Lmao.

— Ahson 🇵🇰 (@TheAsliAhsan) July 16, 2018
Hassan Ali injured got neck spasm after his wicket celebration…this is hilarious😂😂😂#PAKvZIM

— Tabrez (@its_tabrez_) July 16, 2018
Celebration karte hua kon injured hota hai😂😂? #ZIMvPAK

— Abhishek Sarkar 🇮🇳 (@Iam_Abhi45) July 16, 2018
Gerden akarr gai he Hasan Ali ki

— Mariner🇵🇰 (@malicckk) July 16, 2018