Twitterati unhappy after umpiring howler in DC vs KXIP match
KL Rahul, the KXIP skipper, didn't make fuss about the umpring error.
Updated - Sep 21, 2020 10:21 am
920 Views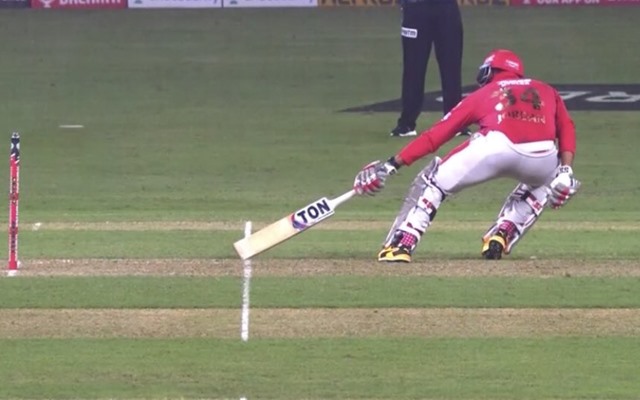 Follow us on Telegram
It goes without saying that the second game of the 2020 Indian Premier League (IPL) kept the fans at the edge of their seats. After loads of twists and turns the match went into the Super Over. In the end, it was Delhi Capitals (DC), who came out trumps and registered their maiden victory in the tournament. Mayank Agarwal played a lone hand for KXIP, scoring 89 off 60 balls.
His knock was laced with seven fours and four sixes. When KXIP needed one run off the last three balls, Agarwal got out to Marcus Stoinis. Shimron Hetmyer took a sharp catch in the deep to send Agarwal packing. In the last ball, Chris Jordan also perished as the game went into the one-over eliminator. At one stage, DC were cruising, but Agarwal kept his team in the match.
Short-run controversy going against KXIP
Apart from some jaw-dropping action on the cricket field, the match was also marred with a mini-controversy. In the 18th over of KXIP's run-chase, the on-field umpires gave Chris Jordan a 'short-run'. However, in a picture, going viral on social media, Jordan's bat can be seen, grounded. The decision turned out to be a decisive one in the context of the encounter.
Had the umpires not made the error, KXIP could well have won the match. In the last three overs, KXIP needed 42 runs with Agarwal in the middle. Mayank laid into Mohit Sharma after which he showed his class even against South Africa's Kagiso Rabada. In the last over, Agarwal deposited Stoinis into the stands down the ground and also collected a four.
But his efforts weren't enough for Punjab to evade the defeat. As far as the umpiring howler is concerned, KL Rahul, the KXIP skipper, took the decision in his stride, accepting that mistakes are part and parcel of the sport. Rahul's gesture was revealed by journalist Boria Majumdar.
However, the netizens on the social media, especially the KXIP fans, aren't happy by any stretch of the imagination. After the error in judgement from the umpire, Twitterati lashed out. Former Indian cricketer Irfan Pathan also tweeted about the same.
Here's how the netizens reacted: –
Indian umpires r worst in the world cricket.
That is why we see few at International level and elite panels.

— Prashant Kumar (@prashantpj7) September 20, 2020
What abt that one short run call???? #IPL2020

— Irfan Pathan (@IrfanPathan) September 20, 2020
Umpires have been too much bad starting from Yesterday ! Should they also be given some practise matches bhai !??

— Abhivj (@Nanthantk) September 20, 2020
This was an clear umpiring error at the end of 18th over. Chris Jordan reached his ground, but umpire gave a run short. This 1 run might've cost KXIP their game. pic.twitter.com/Sh67JyKJIx

— SIDDHESH JADHAV®🇮🇳 (@SID4510) September 20, 2020
Galat! galat!! galat!!! IMO the umpire robbed KingsXI of a 1 run victory..maybe because the gent was standing in a wrong position at square leg?? pic.twitter.com/Z6k1kzMNoX

— PRAKASH WAKANKAR (@pakwakankar) September 21, 2020
In my opinion, cricket has grown so much in the past time and it cannot certainly afford such errors by the umpires as every call is crucial at such a big stage. Both the teams gave their best, but these false calls by the umpires over the time surely affect the team's moral.

— Kunal Tripathi (@ktripathiii) September 21, 2020
Indian umpires r worst in the world cricket.
That is why we see few at International level and elite panels.

— Prashant Kumar (@prashantpj7) September 20, 2020
Can't there be a player review on those decision?? This too resulted in a team losing a game.. also the first ball Mayank played was not called a wide and given leg byes??

— Rajan Nagendra (@rajan_nagendra) September 21, 2020
Dumbness by umpire should have change it after just 1 ball as replay shows

As it happened with boundary , run added after bowl bowled with replay

— Nitish Srivastava (@NitishSr29) September 20, 2020
That's where #KXIP lost the game! High on weed #Umpires are continuing their streak of worst decisions, costing matches to deserving teams!

— Dinesh Dhiman (@real_dhiman) September 20, 2020
Follow us on Google News