Twitterati unhappy with BCCI granting Rishabh Pant central contract
Pant has been given a Grade A contract.
Updated - Jan 16, 2020 3:22 pm
1.9K Views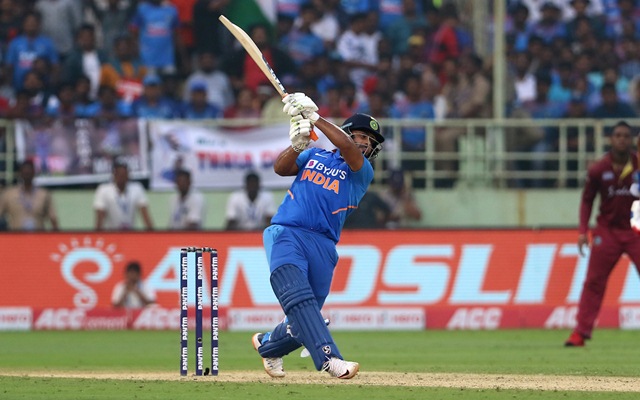 Rishabh Pant has been deemed as one of the brightest prospects for Indian cricket. The left-hander first donned the national colours in 2017 against England at the M Chinnaswamy Stadium in Bengaluru. Then he didn't get a lot of chances until 2018 when he came in as Dinesh Karthik's replacement on the tour of England. In the last Test, he churned out his maiden century.
Later in 2018, he notched his second Test ton at the iconic Sydney Cricket Ground. In the meantime, he found it tough to find his feet in the ODI and T20I format. He was after slammed for being reckless and throwing his wicket away in the hour of need. The southpaw has shown sparks of brilliance plenty of times, but consistency has continued to elude him, much to his dismay.
Pant having tough time
Pant wasn't initially picked for the 2019 World Cup in England and Wales. The rub of the green went in his favour last time around after Shikhar Dhawan got injured. Pant came into the squad and got his first chance when Vijay Shankar developed an injury before the match against England. During the mega event, Pant couldn't make a big impact and flattered to deceive a wee bit.
Recently, he made amends to some extent during the ODI series against the West Indies. He slammed his maiden fifty in the format and followed it up with another blistering knock. However, in the series decider, he faltered. Pant last played against Australia in the first ODI at the Wankhede Stadium in Mumbai. He had a laboured stay in the middle before perishing to Pat Cummins.
To add insult to injury, he developed concussion and won't be a part of the second ODI at the SCA Stadium in Rajkot. He will now undergo rehab at the NCA in Bengaluru. In the meantime, the Board of Control for Cricket in India (BCCI) has granted him a central contract and has placed him in Grade A. The news hasn't gone down well with the netizens, who are bashing the BCCI for naming Pant
Here is how Twitterati lashing out at the BCCI for Pant's Grade A contract: –
It looks like @RishabhPant17 have some leaked videos of @BCCI ..
Pant in Grade A above the Hardik Pandya and Chahal. #BCCI #newContract #RishabhPant

— Shailesh (@iShaileshOza) January 16, 2020
Don't know why the hell rishabh pant will under A grade in @BCCI annual contract? Just want to ask to @BCCI what he has done so that he is under A grade and MS is not under it?

— Kapil Jain (@iam_kapiljain) January 16, 2020
Why Rishabh Pant is in A grade? Iske paas bhi BCCI walo ka koi video hai pakka https://t.co/mdkxfUuhN5

— Rishabh Srivastava (@AskRishabh) January 16, 2020
This shows the hypocrisy of BCCI the likes of Umesh Yadav & Yuzevendra Chahal are in grade B and someone like Rishabh Pant who has done nothing till now directly get awarded with A contract, just wow-wow.

— Draco (@Draco33007687) January 16, 2020
rishabh pant A me..out hone ka itna

— ashu (@ashutos24206008) January 16, 2020
Rishabh Pant in A Grade 😂😂 if BCCI was allowed, ICC's player of the year would have gone to Pant.. 👏👏 https://t.co/OSvn1kF2V6

— Writer Thakur (@IndianWriterV) January 16, 2020
Rishabh Pant has been given a Grade A contract. We are doomed. 😂😂😂

— vedant (@MagicallZizou) January 16, 2020
Rishabh Pant in Grade A ?? !!! https://t.co/ZGbyp1YEeW

— Being Me… (@BeingAtin) January 16, 2020
Rishabh Pant in grade A contract.. What a joke.. He needs to b sent to play domestic again till his keeping and batting improves, n he feels some responsibility for playing in Indian Jerseys

— DIPEN MAROO (@dipen_maroo) January 16, 2020
Rishabh pant in grade A..
And kuldeep chahal in grade B…
What a joke

— Dhiraj (@nimjedhiraj1) January 16, 2020
Mr.Rishabh Pant aka Mr. Blind Slogger/Circus guy is in grade A.. This means other WK batsmen will never get to play for India ever again until someone like Cummins or Jofra Archer takes him out with a bouncer 😠😡😜 #SanjuSamson #INDvAUS

— Sakthi (@Sakthi79499123) January 16, 2020
Why Rishabh Pant is in Grade A list and Shreyas Iyer in Grade C?

— Vishal Tiwari (@tiwary_27) January 16, 2020
Rishabh Pant Grade A player….but how?

— Munesh Yadav (@95MuneshYadav) January 16, 2020
No need for Rishabh Pant on Grade A turn him to B Grade and make Mayank Agarwal to be in Grade A for his test performances

— Akhilesh Mohan (@AkhileshMohan13) January 16, 2020