Twitterati want Lynn, Cummins and Morgan to go big in the IPL 2020 Auction
Lynn and Cummins have base prices of INR 2 crore.
Updated - Dec 3, 2019 2:05 pm
6.2K Views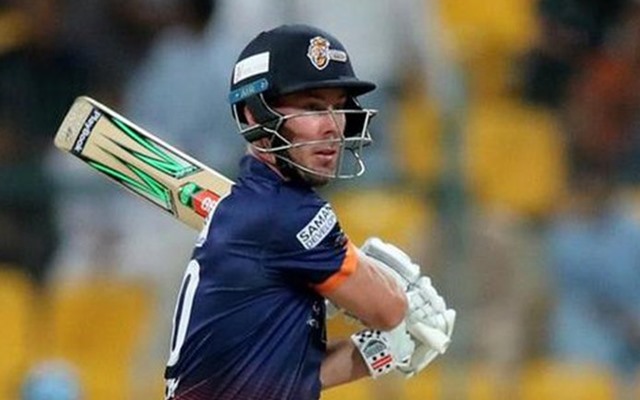 The most-awaited auction of the 2020 Indian Premier League (IPL) is set to take centre-stage on December 19 in Kolkata. The teams released their list of retained and released players last month and it's now time for the cricketers to go under the hammer. As many as 971 names have been registered for the auction and the eight franchises have only 73 slots to fill.
Among the listed players, seven of them- Pat Cummins, Josh Hazlewood, Chris Lynn, Mitchell Marsh, Glenn Maxwell, Dale Steyn and Angelo Mathews- have the highest base price of INR 2 crore. Featuring in the INR 1.5 crore bracket are Robin Uthappa, Shaun Marsh, Kane Richardson, Eoin Morgan, Jason Roy, Chris Woakes, David Willey, Chris Morris and Kyle Abbott.
Lynn and Morgan in good form in the T10 League
Before the auction, the fans want Lynn, Cummins and Morgan to fetch the highest bids. Lynn was previously a part of the Kolkata Knight Riders (KKR), and it raised a lot of eyebrows after his team released him. Mumbai Indians (MI) picked up Pat Cummins in 2018, but he was ruled out due to an injury and even this year, the speedster ended up missing the cash-rich league.
As far as Morgan is concerned, he last played in the IPL way back in 2017 when he represented the Sunrisers Hyderabad (SRH). Lynn and Morgan recently played for the Maratha Arabians and Delhi Bulls in the Abu Dhabi T10 League and did reasonably well. Cummins, on the other hand, tormented the Pakistan batting unit, in the two-match Test series, which Australia won 2-0.
Meanwhile, the netizens are busy ridiculing fast bowler Kane Richardson and all-rounder Angelo Mathews for setting themselves base prices of INR 2 crore and INR 1.5 crore respectively. Richardson played in the T20I series against Sri Lanka and Pakistan where he failed miserably.
Even as the other bowlers tasted success, he couldn't make inroads. It won't spring a surprise if he ends up getting unsold. Coming to Mathews, the Sri Lanka veteran last played a T20I way back in August 2018. He has strained to keep his slot even in the national ODI and T20I side.
Here is how Twitterati expressed opinions on the base prices for IPL 2020 Auction:-
@RCBTweets Bring Back Dale Steyn

— Karthik (@karthik_jammy) December 3, 2019
Angelo Mathews should pay 2Cr to play In #IPL2020 https://t.co/12wXSdW029

— Khushi🌻 (@modernlegacyy) December 2, 2019
Kane Richardson https://t.co/fYbv1vd4SM pic.twitter.com/sTSW6OWSHb

— Abhishek Mishra (@Ohyessabhi) December 2, 2019
Angelo Mathews?…2 cr?
Kis baat ke?? #IPL2020 https://t.co/nIyktAJ1pf

— Inderjeetjha (@Unknown_Bihari) December 2, 2019
Now on December 19, Dale Steyn will be sold at a price higher than the base price. Why RCB released him. @CoachHesson @DaleSteyn62 @RCBTweets

— Mayurrathod (@MayuRathod12) December 3, 2019
Chris Lynn & Eoin Morgan will get highest bids. #IPL2020

— सस्ता_चैंडलर (@kol_sharad) December 2, 2019
Please Back Chris Lynn,He is Hard Hitting Batsman

— javed (@javedn786) December 2, 2019
I think dale steyn deserves 2cr base price for his experience and his current form in Mzansi super league every he is biggest wicket taker(15 wkts) with average strike rate of 15.13 #IPLAuction #IPLAuction2020 #IPL #IPL2020 #iplt20

— Sunrisers Fanclub (@SunrisersFancl) December 3, 2019
@RCBTweets unnecessarily released @DaleSteyn62 they were thinking about #strac they released #dalesteyn now #strac made himself unavailable again if u trying to #bringback #steyngun then he will be costly in #acution #RCB #bringbacksteyngun

— dj jeshwanth (@djjeshwanth1) December 3, 2019
1.5 section has better T20 players than 2 cr section. Roy/Morgan to #MI hopefully https://t.co/lj6ef4JMTZ

— Himanshu shinde (@HimanJadduboy_) December 2, 2019
@lionsdenkxip To pick Eoin Morgan(C)And pick Chris Lynn Gayle is retired this IPL so upcoming season Lynn is open bat with kL Rahul so pick 2 player must in the action 🔥🔥🔥🔥

— Immanuel Sam (@ImmanuelSam5) December 3, 2019
Sir we want chris Lynn & Jason raoy for RCB

— Krishna-_-Reddy (@Krishna96515509) December 3, 2019
High chances are Robin Uthappa will go unsold with this base price. https://t.co/ny4T7b3rpH

— Frazer Fernandes (@OyeFrazer) December 3, 2019
Knowing Dhoni, I think CSK would look for Mitch Marsh. What say @CricCrazyJohns https://t.co/gwCmhOgtoE

— CrickeͲϵإa (@kst7781) December 3, 2019
Bring back Maxi @lionsdenkxip 🙏
Along with Pat and Finch https://t.co/vwwQ2GOgKQ

— Vαιbhαv (@beardpencoffee) December 3, 2019