Twitteratti reacts as Australia gives away their momentum to England
England have their noses against the Australia.
Updated - Jun 10, 2017 7:25 pm
1.6K Views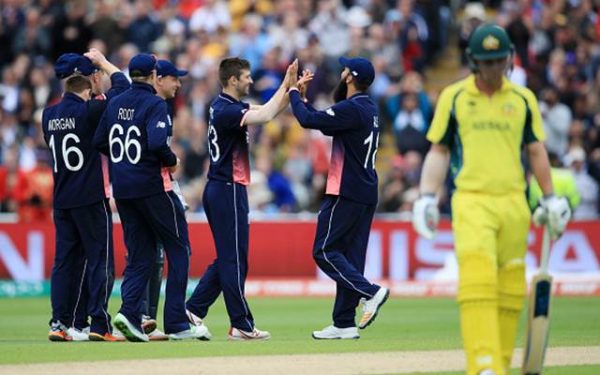 The most anticipated match of the tournament was finally played at Edgbaston between Australia and England in front of a sell-out crowd. There was a lot stake for the Australians who haven't been able to play a full match in the tournament. With Bangladesh men winning the last match against the Kiwis, had Australia lost the match today, the Asian side would qualify for the semi-finals ahead of the Aussies.
As it turned out, Australians literally gave their wickets away by soft dismissals and wickets off full-tosses. Eoin Morgan won the toss and elected to field first, backing their ability to chase down totals. Australia was cruising at one point at 136-1, with the half centuries from Aaron Finch and captain Steve Smith. Aaron Finch played rapid innings of 68 off just 64 balls, screaming eight boundaries in his innings at a strike rate of 106.
Except for Maxwell and Warner, who were dismissed with help of brilliance from the fielding side, every batsman gave their wickets away, giving catching practice to the English fielders or getting out on full-tosses. Jason Roy made his presence felt in the tournament as he picked a brilliant catch with his balancing acts on the boundary rope, which saw the end of Maxwell who was looking to tee off at the business end of the innings.
Head was the only calm amidst the Australian mayhem. It is only due to his 71 off just 64 balls, that Australia managed a sub-par total of 277 by losing as many as 9 wickets. The batsmen also had no answer to the bowling of Mark Wood and Adil Rashid who had a field day on the ground by picking up four wickets each, breaking the back of the Australian lineup.
That said, let us look at how Twitterati reacted to the clash of the arch-rivals.
Hatrick of Village dismissals …… !!!! #LoveiT

— Michael Vaughan (@MichaelVaughan) June 10, 2017
Australia is falling apart at the hands of England and @BCBtigers must be loving this right now.. #OSNCT17 #AUSvENG

— Daren Sammy (@darensammy88) June 10, 2017
Awesome from @JasonRoy20 @ECB_cricket have pulled it back well!! #ENGvAUS #CT17

— Isa Guha (@isaguha) June 10, 2017
Maxwell c Roy b Wood – thinks it must be Xmas every day

— Derek Pringle (@derekpringle) June 10, 2017
#CT17 what a catch by Roy to dismiss maxwell at such a crucial time of the Aus innings #ENGvAUS

— zaheer khan (@ImZaheer) June 10, 2017
#differentgravy catch #JRoy ?? #CT17

— Alex Tudor (@alextudorcoach) June 10, 2017
That really is the most ridicu of ridicucatches. Roy could now join the circus as a tightrope walker. #CT17 #ENGvAUS

— Melinda Farrell (@melindafarrell) June 10, 2017
Roy-Wood. Wizzard! #ENGvAUS #CT17

— mark butcher (@markbutcher72) June 10, 2017
Brilliant catch …

— David 'Bumble' Lloyd (@BumbleCricket) June 10, 2017
After Rashid Khan early, another leg-spinner ,another Rashid doing really well.
Serious collapse from Aus this,15/5 in last 4 overs#ENGvAUS

— Mohammad Kaif (@MohammadKaif) June 10, 2017
Great catch by Jason Roy to dismiss Maxwell. Small things give you the confidence to go out there and score runs.#ENGvAUS

— Mohammad Kaif (@MohammadKaif) June 10, 2017
Australia loosing this one. They need to take all 10 wickets. The depth england has makes it a below par score any given day.#ENGvAUS

— Abhishek Patel (@iam__pats) June 10, 2017
Aussie batsmen collapsing almost as fast as Theresa May's premiership. #ENGvAUS

— Piers Morgan (@piersmorgan) June 10, 2017
Great effort from England to restrict Australia to under 300. #ENGvAUS #CT17

— TopTrevor (@TopTrevor) June 10, 2017
Australian batting right now !!#ENGvAUS pic.twitter.com/e9zAA1X6ap

— Boring… (@graphicalcomic) June 10, 2017
Exactly ? pic.twitter.com/gIWnOvGDF8

— Monish (@Monishism) June 10, 2017
Repeat of CT 2013? Eng v Ind final? or will aussie defend? hmmmm… #ENGvAUS #ChampionsTrophy2017

— Dhanushan (@IamDhanushan) June 10, 2017
Bangladeshi cricket team & their fans right now #ENGvAUS pic.twitter.com/RwfSU7mDRZ

— nitish sharma (@nitishsharma812) June 10, 2017
England blowing away Australian tail. # Aussies on the ropes. Love it. ??? #ENGvAUS 5 Wickets in last 15 deliveries

— Katarina Petrosky (@kattykatkins) June 10, 2017
Mark Wood last six wickets in ODIs :
Hashim Amla
Kane Williamson
David Warner
Steven Smith
Adam Zampa#BigFishCatcher #ENGvAUS #CT17

— Mitul Bora (@Mi2L008) June 10, 2017
Probably the biggest game England will play in this tournament. One to knock the Aussies out. Doesn't get better for Brits #ENGvAUS #CT2017

— Syed Faisal (@Saeedfaesal) June 10, 2017
Easy as ABC.
Australian
Batting
Collapse#ENGvAUS
Australia collapsing in a must-win match.
239-5
245-6
245-7
253-8
254-9 pic.twitter.com/sAhma1VRAJ

— ٹیپو سُلطان (@Waqas_amjad) June 10, 2017
Time for Starc & Hazlewood to shine now. Few early wickets & we are in. #ENGvAUS #CT17

— Eric (@EricYid) June 10, 2017
England seems to have more bowlers than any other team, all rounders advantage #ENGvAUS

— Monish (@Monishism) June 10, 2017
When Maxwell doesn't play a crazy shot every ball.#CT17 #ENGvAUS pic.twitter.com/SHhWUT4CtU

— Mid Off Cricket (@midoffcricket) June 10, 2017
Australia has finally batted for 50 overs……in the Champions Trophy 2017. #ENGvAUS #CT17

— Sampath Bandarupalli (@SampathStats) June 10, 2017
Slim chances for #AUS in today's match and #BAN in semis as side effect
#ENGvAUS?

— Just a Pakistani (@JafferSiddiqui) June 10, 2017
278 to win & 277 to get Bangladesh through the semis…
Come on England..
You can do this..??#ENGvAUS#CT17

— Md Zakariya Haque L. (@mzhl_08) June 10, 2017
#ENGvAUS this pitch is pretty flat. Perfect for batting. Require bowling genius from Australia to win from here.

— pulkit goel (@Goel2020Pulkit) June 10, 2017
Bengalis would be praying more than yesterday for England to win. #ENGvAUS

— Taneer Khan (@TaneerK) June 10, 2017