Two people killed in explosion in Kabul cricket stadium, confirm police
The incident took place during a domesti league match between Pamir Zalmi and the Band-e-Amir Dragons at the Kabul International stadium.
Updated - Jul 30, 2022 7:43 pm
2.4K Views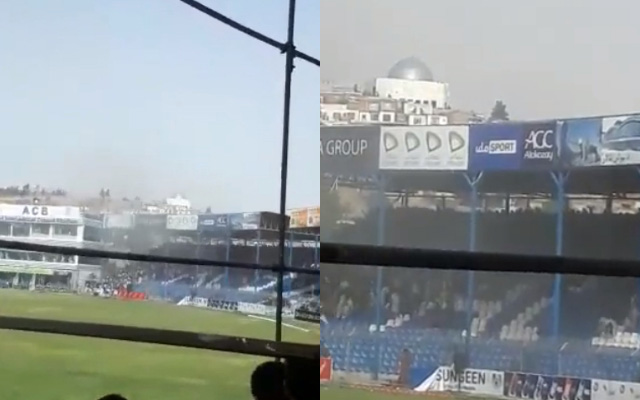 Follow us on Google News
Afghanistan's capital city Kabul was rocked after a grenade exploded in the Kabul International Stadium on the 29th of July, Friday, during a league match of the Shpageeza Cricket League between Pamir Zalmi and the Band-e-Amir Dragons. Kabul police spokesman Khalid Zadran has revealed that there have been two casualties and several injuries due to the explosion.
Cricket has gained immense popularity in the country, and the Afghan cricketers have done tremendously well on the international stage, even with limited resources at their disposal. Several Afghanistani players are among the top-ranked players in the ICC rankings and ply their trade in various renowned domestic leagues.
The incident occurred on Friday, a weekly holiday in the country, during a match of the eight-team domestic league, which has been running for 10 days and attracted a considerable crowd at the stadium in the capital city. Kabul police spokesman Khalid Zadran said that the security forces are looking for the culprits behind the attack and revealed the casualties due to the explosion among the spectators in the stands.
"The blast happened due to a grenade, two have been killed and some of our countrymen injured. The match stopped for a while. After clean-up of the area, the match restarted," Zadran told Reuters according to JPost.
Khalid Zadran urged the people to not campaign for evildoers who do not wish the happiness of his countrymen
Initially, contrasting reports were coming out of the capital, with officials, including ACB Chief Executive Nassib Khan reporting four injuries and no deaths as a result of the explosion. Emergency Hospital, located in central Kabul, said on Twitter on Friday that there have been 13 casualties, 12 of whom were admitted to the hospital.
Zadran urged people to refer only to security forces' information when seeking the number of casualties and told them to refrain from spreading false pieces of information in a statement released on Saturday.
"We hope that our countrymen, foreign guests, diplomats, and international organizations, do not directly campaign for those evil people who do not want the happiness of Afghans," he said in a statement to Reuters.
Although Islamic State militant groups have continued their attacks across the country, including Kabul, no one has claimed responsibility for Friday's attack in the capital city.
Follow us on Telegram