Umme Shishir backs hubby Shakib Al Hasan to 'comeback stronger than ever in no time'
Legends don't become legends overnight.
Updated - Oct 29, 2019 9:16 pm
84.3K Views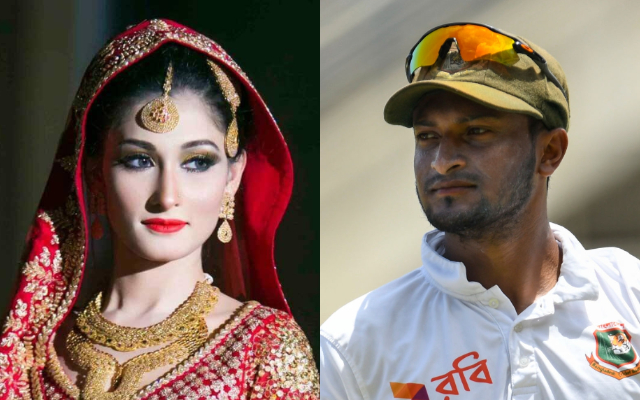 Shakib Al Hasan isn't going through the best of times by any stretch of the imagination. The Jessore-born has been involved in a number of controversies and has grabbed the headlines. Lately, he has been in the thick of things after the Bangladesh players conducted the strike, asking the country's cricket board to accept their 11-point demand for the betterment of Bangladesh cricket.
Lately, the world came down on the enigmatic cricketer as the International Cricket Council (ICC) has meted out a two-year suspension to the all-rounder. One year of the ban has already been suspended and the 32-year-old will be able to resume his cricket activities from October 29, 2020 if he satisfies the conditions in respect of the suspended part of the sanction.
Shakib has accepted three charges of breaching the ICC Anti-Corruption Code. After the punishment, the cricketer was absolutely distraught and accepted that he didn't do his duty diligently. He wishes for cricket to be corruption free and he is looking forward to working with the ICC ACU team to support their education programme and ensure young players don't make the same mistake.
Shishir shields husband Shakib
In the meantime, Umme Ahmed Shishir, Shakib's wife, has stood like a rock beside her beloved. Shishir and Shakib are married since December 12, 2012 and has a daughter Alaina. Shishir has always supported her better-half to the best of her efforts and even this time around, she stood tall. She is pretty sure that Shakib will come back stronger than ever in no time.
She took to her official Facebook account and wrote, "Legends don't become legends overnight they have to go through storms many ups and downs, tough times will come but they embrace it with strong mind, and we know how strong Shakib al hasan is!
This is a beginning of a new start he will comeback stronger than ever in no time. He has been away from cricket due to injuries and we saw how strongly he came back in the World Cup. This is just a matter of time, We are overwhelmed by all the love and support you have shown us. That's the unity we need as a nation!
Here is Umme Shishir's post
[interaction id="5db83cbb92354882c41750fb"]