Various brands pay tribute to MS Dhoni in their own creative way
This tribute by various brands shows the level of respect and the amount of love the world had for their own 'Thala'.
Updated - Aug 21, 2020 12:11 pm
494 Views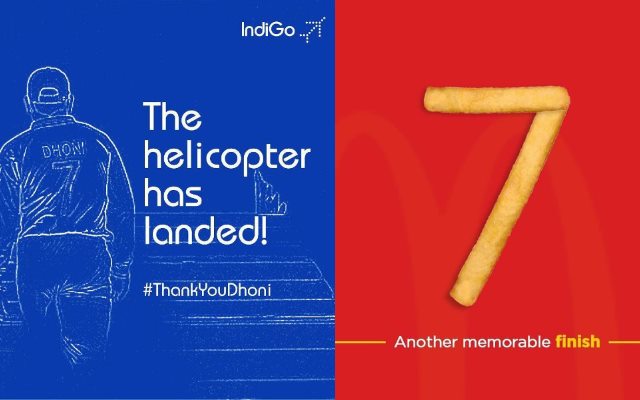 Everyone in this cricket crazy nation is saddened by the retirement of Mahendra Singh Dhoni. Like Virat Kohli said, "you will always be my captain", Dhoni was actually the leader this generation looked up to. He was the guy who never even captained his junior or state team, became the captain for the country of 13 billion within three years of his debut. He had the leadership quality that made every person of the nation followed him blindly.
The former wicketkeeper just left his favorite sports silently but he can never retire from the memories of his fans. Recently, Prime Minister of India, Mahendra Singh Dhoni wrote a letter to the former Captain congratulating him for a legendary career. Politicians, actors, and former cricketers all were have shared how emotional the moment is for the whole nation.
The top brands of India or even foreign brands followed the growing trend. Indians are in dismay of Dhoni's departure and famous brands paid tribute to the greatest Indian captain. They pulled out 'a tribute to Dhoni' as a new brand promotion technique out of their hats and everyone in awe of their creativity.
1. McDonald's: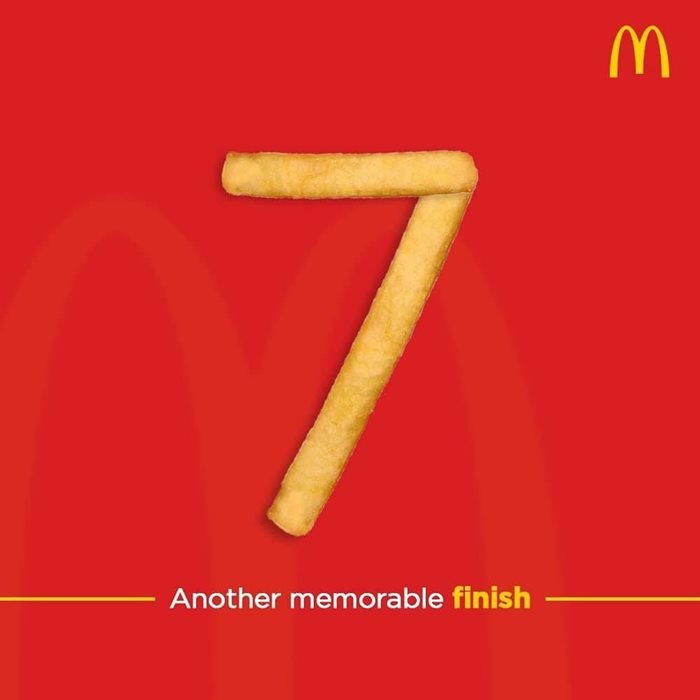 The American food giant used its iconic french fries to form '7'. One of the most iconic jersey numbers of Indian cricket as Dhoni wore it forever. Dhoni's birthday also comes on 07.07, which means 7th July. Also with his retirement, there are talks about retiring the number 7 jersey as well
2. Dunzo: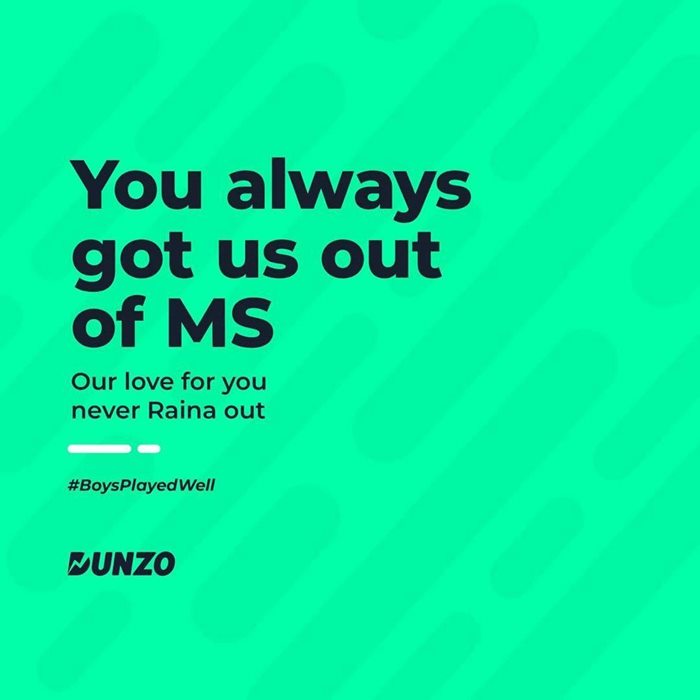 The home delivery company paid a tribute to Dhoni in their own way. They added a message "You always got us out MS, Our love for you never Raina out". Interestingly India's left-handed batsman Suresh Raina also chose to retire with Dhoni on the same day. Both Raina and Dhoni play for CSK in IPL.
3. Indigo Airlines: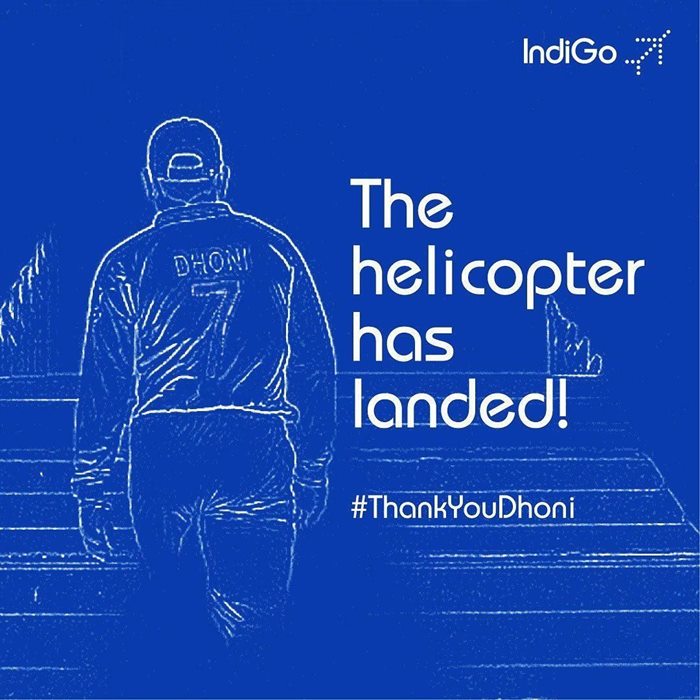 The Indigo Airlines used the former captain's most popular 'Helicopter shot' to the great effect. The airlines wrote "The Helicopter has landed" with "#ThankYouDhoni". The flamboyant finisher from Ranchi always played this shot to put the unplayable yorkers out of the park. With Dhoni leaving International cricket, we are sure that the Helicopter has finally landed.
4. KFC:
The famous fried chicken brand wrote "The Great Finisher" in the advertisement picture they shared. MSD is often known as the greatest finisher the game has seen and a lot of his innings were quite significant for India to win matches. KFC also had a picture of a KFC bucket which is empty like just been finished. This signifies that the greatest finisher has just finished his finest innings.
5. Hajmola: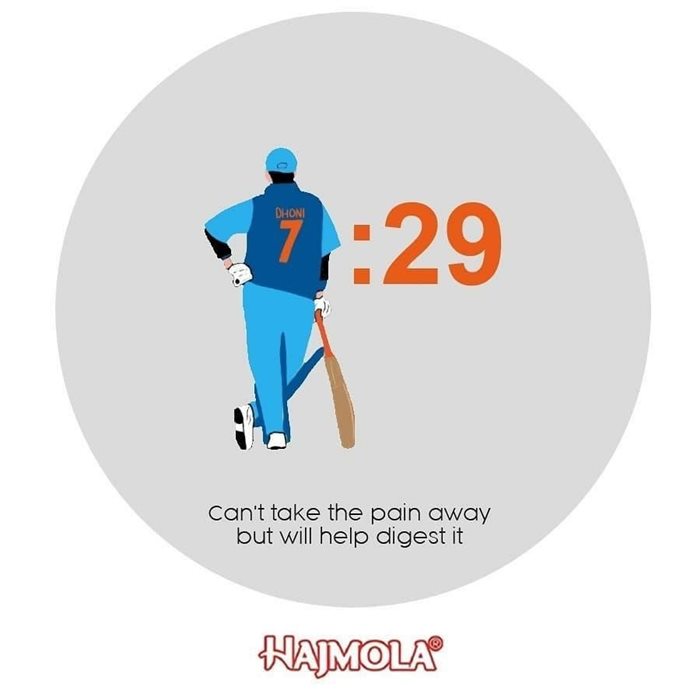 Hajmola is an Indian brand that produces spicy digestive tablets. It showed the sorrow that Indians have in them of Dhoni's retirement. Dhoni wrote in his retirement post on Instagram, "from 1929 hrs consider me as retired". Hajmola depicted the same time with a message in their own way "Can't take the pain away, but will help digest it".
6. Faasos: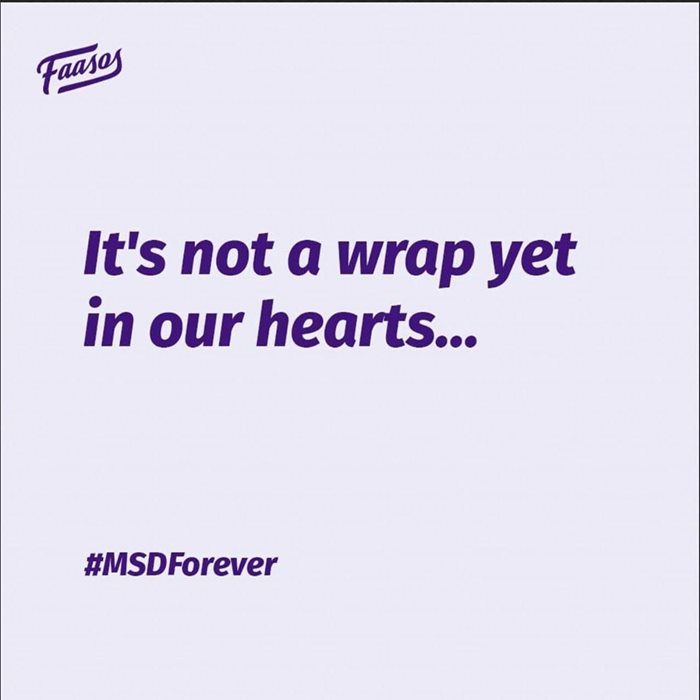 Faasos is a popular quick-service restaurant joint that serves wraps. They depicted Dhoni's retirement as a wrap-up for his International career but he will always be not out in our hearts. " It's not a wrap yet in our hearts," they wrote.
7. The Souled Store: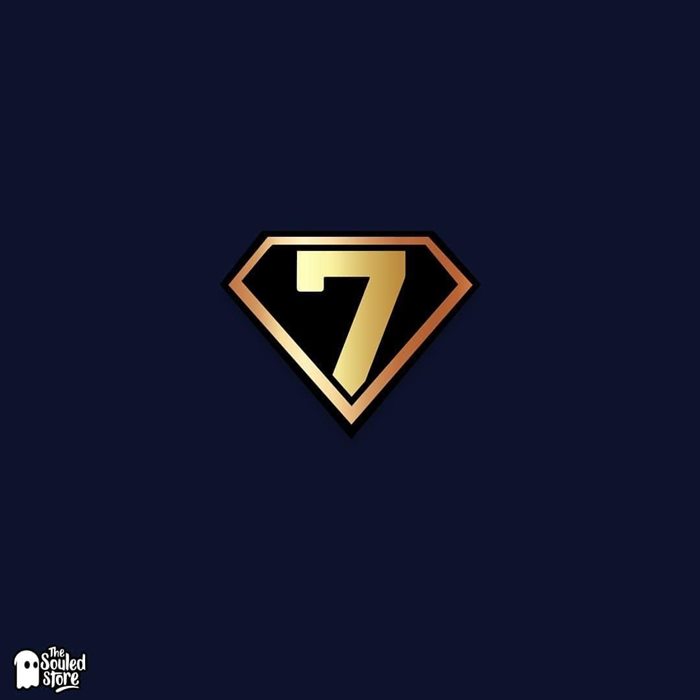 Online clothing and accessories brand The Souled Store showed Dhoni as Super Man. Dhoni's jersey number 7 was kept in the Super Man's logo. Notably, the former stumper was the only captain to win all three ICC events. His sharp tactics and powerful batting actually seemed like superpowers.
8. Wakefit: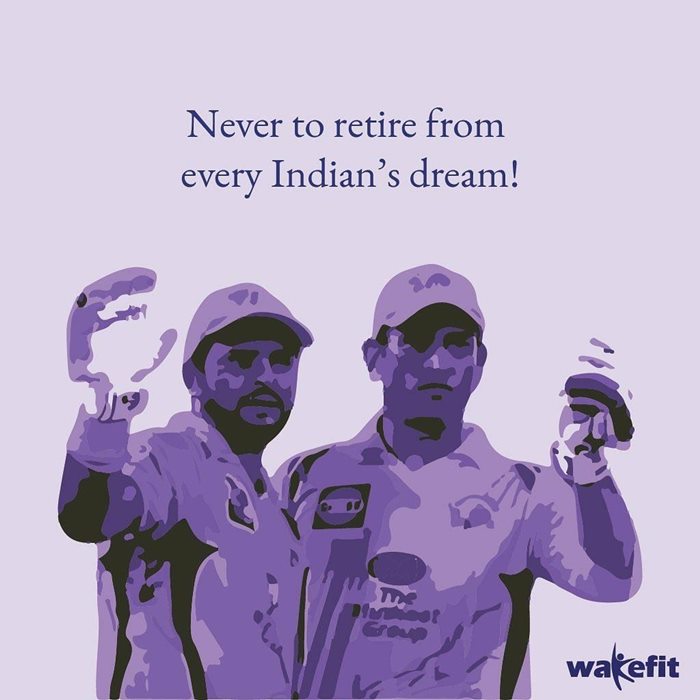 The mattress brand also gave Tribute Suresh Raina along with MS Dhoni. The picture they posted had MS Dhoni and Suresh Raina batting together in Chennai Super Kings jersey. As they are a mattress brand, they wrote, "Never to retire from every Indian's dream".
MS Dhoni's retirement is considered as the end of an iconic era of Indian cricket. The moments of joy the iconic cricketer gave Indians are unparalleled. This tribute by various brands shows the level of respect and the amount of love the world had for their own 'Thala'.