Victim female staffer in Tim Paine scandal files sexual harassment suit against Cricket Tasmania
The sexting scandal has led to Paine's stepping down as Australia Test captain, while he also announced an indefinite break from cricket earlier on November 26 following the episode.
Updated - Nov 26, 2021 4:18 pm
3.7K Views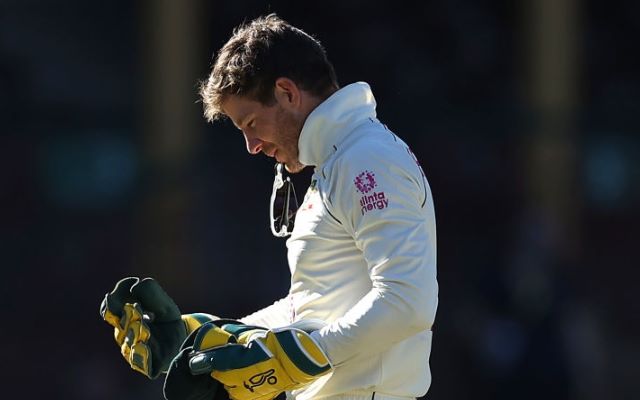 Follow us on Google News
Renee Ferguson, the Cricket Tasmania staffer, who received inappropriate messages and unsolicited pictures of genitalia from Tim Paine and Paine's brother-in-law Shannon Tubb in two separate incidents, has filed a sexual harassment claim against Cricket Tasmania in Australia's Federal Court under the provisions of Australian Human Rights Commission Act.
Ferguson shook the cricketing fraternity after she revealed the explicit chats involving Paine, which eventually led to the latter's resignation as the national team's Test skipper, while he announced on November 26 his decision to take an indefinite break from cricket to take care of his mental health.
Meanwhile, the recent claim made by Ferguson in the Federal Court was neither against Paine nor his brother-in-law but another person who worked at the Tasmania board's office, news.com.au reported.
"In a 17-page document filed in the Federal Court, lawyers acting for the woman have lodged an originating application for sexual harassment. It includes a claim that she previously raised a complaint of sexual harassment regarding another Cricket Tasmania employee with the Human Resources manager. This complaint did not relate to Mr Paine," the report claims.
"She later resigned from her role at Cricket Tasmania after she was accused of stealing. She was charged in relation to that matter and will face the Tasmanian Magistrates Court in January."
Ferguson earlier revealed she was subjected to sexual banter by Tubb, who messaged her: "Get on snap [snapchat] you mole." She also claimed that Paine's brother-in-law Mr Tubb allegedly wrote messages to her, including: "I want to put my c*** in between your ­t***." He also allegedly wrote: "You made me hard today, I know you noticed." Another message said: "Send me something, I want to play with myself."
"F*** your t*** look massive today," it was claimed Mr Tubb also wrote in a message posted on Snapchat. When asked about the sexting by the Herald Sun on Sunday, Mr Tubb replied: "There's no comment on that at all mate, I'm sorry."
She had to face similar treatment by Paine, who texted her: "We're both f***ed if this got out," the woman texted Mr Paine, and then sent an image of his genitalia with the caption, "True, so f***ed," in reference to the messages becoming public. He added: "I'm about to give something firm a pull, myself I think (wink emoji). Well I was going to anyway ha."
The woman then responded: "Ha, sorry I'm getting ready for work … it's a big day for us kids.", to which Paine wrote back: "Will you want to taste my ***? F*** me, I'm seriously hard." The woman again tired diverting the conversation: "I thought we were resting hands???", but Paine continued: "Can't rest them when I'm this hard! Need to ease the tension … Finish me off with those lips then. (Wink emoji) #trust."
Follow us on Telegram