Murali Vijay's Vijay at Overseas
Murali Vijay's Vijay at Overseas: Consistency isn't a word people generally associate with Asian openers, let alone Indian openers, playing in overseas conditions. Playing overseas requires a special technique and composure. As an Asian opener, you are not prepared to the bounce and pace the pitches offer. The ball zips around pretty faster than you expect. Then there's the short ball, the bouncer and the bodyline tactics.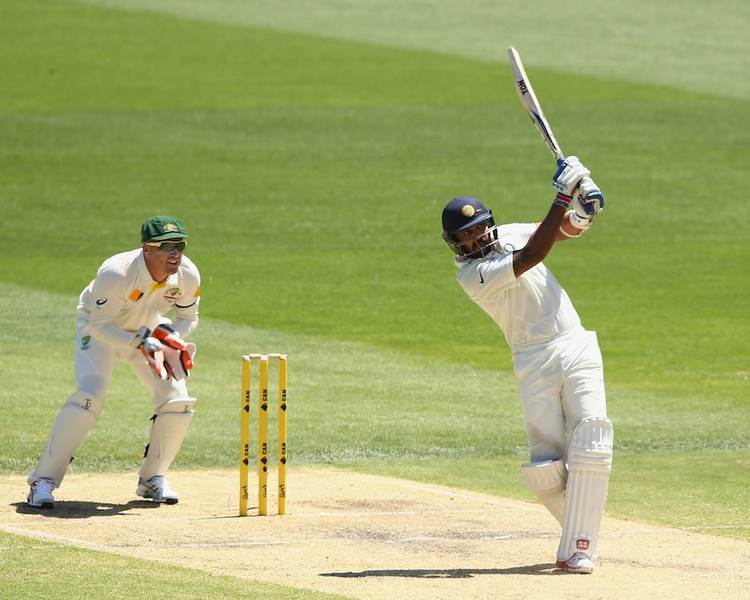 Follow us on Telegram
Murali Vijay first entered India's international scenario as a replacement for Gautam Gambhir's ban in 2008-09 for an on-field altercation. This was a time when Gambhir-Sehwag pair was thought to be invincible and no one in the domestic set-up looked ever threatening to the pair. Like anyone else, he failed to make an impression for him on his debut. And if he had made any impression, the selectors won't look past Gambhir-Sehwag. He would get 1-2 matches in a series when one of the pair needed some rest or got injured. Things continued at the same pace for Vijay until India's tour to the Caribbean, when repeated failures from the senior pair forced the Indian selectors look past them. This gave Vijay his first real chance to make a name for himself. He knew that there was no one in the team to take over his place but he only managed to score 12 or more just once in 6 innings. So, a ticket to 'Go-And-Get-Your-Technique-Right' was obvious for the promising Vijay.
Murali Vijay made his way back to the test side in 2013 against the touring Australians and his 167 at Hyderabad and then another 153 in the next innings at Mohali showed glimpses of an improved player who used his time in the domestic circuit to good effect. He then toured South Africa in 2013 and New Zealand in early 2014 for 4 tests altogether but failed to impress except his 97 at Durban when he batted for a full day.  India needed more of him and when India toured England this year, we all saw how hard Murali Vijay had worked on his technique. He was all over the English bowlers and played his shots with a calm that fewer batsmen had when playing in alien conditions. His 146 and 52 in the first test told that for him – a match in which he batted for almost 11 hours and became only the 4th Indian opener to score a Test ton in England since 1980. Then he batted for another 6 hours for his 95 in the 3rd innings of the 2nd Test which turned out to be the same amount of runs India won that match.
His total tally of runs in that series exceeded 400 and he survived almost 1500 minutes, only the 3rd time ever an Asian opener managed such a number in England. This series was the perfect example of an opener showing class and outlook. Everything about him in that series showed signs of a big player. And Asian pessimists got something to cheer about in their woeful outings on the land of cricket.
Many would debate that one good series can never be a proof of one's excellence. So, Murali Vijay had his answer ready. His success in England made him an automatic choice to tour Australia and right from the first ball, Vijay treated the Aussie threat the same way he treated the English. 53 in the 1st innings and then a 99 in what could have been a remarkable chase by India did nothing but add another feather to the hat of this great Indian find. He didn't stop there and scored 144 at Brisbane – first century by any Indian at Gabba since 2003. 71 runs were scored by Vijay off the last 63 balls that he faced, at a strike rate of 112.7. He scored only 73 runs off his first 150 balls, at a strike rate of 48.7. This innings was perfect example of an opener seeing off the new ball and then scoring briskly.
When I was writing this piece, Vijay had already scored 4 50+ scores in his 5 inning in Australia and had a series total of in excess of 300. The last time any Asian opener managed a series total of above 300 in Australia was Virender Sehwag in 2003 when he got 464 in 8 innings at 58.00.
His stats and ease with which he bats at the crease in overseas conditions gives him an entry into the elite list of Asian openers who will remembered for brilliance and technique in overseas conditions for as long as anyone will be alive to talk about cricket.
Follow us on Google News