Vijay Hazare Trophy 2019-20, Round 5 (Elite Group C) – Round Up
Ishan Porel was the star of the day for his team.
Updated - Sep 30, 2019 8:58 pm
1.7K Views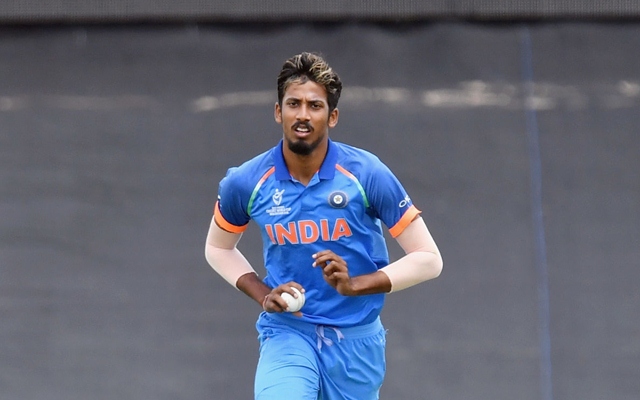 In what should come as a surprise, none of three scheduled fixtures: Bengal vs Jammu & Kashmir, Gujarat vs Tripura & Madhya Pradesh vs Bihar- were affected due to rain. As a result, we were treated to an action-packed day of white-ball cricket, which had outstanding individual bowling and batting performances, one-sided games, epic comebacks and of-course the customary batting collapses.
On that note, here's our daily round-up of the 2019-20 Vijay Hazare Trophy:
Round 05, Elite Group C
In the first game of the Round 05, Elite Group C game, Bengal continued to build on the momentum they have attained courtesy of their four-wicket win against the Services, with a clinical performance again Jammu & Kashmir; one that gave them an eight-wicket win.
Porel's six-fer powers Bengal to a rout over J&K
Bengal's win was set-up by a clinical display by their bowlers. Batting first, J&K's top-order was wretched into shambles by a rampaging Ishan Porel [6-34]. The right-hander removed the cream of J&K's batting in a jiffy, reducing them to 6-48 in 14.3 overs.
But, just as it looked Bengal would rout JK under 100, the latter's lower-middle order refused to give up. Ram Dayal, who stayed unbeaten at 57, forged a 57-run partnership with wicket-keeper Fazil Rashid [43] before adding another 46 crucial runs with Abid Mushtaq [24] to lend some respectability to the eventual total of 169.
To successfully defend 170 against a batting line-up like Bengal's, J&K needed an Ishan Porel-esque effort from their bowlers. But, Shreevats Goswami [86 not out] and Abhimanyu Easwaran [51] made an absolute mockery of their target. The duo accumulated 118 runs in 18.3 overs laying a cornerstone to their eventual eight-wicket win.
Consistent Bhargav Merai guides Gujarat to another clinical win
0-1. 1-2. 4-3. Enter Bhargav Merai. 305 all-out. It was like watching India's semi-final all over again. The top-order in shambles. The scorecard cutting a sorry tale. But, there was one subtle difference. Gujarat had Bharat Merai walking out for them at No.4. And, Merai did what he has been doing in this tournament thus far: score runs, score truckloads of them.
And, by God! Didn't he do that today when his team needed them the most? He certainly did. After racking up scores of 63 and 69 in the last two games, Merai went one step ahead and scored a scintillating 135-ball 125 to orchestrate a stunning recovery for Gujarat, taking them to an eventual match-winning total of 305.
After Merai, it was the turn of Roosh Kalaria [2-30] and Chintan Gaja [2-17] to wreak havoc. The duo polished off Tripura's top-order, who despite an unbeaten 103 by Milind Kumar and a half-century by T Mishra [62] could only muster 8-204 after 50 overs.
MP register an easy win
In the final Round 05, Elite Group C game, Madhya Pradesh picked up their second win of the tournament as they comprehensively thumped Bihar by seven wickets. Madhya Pradesh's campaign thus far has blown hot and cold. But, today it was their bowlers who turned up the heat on Bihar's batsmen. Spearheaded by Mihir Hirwani's 4-29 and backed up by a three-wicket-haul by Gaurav Yadav, MP bowled Bihar out for a paltry 137 in 40.4 overs.
Chasing 138, MP lost Ajay Rohera for 9 but handy contributions from Mukul Raghav [46] and skipper Rajat Patidar [48] ensured, they coasted home in just 27.4 overs.
Scores:
Jammu & Kashmir vs Bengal
JK: 169 all-out in 48.2 overs (Ram Dayal 57*, Fazil Rashid 43; Ishan Porel 6-34)
BEN: 2-175 in 28.0 overs (Sreevats Goswami 86*, Abhimanyu Easwaran 51; Ram Dayal 2-40)- Bengal won by 8 wickets
Gujarat vs Tripura
GUJ: 305 all-out in 50.0 overs (Bhargav Merai 125, Manprit Juneja 50, Axar Patel 45; Ajoy Sarkar 3-68, M Murasingh 2-43)
TRI: 8-204 in 50.0 overs (Milind Kumar 103*, Tanmay Mishra 62; Roosh Kalaria 2-30, Chintan Gaja 2-17)- Gujarat won by 101 runs
Bihar vs Madhya Pradesh
BIH: 137 all-out in 40.4 overs (Shasheem Rathour 25, Ashutosh Aman 25; Mihir Hirwani 4-29, Gaurav Yadav 3-41)
MP: 3-138 in 27.4 overs (Rajat Patidar 48, Mukul Raghav 46; Vivek Kumar 1-25) – Madhya Pradesh won by 7 wickets