Virat Kohli and Steve Smith are mentally very strong: David Warner
David Warner feels both are quite important for their respective teams.
Updated - May 6, 2020 5:41 pm
174 Views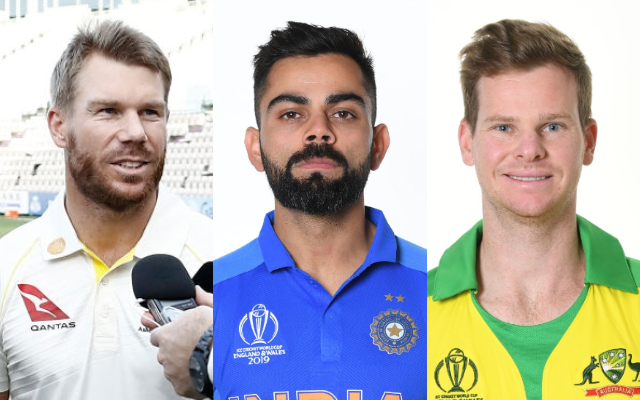 Virat Kohli and Steve Smith are the two batting superstars of modern-day cricket. Both the players handle a similar role for their respective teams when on the field as they are match-winners with the bat and have won a plethora of games for their country. And now, David Warner, the Aussie opener has come out talking about the duo and feels that their performances give a major boost to the morale of whichever team they play for.
The Indian skipper is a technically very sound batsman when batting at his best. Meanwhile, Steve Smith has an awkward style of playing but still, he always manages to score bucket loads of runs for Australia. There is no doubt over the fact that they are way too different from each other when it comes to their batting style. But, one similarity between the two is their hunger to score runs and prove that they are the best in modern-day cricket.
David Warner opines on  Virat Kohli and Steve Smith's batting
In a recent interaction, David Warner opened up over the same. He said that Virat Kohli and Smith both are mentally very strong and like to spend time on the wicket. Their teams, more or less, depend on them in terms of batting according to the southpaw which is why the opposition sides look to dismiss them early more often.
"When it comes to cricket, they both have got the mental strength, the mental capacity to score runs. They both love spending time in the middle. They stabilise, they boost morale – if they score runs, everyone else's morale is up. If they are out cheaply you almost sense that on the field that everyone is (down on morale and thinking) 'now we all have to step up'," he said while speaking to Harsha Bhogle on 'Cricbuzz in Conversation'.
The 33-year-old recited the fact that Virat Kohli is driven by his passion that helps him in scoring runs. On the other hand, Steve Smith enjoys spending time in the middle.  "It's a very bizarre situation. Virat's passion and drive to score runs are different from what Steve's would be. Steve is going out there for a hit in the middle, that's how he sees things. He's hitting them out in the middle, he's having fun, he's enjoying himself, just does not want to get out," David Warner added.