Virat Kohli gets close to Steve Smith in latest ICC Test Rankings after Adelaide Test
Smith scored only 1 run in the first innings and didn't get to bat much in the second.
Updated - Dec 20, 2020 3:50 pm
3.9K Views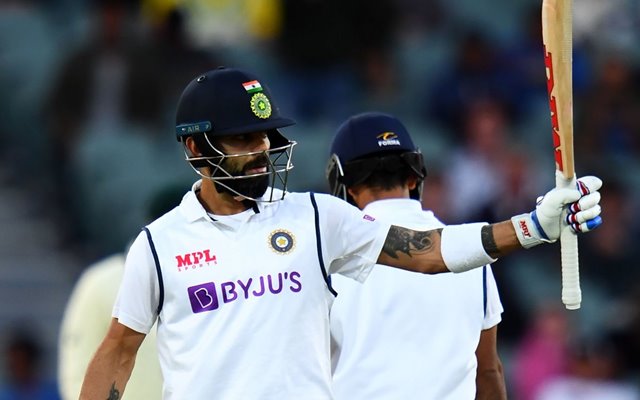 After the recently concluded Australia vs India Test in Adelaide, despite India's capitulation, Virat Kohli managed to fractionally close the gap on Steve Smith at the top of the MRF Tyres ICC Men's Test Player Rankings from 25 points to 13 points. Kohli's first innings of 74 enabled him to gain two points, whereas Smith's 1 & 1* lost him 10 points in the table.
Marnus Labuschagne's innings of 47 & 6 in such a low-scoring match have pushed him to a career-best 839 points. Whereas, Captain Tim Paine's player-of-the-match innings of 73 not out has lifted him with a career best of 33rd place with 592 points.  His previous best was 45th in December of 2018. Further down, Joe Burns unbeaten 51 saw him move into 48th place, the first time he has been in the top 50 since 2016.
With the ball, Pat Cummins took seven wickets in the match to gain six points and move from 904 to 910, which is a comfortable lead over Stuart Broad in second place. Australian pacer, Josh Hazelwood's astonishing figures of 5/8 in India's second innings helped him gain four spots and move back into the top five with 805 points, the first time since March 2018.
With four wickets in Australia's first innings, India's R Ashwin has overtaken Jasprit Bumrah as India's top ranked bowler, currently in the ninth place.
Final changes of the year 2020
Three Test matches will commence on the Boxing Day (December 26) and we might witness big changes in the final rankings for the year 2020. Australia and India will face each other at the iconic Melbourne Cricket Ground (MCG) while New Zealand will host Pakistan at the Bay Oval in Mount Maunganui and Sri Lanka and South Africa will lock horns at the Supersport Park in Centurion.
Virat Kohli will definitely miss out on some points going forward as he will not be playing the next three Tests. This presents a great chance to Steve Smith to increase the 23-point gap between him and the Indian skipper. However, Kohli has a chance then to recover with four Tests at home against England.
Here are latest Test rankings:
Top 10 batsmen
| | | | |
| --- | --- | --- | --- |
| Rank | Player | Country | Rating Points |
| 1 | Steve Smith | Australia | 911 |
| 2 | Virat Kohli | India | 888 |
| 3 | Kane Williamson | New Zealand | 877 |
| 4 | Marnus Labuchagne | Australia | 839 |
| 5 | Babar Azam | Pakistan | 797 |
| 6 | David Warner | Australia | 793 |
| 7 | Ben Stokes | England | 760 |
| 8 | Cheteshwar Pujara | India | 755 |
| 9 | Joe Root | England | 738 |
| 10 | Tom Latham | New Zealand | 724 |
Top 10 bowlers
| | | | |
| --- | --- | --- | --- |
| Rank | Player | Country | Rating Points |
| 1 | Pat Cummins | Australia | 910 |
| 2 | Stuart Broad | England | 845 |
| 3 | Neil Wagner | New Zealand | 840 |
| 4 | Tim Southee | New Zealand | 825 |
| 5 | Josh Hazlewood | Australia | 805 |
| 6 | Kagiso Rabada | South Africa | 802 |
| 7 | Mitchell Starc | Australia | 800 |
| 8 | James Anderson | England | 781 |
| 9 | Ravi Ashwin | India | 777 |
| 10 | Jason Holder | West Indies | 753 |
Top 5 all-rounders
| | | | |
| --- | --- | --- | --- |
| Rank | Player | Country | Rating Points |
| 1 | Ben Stokes | England | 446 |
| 2 | Jason Holder | West Indies | 423 |
| 3 | Ravindra Jadeja | India | 389 |
| 4 | Shakib Al Hasan | Bangladesh | 366 |
| 5 | Mitchell Sarc | Australia | 301 |