Virat Kohli optimistic to be in a good position when he resumes action after coronavirus pandemic
Virat is someone who has always been very keen on improving his mental state.
Updated - May 10, 2020 8:56 pm
77 Views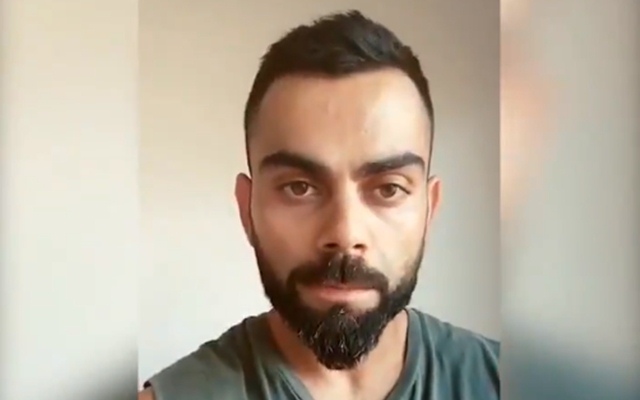 Follow us on Telegram
Virat Kohli, the Indian skipper, has been focussing on keeping himself upbeat during the lockdown phase owing to the massive coronavirus. The 31-year-old is pretty aware that apart from being a physical sport, cricket has its psychological aspects. At a time when it's easy to get depressed and anxious staying indoors, Virat has been training hard and also focussing on his mental health.
Last year, Virat narrated a phase of his life in 2014 when he thought that 'it was the end of the world'. Instead of allowing the situation to ruffle him, Virat has groomed himself into a desirable personality. For the time being, the Delhi-born has been spending some gala time with wife Anushka Sharma and also making sure, he remains in good position when he returns to the cricket field.
I am training, I am keeping fit: Virat Kohli
"Well, fortunately, I have all my gym equipment at home, so I am able to train and that's not a problem for me. As far as the game goes, luckily, I am someone who has always been very keen on improving my mental state and not really focuses on practicing long hours in the net over a period of time," Kohli was quoted as saying on Star Sports' Show Cricket Connected.
"So, I know, once I am in good frame of mind and I am keeping myself positive and happy, just looking forward in life, whenever I return to the game, I know I will be in good position to start again from where we left," he stated.
Virat is someone, who prefers to see the brighter side of things rather than cribbing about what he doesn't possess. His positive attitude has rubbed off in his game in a great manner due to which he has been able to rack up tons of runs with sheer authority.
"So what you can control to an extent is your own mindset and just looking at things with a positive frame of mind and the only good thing is that I have been able to train, the practice was not such a big problem for me even before, so that is what I am doing, I am training, I am keeping fit," Virat, who has over 21,000 runs for India, added.
Virat still has quite a few years of cricket left ahead of him. Apart from hi stupendous batting numbers, Kohli is also one of India's most successful captains.
Follow us on Google News