Virat Kohli- The man Back in Form
Updated - Oct 20, 2014 12:00 pm
44 Views
A typical modern-day cricketer with a well of style, pond of aggression, sea of motivation and ocean of talent, Virat Kohli the man who is expected to take Indian cricket in the next generation, after sheer success for 5 straight years tasted bitter failure and has now over come to all to gain his form back. The cricketer who has consolidated and concentrated on his game like nobody else has yet again proved himself against all the odds. Virat Kohli plays his game with excellence and style. His perseverance and qualitative analysis of the game, his way of showing aggression on the field and the way he wins the heart of millions are his trump cards which he uses against all his opponents. His triumphal attitude towards his game is his ultimate success.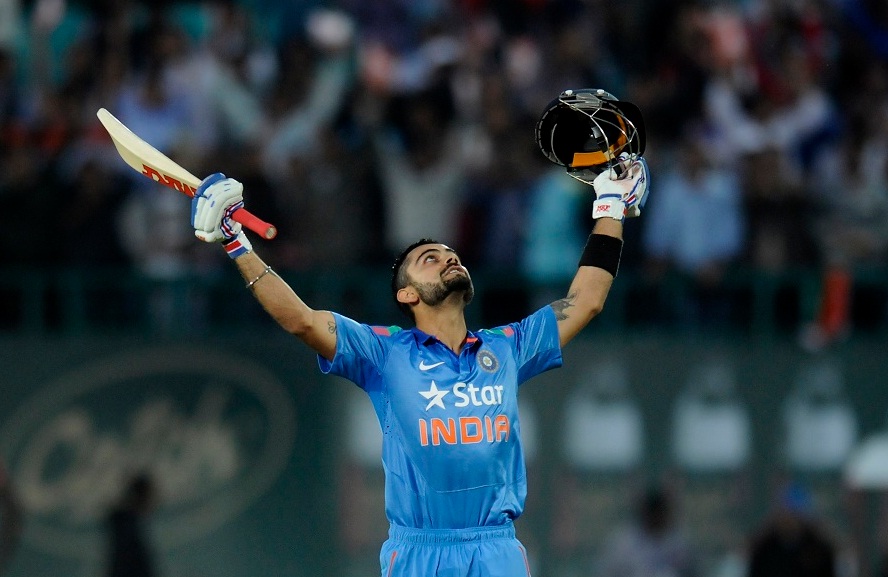 Follow us on Telegram
Virat Kohli has most certainly seen off the worst patch of his career. Started with U-19 captaincy, he soon rose to fame with his passionate captaincy and stipulated performance. Yeah he stubbed to balance the fame that he got through success initially by winning the 2008 U/19 World Cup, he never failed to enjoy any moment of his life.
He debuted against Sri Lanka was on August 18, 2008 in Dambula, Sri Lanka. He scored only twelve runs in that match. Though he wasn't really settled to play for the Indian side, the 19 year old developed a strong perception. His first ODI century came on December 24, 2009 against Sri Lanka where he scored 109 runs. This has to be one of the greatest moments of his life. From that point, his career took an upturn. Today, Kohli has emerged as one of the finest cricketers of the world in the current era. His sense of maturity has been applauded everywhere in the world. 
Kohli is most certainly the backbone of the Indian Team. His performance with the bat enhances that of the entire team. Kohli got to a high when he was also an important member of the MS Dhoni led team which won the Cricket World Cup in 2011. He scored 244 runs in 9 World Cup matches that he played. He played an important hand in India vs West Indies super eight game he scored most of the runs and helped his team get through.
Anil Kumble the best Indian spinner and the third highest wicket taker in test cricket thought that he was the best under 22 player in the whole world which was indeed a huge compliment for Kohli.
With agonizing matches between ODI's like T20's, Tests, IPL and CLT20, Kohli improved his skills every passing hour. His cricketing graph is indeed parabolic. He has played total 141 ODI matches and scored 5879 runs with 20 hundreds and 31 fifties. His best innings of 183* came against Pakistan in the year 2012.
He reached the peak in his career in 2011 when he scored 1381 runs in the calendar year. Kohli has scored 159 runs in 2008, 325 in 2009, 995 runs in 2010, 1026 runs in 2012 and 199 runs in 2013. A certain uptrend can be seen in his career with the number of runs he has piled on every year.  Due to his good performance, Virat Kohli was also named the Vice Captain of Indian Cricket Team.
In the midst of 2014, Kohli suffered the worst phase where he was unable to score runs first in England on green pitches against the seamers and persisted even against the West Indian bowlers on flat Indian wickets. But in the fourth ODI of India vs West Indies, Kohli marked his return to form by scoring a rocking 127 runs and by prying the future stones of his success. His innings was blistering. His aggressive style clearly depicted that he had that thirst of proving himself back. The smile was back, the smile which depicted success, achievement, calming and maturity.
Every player goes through a good phases and bad ones too, but it's unto their fans and board to decide, how they take it. Virat Kohli has always been classy in style. His ability to handle situations, his charming effect on field and all these things makes him different from other players. Kohli not only shows his magic with the bat but also with his presence on the field being an active one.
The flag bearer of Indian cricket, the rising star of the decade, the one who Sachin Tendulkar wants to break his record, is up again. This rise would teach him a much important lesson, the bitterness of failure will keep him in check of not dropping the guard anytime soon and in turn would bring him and India success.
Follow us on Google News