Virat Kohli vs Babar Azam – Detailed analysis on who is the better batsman in T20I cricket
Both Virat Kohli and Babar Azam have got a batting average of more than 50 in T20Is.
Updated - Apr 27, 2020 11:24 am
4.6K Views
One of the biggest cricketing debates in recent times is who among Virat Kohli and Babar Azam is the best T20I batsman. Though both the players are not the biggest of hitters, their consistency makes them the best in the format. The T20 World Cup to be held in Australia this year was expected to give a better picture to this debate but the COVID-19 pandemic has put the future of the tournament in jeopardy.
Virat Kohli currently stands as the leading run-getter in the Men's T20I cricket while Babar Azam is placed on the top of the ICC T20I Batsmen's rankings. Kohli's exploits in the 2014 and 2016 editions of the T20 World Cups helped him to be the No.1 batter in the T20I rankings for quite a long period. But Babar occupied the ranking ever since the start of 2018. Virat skipping T20I series against lower-ranked teams has pushed him down to No.10.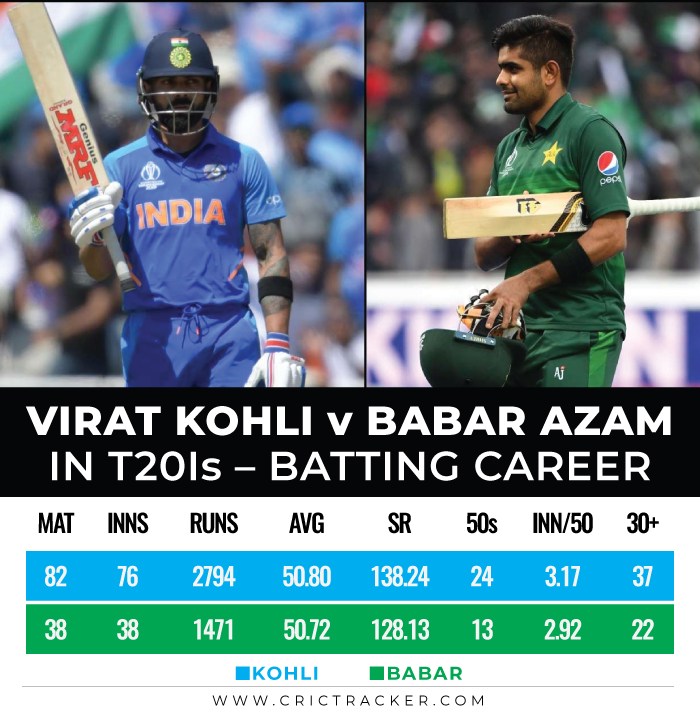 The voices in favour of Babar increased when he broke Kohli's record for becoming the fastest player to reach 1000 runs in T20Is. These two batsmen are the only ones to have scored 500+ runs in Men's T20Is at an average of 50. Interestingly, both these players are yet to score a century but have an impressive inning per fifty rate. Babar scores a fifty every 2.92 innings while Kohli isn't much behind as he takes 3.17 innings.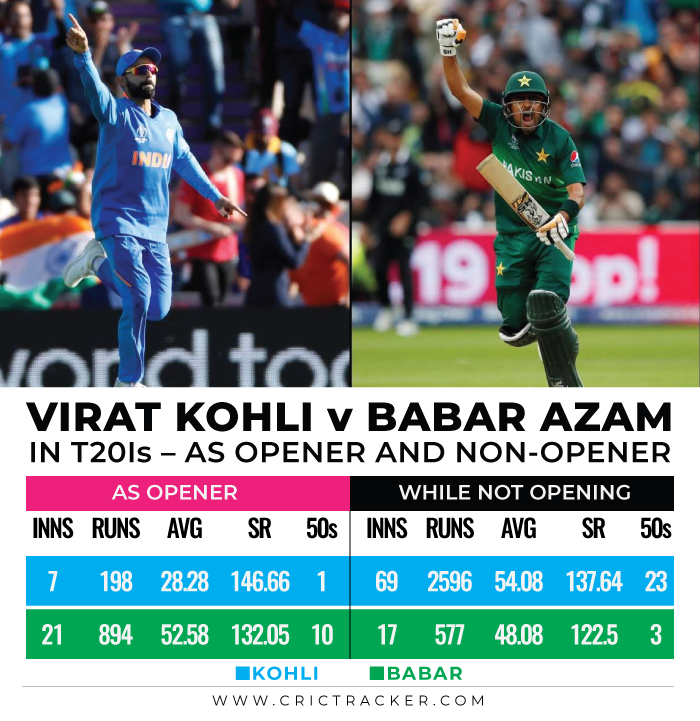 However, Babar Azam falls behind Virat Kohli in many aspects with one of them being strike rate. Kohli has shown his skill at scoring quick runs and excellent acceleration towards the end which Babar hasn't done regularly. Playing in slow pitches of the UAE for the majority of career seemed to have kept down Babar's strike rate to 128. It is also evident that he is yet to be tested properly on how to excel in high-scoring matches on a consistent basis.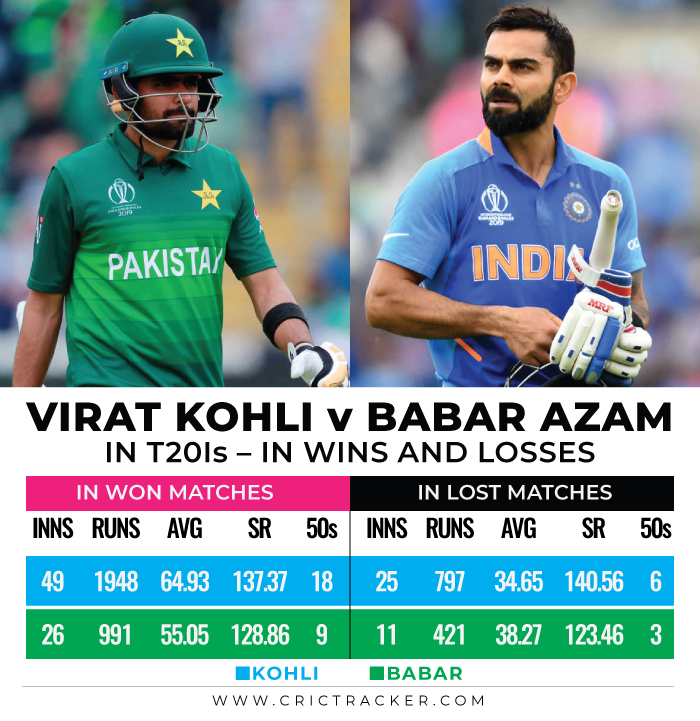 Babar has been found struggling in most instances once the field spreads around. His strike rate as an opener reads 132 but it is only 122 when he batted at No.3 and lower positions. Virat's career numbers do suggest that India has won on most occasions whenever he performed. His average in T20I victories reads nearly 65 and strike rate is little below his career SR. Virat also scored 18 fifties across 49 Indian wins in the format.
During T20I chases:
The batting numbers while chasing helps Virat Kohli hold the domination over Babar Azam in T20I cricket. Kohli is a step ahead of every other batsman when it comes to chasing. Virat was part of 34 T20I chases out of which India ended up on the winning side in 27 games. The Indian batsman went past the 20-run mark in 30 innings out of the 34 T20I chases. The Indian team lost two of the four T20I chases when Virat was dismissed scoring less than 20 runs.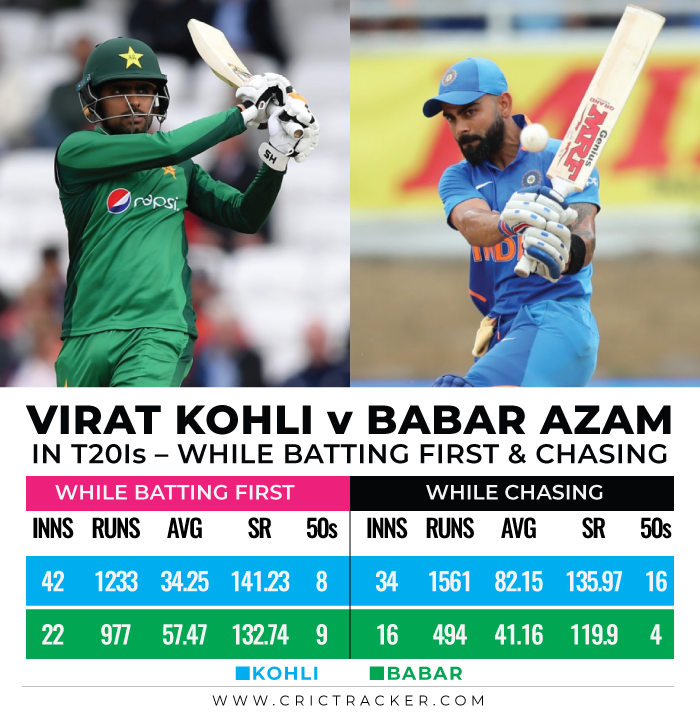 While chasing in this format, Kohli averages 82.15 which is almost twice that of Babar's 41.16 average. The difference between the two players in batting average increases when it comes to successful chases. Kohli has smashed 13 fifties in 27 successful chases at an average of 107.41 and is more than 60 runs ahead of Babar's 46.14 average although he has been involved in only 11 successful T20I chases.
However, when it comes to batting first, Babar has a clear lead in average but the Indian captain has got a better strike rate. Kohli's average hit a dent as he pushed himself down the order many times while batting first. He usually gets out while scoring a quick 20 odd runs in such situations and it is while his average is only 34.25 while batting first but his strike rate is 141.23. Babar, on the other hand, averages 57.47 when Pakistan batted first and has struck nine fifties in 22 innings.
Outside Asia:
Virat Kohli and Babar Azam's performances in the matches played outside Asia will also hold importance. Both the batsmen have got the ability to excel in overseas conditions if we look at their career performances in tricky situations. Babar has scored 592 runs in 15 overseas innings at an average of 49.33 with five fifties. On the other hand, Kohli averages only 37.69 away from Asia across the 28 innings where he amassed 867 runs with six fifties.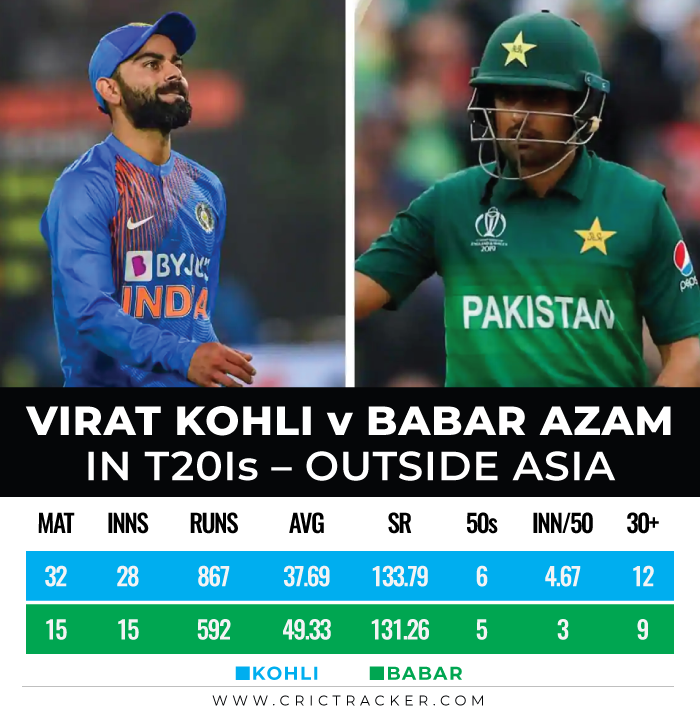 Though Babar has a better record in the overseas, he has failed to produce more match-winning performances. Kohli has five fifties in the 18 innings during the overseas T20I wins which include a hat-trick of half-centuries in Australia during their 2016 tour. Babar has managed to score only one fifty away from Asia across the seven T20I wins of Pakistan he was involved in this far.
Considering the major factors, it can be said that Babar Azam still has a long way to go before being called the best batsman of the format. In fact, it won't be a fair way to compare Babar and Kohli with respect to their T20I numbers. For now, the Pakistan batsman remains as one of the best batters to grace the T20I format but Kohli remains the greatest purely due to his consistency and dominance in chases.