Virat Kohli wishes the Indian Hockey team best for the HWL semi-final against Pakistan
Virat also lauded the hockey players for being courageous.
Updated - Jun 18, 2017 11:56 am
544 Views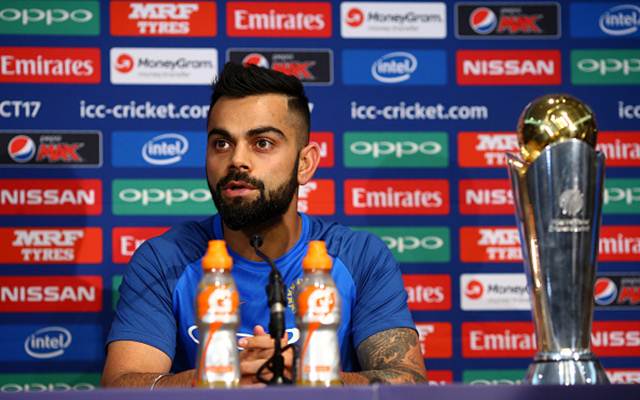 London will witness not one but two India v Pakistan clash on the super Sunday tomorrow (June 18). While the Indian cricket team will take on Pakistan at the Kennington Oval to crown the champion of the ICC Champions Trophy 2017 the Indian hockey team will meet their Pakistani counterparts in the semi-final of FIH Hockey World League. Captain of the Indian cricket team Virat Kohli sent across his best wishes to the other team from the country.
Virat also lauded the hockey players for being courageous. While interacting with the media on the eve of the final the 28-year-old said that though he has never played with the synthetic ball used in professional hockey contests he hasn't played the sport himself. To him, it looks pretty scary since the chances of getting hit are pretty high.
"I have played with the synthetic hockey balls indoors but have never tried hockey. It's very scary I feel. Getting hit on the face from the penalty corner, I don't know how these guys do it. You need a lot of guts to do that. I wish our team all the best, I have never tried my hand in it but they are pretty good so I am sure they'll be fine," Kohli said while interacting with the media at The Oval.
Just another game
Since it is India vs Pakistan there is a lot of hype around the match. But being the focused character that he is Virat is treating it just like any other match and wants to focus on getting things right than think about the magnitude or the over importance of the encounter.
He also said that he had advised his team to stay away from social media since that can be a real distraction and to tune in with themselves which will help them get their game together in the all-important clash.
"We haven't spoken about this game in any different way. We've practiced the same way from the first day we came here. Even today's practice was absolutely similar. There wasn't any drop of intensity or something extra,"
"There's no over-excitement. People are just doing the normal things that they do in any practice session and that's the kind of approach we have maintained throughout the tournament," the Indian skipper added.