Virat Kohli's painting worth 2.9 million pounds bought by a British Indian
I am glad Virat has come forward: Gupta
Get every cricket updates! Follow us on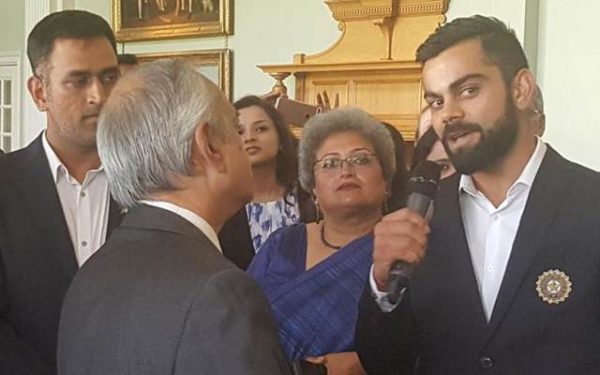 A painting of Virat Kohli, which depicts his journey in the ten years of his IPL career, was sold at a whopping price of 2.9 million pounds and it was a British Indian who bagged the painting in the Virat Kohli charity function. The painting was made by the famous artist Sasha Jaffrey in the recent charity dinner organised by Virat Kohli Foundation.
Sasha Jaffer is a renowned artist who has earlier collaborated with other greats in sports such as David Beckham, Yuvraj Singh and MS Dhoni, for their respective charity causes. The CEO of Scotland-based company PG Papers, Poonam Gupta was all praises for Virat Kohli's generosity and claimed the VK is a part of a generation which is responsible and strived to make a change in the society.
In other words, their greatness on the field is only succeeded by their intent off-the-field. She went on to state that the world cannot accommodate slavery and one should take responsibility to voice against it. The event was held in London, UK, where currently the Champions Trophy is being played. The Virat Kohli-led side has already reached the semi-finals of the tournament.
Poonam Gupta very connected to the cause taken up by Virat
"What I like about this young generation of Indian cricketers is that they are responsible and want to make difference on and off the field. I am very connected to the cause taken up by Virat," said Poonam Gupta according to TOI.
"Slavery has no place in this world and we need to stand up and do our bit. I am glad Virat has come forward against this evil and by buying this magnificent piece of art created by my favourite artist Sasha Jaffrey, I tick two boxes. I take a rare master piece to my home and also help this noble cause in my own way," concluded the CEO of PG Papers,