Virender Sehwag indirectly trolls Pakistan with his take on Kulbhushan case
Virender Sehwag wrote that Pakistan can only dream of winning, pretty much like the way they do of beating India in a world cup.
Updated - May 18, 2017 11:26 pm
15.5K Views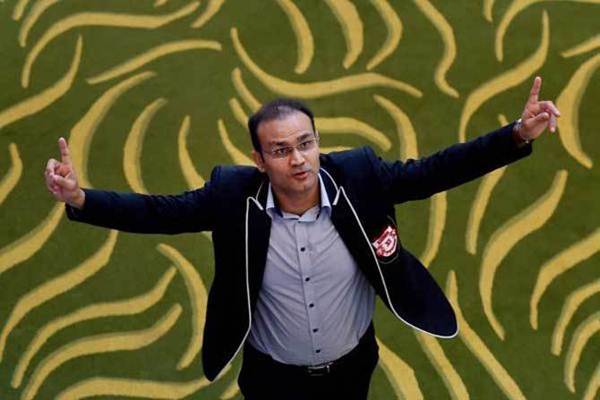 Former Indian cricketer Virender Sehwag is known to be one of the most vocal and outspoken personalities in the cricket fraternity. He is never afraid to put forward his views on the current trending issues in the cricket world and outside of it as well. Recently, Sehwag had a double take at neighbors Pakistan after Indian government had a big diplomatic win over them.
The International Court of Justice ruled the trending case in the favor of former Indian Navy officer Kulbhushan Jadhav. The story goes back to the Pakistan government announcing death sentence to the former officer citing espionage as the reason. They accused Kulbhushan of being an Indian spy and hence had their stern actions announced against him.
However, the Indian government denied all such claims and further questioned the decision of the Pakistan government. They rightly questioned the rights of the Pakistani government of executing an Indian national. The Indian diplomats took the case to the International Court of Justice. The ICJ stayed the order and asked Pakistan government to wait until they hold their trials regarding the same.
Sehwag, Kaif join the celebrations
This came as a big delight for the Indians and the family members of the former officer. The social media erupted in joy congratulating the Indian government on their diplomatic win. The cricketers were not far behind either. Leading from the front were the tweets of Virender Sehwag and Mohammad Kaif. Sehwag tweeted, "Satyamev Jayate ! #KulbhushanJadhav".
Satyamev Jayate !#KulbhushanJadhav

— Virender Sehwag (@virendersehwag) May 18, 2017
To this, a Pakistani troll had commented that they will anyway execute Kulbhushan. The troll had written, "You guys hv less brains?  The final decision yet to come and even though icj stays whtever we ll hang him go where ever on ur choic#pak"
@virendersehwag You guys hv less brains? The final decision yet to come and even though icj stays whtever we ll hang him go where ever on ur choic#pak?

— Farhan Zahoor (@FarhanZahoor124) May 18, 2017
In reply to this, Virender Sehwag wrote that Pakistan can only dream of winning, pretty much like the way they do of beating India in a world cup. He further added that they can domesticate dogs and cats but not wrong propositions. Virender Sehwag wrote, "In your dreams, just like beating India in a World Cup. Kutta Paalo, Billi Paali, galat fahmi mat paalo. #KulbushanJadhav."
In your dreams ,just like beating India in a World Cup.
Kutta Paalo, Billi Paali, galat fahmi mat paalo. #KulbushanJadhav https://t.co/k8WKLwBR4Z

— Virender Sehwag (@virendersehwag) May 18, 2017