Virender Sehwag names his batting inspiration from Ramayan character
Sehwag didn't use to move his feet much while batting.
Updated - Apr 13, 2020 12:09 pm
215 Views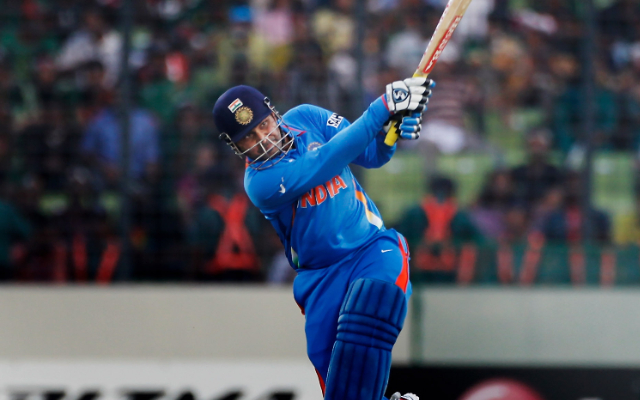 Virender Sehwag, the former Indian batsman, has named his inspiration from the popular TV serial Ramayan. Due to the lockdown period after the COVID-19 pandemic, there's no shooting going on. Hence, the television broadcasters have decided to bring some of the classics back. Ramayan and Shaktimaan, India's first superhero, are being telecasted to keep the audience going.
The old serials have been a delight for the ones, who are born in the 90s when Doordarshan was their only source of entertainment. Even Sehwag used to follow the show with regularity. Now he has posted a picture and revealed where he took the inspiration from. The Nawab of Najafgarh wrote, "So here is where i took my batting inspiration from."
In the picture, the scene was from Ravan's court where Angad, the son of Bali and a member of the Vanara sena- is holding his ground. On the other hand, Ravan's generals tried hard to move his feet, but had to taste disappointment. "Pair hilana mushkil hi nahi , namumkin hai (moving his foot is not just a difficult task, it is impossible)," Sehwag's message read.
Here's Virender Sehwag's tweet
So here is where i took my batting inspiration from 🙂

Pair hilana mushkil hi nahi , namumkin hai . #Angad ji Rocks pic.twitter.com/iUBrDyRQUF

— Virender Sehwag (@virendersehwag) April 12, 2020
Sehwag- not a dextrous mover of the feet
In his playing days, Sehwag didn't move his feet much while batting. The retired Delhi batter, was someone, who focussed more on his hand and eye co-ordination. The veteran had a style of his own and the opponents found it tough to stop him even in Test cricket, leave alone ODIs and T20Is. In 2004, he became the first Indian to notch a triple-century in Test cricket against Pakistan in Multan.
Then he smashed another triple ton versus South Africa, showing his class and belligerence. Sehwag also has an ODI double century against the West Indies. The youngsters may not be asked to follow Sehwag's batting technique, but his fearless approach in the middle can be looked upon.
In the latter stages of his career, Sehwag lost form and was dropped. But that doesn't undermine the laurels he has garnered throughout his career. Moreover, he has a record to envy in the cash-rich and prestigious Indian Premier League (IPL) where he played for the Delhi Daredevils, now Capitals.