Virender Sehwag's sly dig at Anil Kumble
Sehwag is well known for his cheeky posts on social media and he came up with another one, perhaps for Anil Kumble.
Updated - Jun 23, 2017 2:16 pm
2.3K Views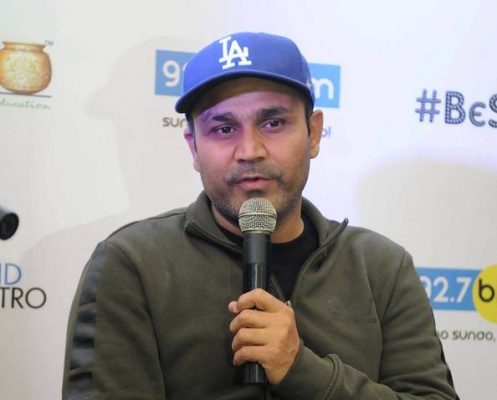 Indian cricket has been severely jolted post the Kumble-Kohli spat. The reports started doing the rounds much before the start of the Champions Trophy as both parties kept mum. The relationship hit a brick wall during the course of the tournament as Kohli made his reservations very clear to the CAC at a meeting in England.
The CAC was keen to extend Kumble's contract till the World Cup 2019 but soon after hearing Kohli's problems with the legendary leg-spinner, they met the 46-year old in order to iron out the differences between the captain and the coach. It was no secret that both parties had already reached an impasse and Kumble decided to step down from his post immediately. The CAC has a big job of appointing a new coach before the tour of Sri Lanka in the last week of July.
Virender Sehwag, who is said to be a frontrunner to step into the shoes of Kumble, is known to be a straightforward personality. He took a subtle jibe at the former teammate. He shared a picture on his Instagram account which he captioned as: "Finger pointing never got anything done #unglipenachaao".
Kumble has, of course, expressed surprise over Kohli's reservation against his 'style' in his statement after resigning from the post. He also said that the partnership with the captain is "untenable" now.
In a press conference in the West Indies, Kohli for the first time expressed his views on the Kumble saga. He did not reveal too much as he wanted to "maintain the sanctity of the dressing room" but had said that he respects Kumble as a cricketer and also for the decision he has taken.
In the absence of a head coach, MV Sridhar will supervise the team during the Caribbean tour. Sanjay Bangar and R Sridhar are also with the team in the capacity of the batting and fielding coach respectively. India starts their tour of West Indies on Friday when they play the first of five matches ODI series at the Queens Park Oval in Trinidad. The ODI series will be followed by a one-off T20 international game.