'Wanted to dig a hole and jump in it as quick as I could' – Meg Lanning 'disappointed' for denying Alana King hat-trick
"I tried my best and I dropped it,  wasn't overly pleased, let's put it that way," the Aussie skipper said.
Updated - Aug 1, 2022 1:15 pm
1.6K Views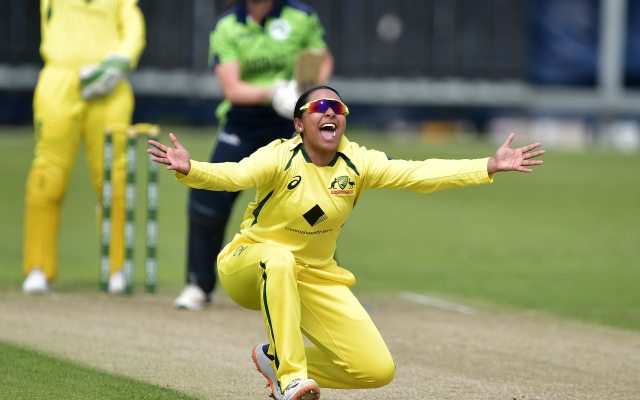 Follow us on Google News
Tournament favourites Australia romped Barbados in their second fixture of the CWG 2022 Women's T20 tournament on Sunday, 31st of July as Meg Lanning's side became the first side to qualify for the semi-finals. But the Aussie skipper was left embarrassed on the field after dropping a sitter, which would have earned star spinner Alana King a hat-trick at the historic tournament.
The Australian team never let the Caribbean side get away in their batting innings and had them under their leash. Barbados were languishing at 53/6 after the end of 14 overs, and their misery was compounded in the next over when Alana King dismissed two Barbadian batters on the third and fourth delivery of the over.
The leggie was on a hat-trick on the fifth ball, and when the batter edged it toward Lanning, who was stationed at the first slip. King was on the brink of becoming only the second Aussie cricketer to grab at hattrick in Women's T20. But to the utter disbelief of everyone, Lanning failed to grasp an absolute dolly. She planted her head on the Edgbaston surface in the aftermath of the event and had a grimace on her face.
"I'll have nightmares, I wanted to dig a hole and jump in it as quick as I could. I tried my best and I dropped it,  wasn't overly pleased, let's put it that way. I was just disappointed for Kingy. She was bowling so well, and to let her down like that was not ideal. But that's cricket, I guess. I was just keen to contribute. I was pouncing on some loose balls when I got them and giving myself a chance, and it felt like I was able to do that,"Lanning said in the post-match interview.
The 30-year-old let out her frustration with the bat as she helped Australia steamroll Barbados by nine wickets with a blistering unbeaten knock of 36 off just 21 deliveries.
I'm trying to get a wicket with every ball I bowl: Alana King
In truth, the Women in Yellow's victory was sealed at the halfway mark when star leggie Alana King dismantled the Barbadian batting line-up with devastating bowling figures of 4/8 in her quota of four overs. Although she was denied a hat-trick after the skipper's mishap on the field, she was happy with her performance which led to her side's victory.
"That's cricket, right? No one means to drop a ball or anything. It's just the way the game goes, but I'm just happy that I could contribute in any way I can. Every ball I bowl, I'm trying to get a wicket so that was no different but it caught the outside edge, and yeah, that's just cricket, I guess. But I'm just really happy with how I played today," King said to the press.
Follow us on Telegram