Waqar Younis wants the officials to be sent off if they violate the laws
The umpire and while reversing his decision the Englishman used the F-word.
Updated - Oct 1, 2017 6:23 am
919 Views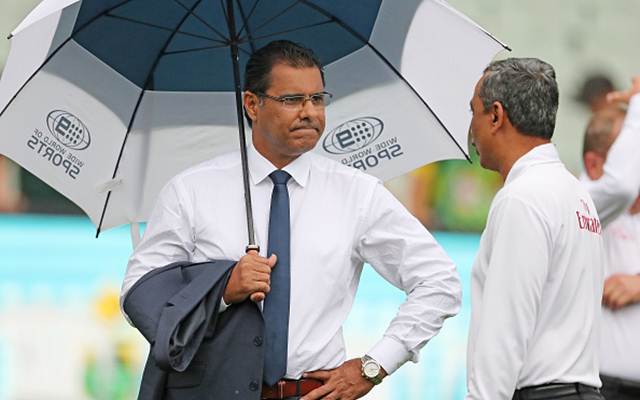 Sledging in the world of cricket has slowly become a tactic. Players use it to test the opposition mentally and sometimes the things go overboard. The International Cricket Council (ICC) recently implemented new norms that will govern the misconduct on the field. If there is any violence and if the players drag an argument too far they might be sent off for the rest of the match.
The rule is adopted from football and has proved to be very effective there over the years. However, there was an incident during the ongoing Test match between Pakistan and Sri Lanka. The incident that otherwise went unnoticed has been highlighted by the Pakistan legend as he tweeted about it and tried to bring it to the fore. The fans, however, saw the lighter side of it.
Waqar Younis – the lip reader
Waqar was one of the feistiest fast bowlers of his generation. He was known for his aggression, both with his ball and with his mouth. He used to torment the batters with his swing and undo them with his words. That said, according to the new rule of the ICC mentioned above only the players can be sent off and not the officials; obviously. But Waqar wants that to happen as well.
Richard Kettleborough, the umpire for the first Test gave a decision against the batter. There was a huge appeal for lbw and it looked plumb to the naked eye. However, after replays and the ultra-edge, it was confirmed that the batter had edged the ball. This somehow upset the umpire and while reversing his decision the Englishman used the F-word.
The Pakistan legend wants a red card or whatever card there is in cricket to be shown even to the officials, the question, that arises then is who will issue the sending off?
Waqar uploaded a small clip of the incident and in a way questioned the new rule introduced by the ICC. He captioned the video as, "Lets see how good are u in lip reading !!! should'nt the red cards be flashed against match officials if they cross the line ??? PAKvsSL"
Some of the fans weren't really good at lip reading it seems as the comments section will surely put a smile on your face.
Here is the tweet
Lets see how good are u in lip reading !!! should'nt the red cards be flashed against match officials if they cross the line ??? PAKvsSL pic.twitter.com/uz6bs5PQvw

— waqar younis (@waqyounis99) September 29, 2017
Some of the hilarious replies
LOL ! If you start penalizing players / officials by lip reading then the only ones left in the ground would be the stumps and Hashim Amla!

— Dr. Naveed Alvi (@Nav_Derm) September 29, 2017
I remember you using the same word a lot in your bowling spells ?

— Sadaf (@SadafThought) September 29, 2017
100 chuhe khakar billi haj Ko chali..?
Waqar bhai, aap lip reading ki baat na hi kare to behtar hain

— Sunny Raut (@RautSunny03) September 29, 2017
How is that a not out..F*#k i am gonna resign and update my resume for soccer referee opening..At least I can shout @ Players openly

— Ajinkya Darne (@AjinkyaDarne) September 30, 2017