Waqar Younis used to cheat with ball for reverse swing: Mohammad Asif
Waqar Younis bowed out of the game as one of the most decorated fast-bowlers of all time.
Updated - Mar 27, 2021 6:52 pm
24.2K Views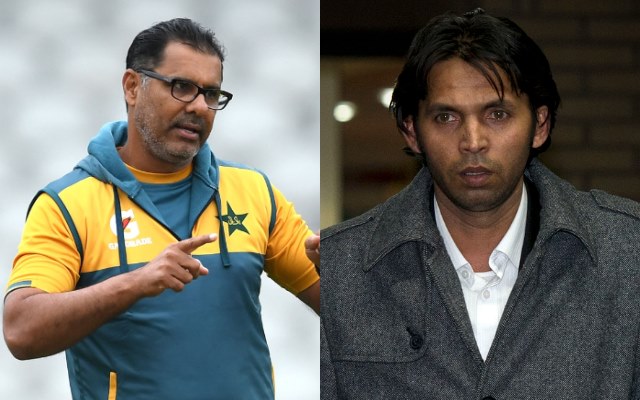 Disgraced Pakistan fast-bowler Mohammad Asif has launched a stinging attack at his compatriot and legendary pacer Waqar Younis. Both Waqar and Asif are two of the finest exponents of swing bowling from Pakistan but their careers panned out in a very contrasting manner. Waqar had already retired as one of Pakistan's greatest-ever fast-bowlers when Asif made his debut in 2005.
Waqar represented Pakistan from 1989 to 2003 and picked up more than 700 wickets in international cricket. He finished his Test career with 373 wickets and ODI career with 416 wickets. His ability to reverse swing a cricket ball at high speed made him a nightmare for even the best of the batsmen in the world. Waqar also donned the captain's hat for Pakistan during his illustrious career.
On the other hand, Asif's promising international career was cut short by his involvement in the infamous spot-fixing scandal that took place during Pakistan's tour of England in 2010. He was subsequently banned from the game and has not played international cricket since 2010. Asif's prodigious ability to swing the ball made him one of the best in the world after he made his debut in 2005. Overall, he picked up 106 wickets in 23 Tests and 46 wickets in 38 ODIs.
Waqar Younis didn't know how to bowl with the new ball reckons Asif
While Mohammad Asif did not play international cricket with Waqar Younis, he has not shied away from levelling some serious allegations against him. Asif has claimed that Waqar used to 'cheat with the ball' to get a reverse swing. Not only that, but Asif also insisted that Waqar did not know how to bowl with the new ball and learned about it only towards the end of his career.
"He [Waqar] used to cheat with the ball to do reverse swing. He didn't know how to bowl with the new ball in most of his career. He learned a bit about bowling a new ball in the twilight phase of his career," Mohammad Asif told Ary News.
Asif also took shots at Waqar's ability as a coach. The former Pakistan pacer said that Waqar is yet to develop a bowler who could bowl perfect reverse swing. Waqar is currently the bowling coach of the Pakistan team. He also stated that Pakistan do not have quality pacers at the moment and called for a change in approach.
"You know him as a master of reverse swing but he never developed a single bowler who could bowl a perfect reverse swing. These people are in coaching for the last 20 years but they never produced quality bowlers. They lack consistency in making combinations. We have quantity, not quality bowlers. There is a pool of eight pacers and they are being rotated with no plan. This approach needs to be changed," said Asif.
Muhammad Asif is not happy with Waqar Younis approach.
کیا آپ متفق ہیں؟؟؟ pic.twitter.com/CY8XgwfGX6

— Shoaib Jatt (@Shoaib_Jatt) March 26, 2021