Watch: Hilarious video of commentators taking the Ishant Sharma game face challenge
Updated - Mar 9, 2017 2:13 am
338 Views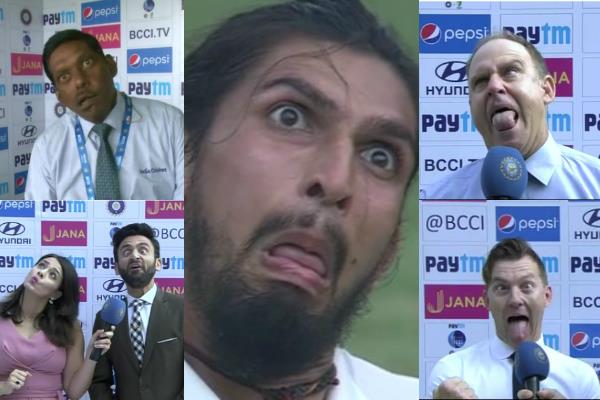 Follow us on Google News
Indian pacer Ishant Sharma became the butt of all jokes on the day 2 of the India v Australia Test at Bengaluru. Much to the disliking of the lanky pacer, he was in the news not for his excellent spell of pace bowling but for his antics on the field. It was during the Australian first innings, when Ishant made a very funny face while trying to imitate or perhaps mock the Aussie skipper Steve Smith.
His face became a trending picture on the social media and the paparazzi were at their best with photoshop edits. Since then, he was one of the most talked about names in the match. The incident perspired when Steve Smith and Matt Renshaw were batting in the first innings. Smith is renowned for his restless movements at the crease before he faces a new ball.
Ishant Sharma bowled in a short delivery but it kept low as Smith missed it completely. Before Smith could do his customary adjustments at the crease, Ishant made faces at Smith trying to mock him. Smith was left amused and the players, commentators and the fans could not stop their laughter. The Indian skipper Virat Kohli was seen bursting into laughter soon after he saw his Delhi teammate make such faces.
The organisers of the series, the Board of Control for Cricket in India (BCCI), went in a step ahead about the same in a recent video. They decided to throw up the challenge to the commentators and asked them to come up with their 'Ishant Sharma game face challenge'. Former Indian cricketer Aakash Chopra was seen saying that he never even thought it was possible to make changes to your face in so many ways.
He called Ishant an impersonation Jim Carey for his expressions. Ravi Shastri had a suggestion for Ishant as he mentioned that just a stare followed by a couple of words (which he chose not to disclose on the national television!) is just about enough to contain any batsman. Matthew Hayden and Brett Lee were see sharing their bit of laughter as they tried to imitate Ishant's expressions.
Laxman Sivaramakrishnan got it horribly wrong in his attempt of doing so and so did Michael Clarke. Well, it was perhaps Sanjay Manjrekar who was close enough to be making the same face though. The video concludes with anchors Jatin Sapru and Mayanti Langer taking the challenge.
You can watch the video here.
— Sai Kishore (@DivingSlip) March 8, 2017
Follow us on Telegram