Watch: Team India takes the Mannequin Challenge
Updated - Dec 23, 2016 5:14 pm
47 Views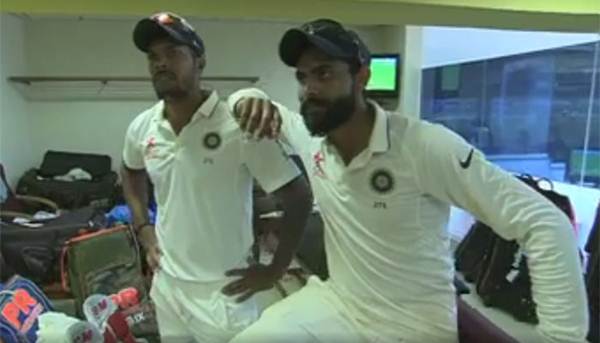 The social media is currently abuzz with the Mannequin Challenge. With the trend going viral, how could Team India not take part? In a recent video post by the Board of Control for Cricket in India (BCCI) on the social media, the Indian players were seen taking the challenge. Team India registered an emphatic win over England recently in the 5-match Test series. No wonder why the spirits of the team was sky high.
The BCCI officials decided to release the Mannequin Challenge taken by the team on the social media and the video went viral. They just uploaded a short teaser video of the challenge and got a huge response from the fans. More than 5,78,000 hits were seen on the video posted on the BCCI official Facebook page. The video begins with Indian all-rounder Ravindra Jadeja and pace bowler Umesh Yadav sporting a serious look.
The focus moves to the other players in the dressing room. The triple centurion Karnataka batsman Karun Nair is seen with his bat in the video next. It was quite exciting to see that the support staff did not stay behind either. Even they chose to be a part of the show. They were seen next with their gadgets in their hands. Just when the interest builds up, the teaser ends. No wonder why they named the term as a 'teaser'.
It will be interesting to see when the BCCI releases the complete video of team India taking the Mannequin Challenge. The challenge is all about posing like a mannequin showing no movement at all. The more still you are, the more perfection you attain in the challenge.
Earlier, it was the commentary team that took the challenge during the India v England Test series. Commentators like Aakash Chopra, Michael Atherton, Ian Botham, Sanjay Manjrekar and Kapil Dev were seen in the video. The challenge was initially started by the students of Edward H White High School in Jacksonville, Florida in late October this year.
Watch Team India take the challenge here: