Watch: Tom Latham takes a beauty of a catch to dismiss Faf du Plessis
Updated - Mar 26, 2017 12:36 pm
87 Views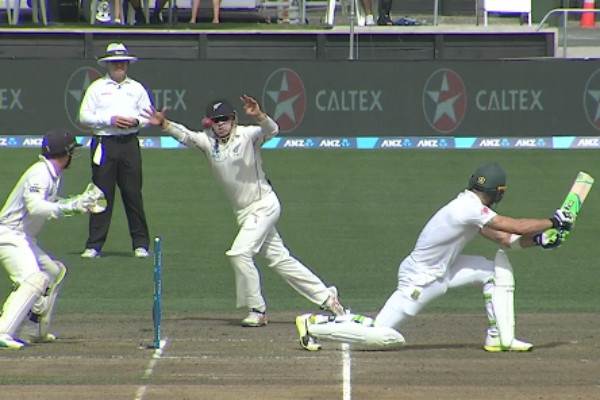 South Africa and New Zealand are battling it out in the rain-hit third and the final Test in Hamilton. The Kiwis were bowling extremely well on the first day which saw only 41 overs of play but the second day was one of the best days of the Test cricket. It had wickets, it had runs and it was all started off by some brilliant stuff by New Zealand.
Tom Latham, the New Zealand opener is one of the better fielders in world cricket. He was standing at short-leg, the most dangerous fielding position and did something unusually brilliant. Faf du Plessis looked in good nick and was calm as a cucumber. He was chatting with his partner all the time and was dealing in singles and doubles after dealing in boundaries on Day One. Du Plessis was in no hurry whatsoever. He brought up his 12th Test fifty and was set for a big score.
He was batting with ease as well, defending each ball with conviction and hitting them well for singles and doubles. In the mix of things, Mitchell Santner was given the ball by Captain Williamson and du Plessis took out one of his cheeky lap sweeps. Tom Lathan, however, was having none of it. Sighting that the South African captain is playing a cheeky little shot down the hill he took off even before the ball hit the bat.
Latham with this improvisation was a yard or two on the right from his normal position which allowed him to get in range of the ball. Faf du Plessis played a perfect lap sweep and Latham was on it in a flash. He stretched his right arm to grab the ball and the Mitchell Santner had his first scalp in the 61st over of the game.
Only something special would have got this batsman out and Latham provided that to New Zealand with that special effort of his. These are some of the very rare catches that are executed well and Latham will surely cherish this one for a long time.
Watch: Tom Latham takes a beauty of a catch to dismiss Faf du Plessis