Watch: UAE batsman Shaiman Anwar gets bowled in a pretty strange way
Updated - Jan 18, 2017 4:16 pm
63 Views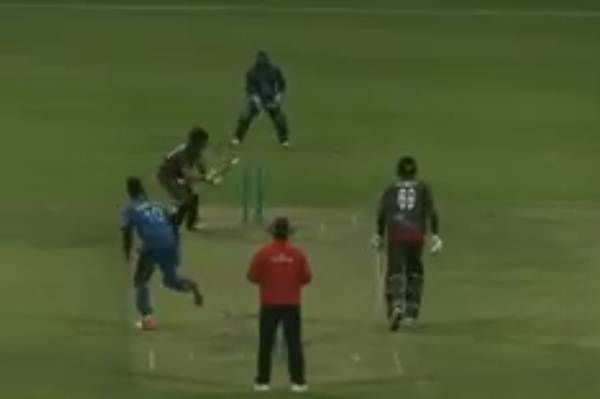 In the 6th match of the Desert T20 Challenge hosts United Arab Emirates met Afghanistan at the Sheikh Zayed Stadium in Abu Dhabi. Having won the toss Afghan skipper Asghar Stanikzai decided to field first. UAE were off to a decent start after a couple of wickets and were placed quite well at 101/3 in 13.2 overs. Their No.3 batsman Shaiman Anwar who has been in a healthy run of form of late struck yet another half century his 5th in consecutive matches but batting on 52 against pacer Dawlat Zadran he did something he wouldn't be proud of.
He had pushed the team towards a defendable total but the 140 odd runs were never going to be sufficient for them to stop the rampant Afghans. With only 4 balls to play, he decided to go for an expansive ramp shot. While attempting the shot he moved right across his stumps and was possibly on the 6th or 7th stump. An attempted ramp shot followed but the bowler Dawlat had his senses in place watched the batsman move all the way out and did the most sensible thing.
All the needed to do there was bowl it onto the stumps. Anwar was in no position to hit the ball if it was onto the wickets and Dawlat did just that. The ball crashed into the timber and shattered them. He was disgusted at being bowled and even waved his bat towards the stumps.
What kind of a response do you expect from a fast bowler when he dismisses a batsman attempting such an extravagant shot? Zadran showed him the way to the dugout with a pat on the back for his knock.
UAE ended their innings on 146 and wasn't enough to hold the Afghans back. They chased it down with 5 wickets and 7 wickets in hand.
Watch the video here:
Have you ever seen anything like it?! Shaiman Anwar of the UAE was bowled out in a very strange way! #DesertT20 pic.twitter.com/Pwkwd97hG5

— ICC (@ICC) January 18, 2017