Watch: Umpire Nadir Shah gives the silliest LBW decision
Updated - Dec 3, 2016 2:25 pm
67 Views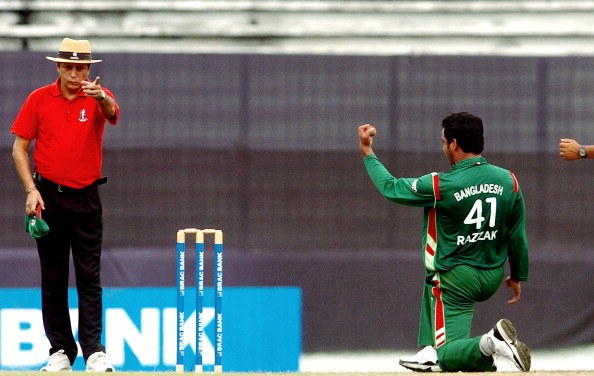 Follow us on Google News
Umpiring – A difficult and a thankless job. The law keepers of the game probably stand on the field under more pressure than the players themselves. One wrong decision and the game can change its face. Critics are always ready to point fingers at them. Modern technology has made it impossible for them to escape with any kind of blunders.
While mistakes are bound to happen when you are supposed to make quick decisions within seconds, the kind of insensible error umpire Nadir Shah, a former member of the ICC International umpire's panel, has committed in the video is unacceptable even by the street cricket standards.
The incident took place in the ongoing Bangladesh Premier League when Rajshahi Kings off-spinner Arif Hossain went up for a leg before appeal against Chittagong Vikings' Jahurul Islam in the 5th over of the 40th match at the Shere Bangla Stadium, Mirpur.
A normal off-break spun from around the wicket after pitching around the off stumps. The right-hander tried defending it but fails to do so and only manages inside edge the ball right onto his back pad. The bowler naturally went up and the umpire to the surprise of the batsman agreed with the 17-year-bowler. The replays clearly indicated a big deflection from the bat.
This error reminds of the infamous sting operation in 2013 which led to his 10-year suspension upon being caught expressing his willingness to fix matches after a sting operation by an Indian TV channel allegedly found him willing to fix matches for cash.
Bangladesh Cricket Board, however, lifted the 10-year ban ahead of this year's season allowing him to officiate in domestic matches. The private India TV channel aired the footage in October 2015, showing that Shah was willing to give LBW (leg before wicket) decisions on demand.
There are obviously no intentions of connecting both the scenes as no one would commit such mistakes after being caught once. But, the umpire surely did something which the Bangladeshi fans wouldn't love to see.
Watch: Umpire Nadir Shah gives the silliest LBW decision
https://twitter.com/AltCricket/status/805022451973443584
Follow us on Telegram