'We fully understand that they are on all the time' – Tim Paine opens up on stump mic controversy
The skipper further admitted that the fifth day was not Australia's 'finest'.
Updated - Jan 12, 2021 5:53 pm
6.7K Views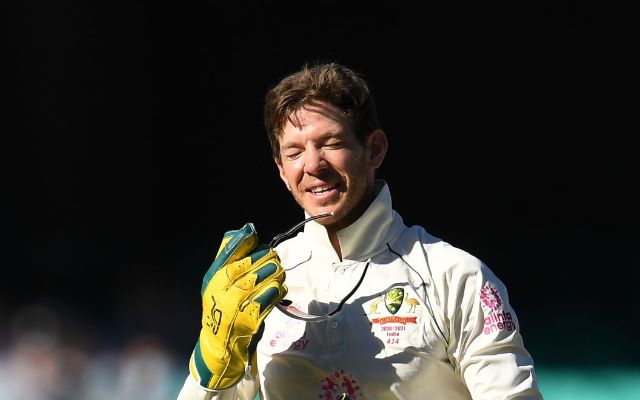 Follow us on Telegram
The list of controversies just doesn't seem to end in the India and Australia series. After a racial abuse case where Mohammed Siraj and Jasprit Bumrah were abused by the Australian crowd that eventually led to some people being evicted from the stands, another issue has cropped up that demands attention.
Steve Smith was clearly seen trying to 'rough up' and erase Rishabh Pant's guard in India's second innings. The question is, what has Smith got to do with the striker's end especially when his team has already batted twice and he has scored runs in both the innings?
However, Australian skipper Tim Paine has outrightly defended his batting talisman and stated that Smith is reportedly disappointed with the way the issue is viewed. Paine also added that it was something that was a regular feature with Smith, where he does shadow practice standing at the crease. The Aussie skipper also added that Smith does it almost every time.
"I'm glad you asked that, because I have spoken to Steve about this. And I know he's really disappointed with the way it's come across. If you've watched Steve Smith play Test cricket, that's something he does every single game, five or six times a day. He's always standing in the batting crease, shadow batting. We know he's got those many Steve Smith quirks and one of them is he's always marking centre," said Paine as quoted by ESPNcricinfo.
'We fully understand that they are on' – Tim Paine
Paine also opened up on the chatter of the Australian team that was caught on the stump microphone. Paine said that the players are aware that the mics are on the full time, but sometimes, the players tend to forget that. The skipper also added that players can get stuck to a batsman but admitted that it should have been done in a better manner than how he himself did it.
"We fully understand that they are on all the time. Was it the stump mics that took away from the Test or me? It was probably my behaviour. I know – for some silly reason you forget at times they're on. But I need to be better than that. I know they're on. We've seen plenty of instances in the past when you can get stuck into the batsman and do it in a way that's a lot better than the way I did it yesterday. We understand that," added Paine.
The skipper further admitted that the fifth day was not Australia's 'finest'. He also added that he loves the way Matthew Wade gets into chatter but cautioned that things that happen in the middle can be misinterpreted. Paine finally concluded by saying that he would not like to change the way the Australian team goes about their chatter in the future.
"I love the way Wadey goes about it. He and all of us need to understand that sometimes how things can look are not how they are in the middle. That's something we need to be aware of. Yesterday wasn't our finest day as a team, and it's something we'll address this morning. I certainly don't want to change the way Wadey goes about it or anyone in our team goes about it," concluded Paine.
Follow us on Google News