West Indies head coach Phil Simmons suspended
Updated - Sep 29, 2015 5:27 am
49 Views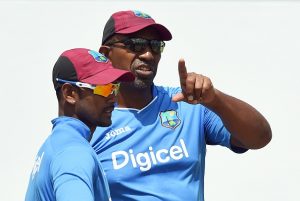 West Indies head coach Phil Simmons suspended: West Indies coach Phil Simmons was suspended with immediate effect on Monday after appearing to question the selection criteria of the Caribbean one day squad that will tour Sri Lanka in November.
Simmons will not travel with the team for the Sri Lanka tour, which begins with a Test in Galle on October 14, and will be replaced by Eldine Baptiste, a member of the West Indies Cricket Board's selection panel.
A statement from the WICB said: "The management of the WICB has taken action to suspend the Head Coach, pending an investigation into the issue".
In a media conference at the conclusion of the team preparation camp last Friday, Simmons took the unusual step of accusing "people" of using their "influence" to determine squad selection.
Simmons said was "too much interference from outside" in the selection of the ODI squad, after all-rounders Dwayne Bravo and Kieron Pollard failed to make the cut. He did not say where the interference was coming from.
"I think it's disappointing from the fact that I haven't got the best 50-over ODI squad that we can select in the Caribbean," Simmons, who took over as coach after the World Cup at the end of March, opined.
"The chairman, Mr (Clive) Lloyd, came and he gave an exceptional speech saying that he thinks it is time they (Bravo and Pollard) are back in the squad and he gave exceptional reasons for them being back in the squad".
"Unfortunately, when we went into the selection meeting  we lost it 3-2. Him and myself – the captain (Jason Holder) doesn't have a vote in this – but the captain also gave his views as why they need to be back" he added.
Simmons, 52, is a former West Indies cricketer who played 26 Tests and 143 ODIs between 1987 and 1999. He was Ireland coach prior to this assignment.
West Indies will play two Tests, three ODIs and two T20Is in Sri Lanka. The ODI series will start on November 1, at the end of the two-Test affair.