West Indies spinner Sunil Narine withdraws himself out of the ICC Cricket World Cup 2015
Updated - Jan 27, 2015 6:26 pm
45 Views
West Indies spinner Sunil Narine today has withdrawn his name from the list of 15 members squad the West Indies had announced for the ICC Cricket World Cup 2015. The spin wizard is currently off the cricket field following first a report and then a ban imposed on him by the Indian cricket board the BCCI during its T20 tournament the Champions League T20 in 2014. Since then both Narine and the West Indies Cricket Board (WICB) had decided against him participating in any further tournaments even for the West Indies and was kept out from the tour of India and the ongoing series against South Africa.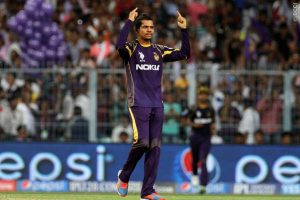 Follow us on Telegram
Narine since the incident while bowling for his IPL team the Kolkata Knight Riders has been training and working on his action to modify it good enough to be permissible for the BCCI as well as the ICC.
Though according to the WICB he has achieved satisfactory ssuccess in mending his action for delivering the ball within the 15° angle but also considering the fact that Narine has no sorts of match practice whatsoever the bowler himself and the Board took this huge decision.
In a press statement the WICB said,
"Narine has undergone intense remedial work on his bowling action and preliminary tests have shown him bowling all his deliveries under the 15 degrees flexion allowance,"
"However, he requires more time to be able to confidently bowl for a sustained period in international cricket with his new action."
This now further weakens the West Indies team and it's chances of making the ICC Cricket World Cup 2015 count, as he was supposed to be a key cog in the teams success and he is not alone also missing from the 15 members squad are names like Kieron Pollard and Bravo who have had uncommon achievements for the team in the past.
The Mystery spinner himself reacted on his pull back from the world cup 2015 squad and The Reuters reported Sunil Narine saying, "Going in to the World Cup is a little too much too soon and, after consulting the WICB, for both West Indies and my sake we have decided to delay my return to international cricket until I am 100 percent confident in all that I do."
Follow us on Google News