West Indies v Pakistan, 3rd Test, Day 1 Review: Fifties from Azhar and Babar put Pakistan on top
Pakistan finished day 1 on 169/2 in the 69 overs of play.
Updated - May 11, 2017 1:32 pm
87 Views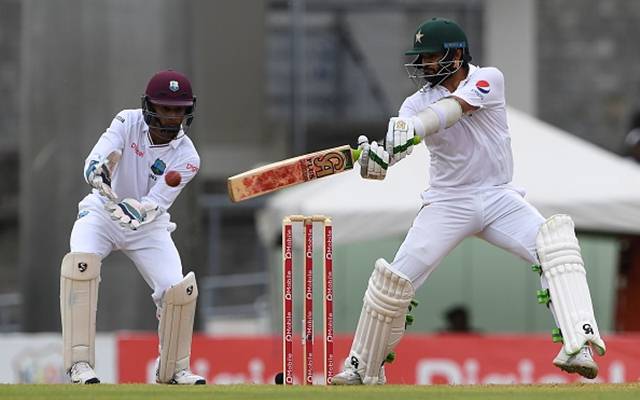 A riveting series of Test cricket between hosts West Indies and Asian giants Pakistan saw the pendulum swinging erratically in the first two matches. Pakistan clinched the first Test with ease, and were on course to seal the series at Bridgetown as well. Despite a familiar theme of losses for the West Indies, an inspired spell of pace bowling, which might have made cricket aficionados reminisce about the golden era in the West Indies cricket, made it even stevens. The scene moved to Dominica, where the two contestants would fight it out in the third and final Test in the hunt for a historic series win.
For many Pakistan cricket fans, this Test match was going to be the most emotional one since Inzi's farewell. Two of Pakistan's most decorated players would no longer be part of the team's 'victory-salutes' or 'celebratory push-ups' anymore. The departure of the fourth innings colossus that is Younis Khan, and veteran skipper Misbah ul-Haq would leave an unfathomable void. Their Herculean efforts on many an occasion would no longer make headlines in the cricketing fraternity. "For us, it's hard to register that they won't be in the dressing room after this series; we can't imagine life without Misbah and Younis," Azhar Ali said, and rightly so.
Even the gods seemed to be quite upset at the fact that two bona fide greats would step into the field for their final Test. A light drizzle was a token of thanks from the heavens as Pakistan came out to bat in conditions ripe for lateral movement. Azhar Ali had a new opening partner in Shan Masood, who replaced Ahmed Shehzad suffering from sea sickness. Shannon Gabriel began proceedings with a maiden. Eight overs into the game, Roston Chase took the new-ish ball, when the pitch unleashed the demons that lurked within. The off-spinner bowled a probing over, offering turn and vicious bounce.
Two maidens were followed by a wicket in Chase's 3rd over, as he removed Shan Masood one run short of double figures. Masood was sucked into pushing at a fuller length delivery, but ended up edging it to second slip. Enter Babar Azam, and along with Azhar, got busy constructing a sturdy century partnership. The duo saw Pakistan through to Lunch without any further hiccups.
Midday showers meant valuable overs were lost on the first morning. Azhar and Babar came back to the crease for a delayed second session, only to scurry back to the dressing room after a couple of overs. The drizzle got heavier; even after an entire hour, the rain refused to relent. Eventually, play resumed at around 3 following an early tea break. Rain had eaten into 14 overs in the day's play.
Leggie Devendra Bishoo was straight away in business, as Babar Azam edged one to the keeper. The ball however was put to ground, as the keeper was late to react. In retrospect, it proved to be a costly drop. Meanwhile, Azhar kept the scoreboard ticking and soon brought up his 26th Test fifty. Babar Azam followed suit, and his was a timely half-century following a pair in the last game.
Uncertainty of footwork cost Babar Azam his wicket. Alzarri Joseph's skiddy pace had broken the 120-run stand. In walked Younis Khan for his penultimate innings, or if things went well for Pakistan's bowlers, his last. He was greeted to a guard of honour from Jason Holder and the West Indies team, a gesture that summed up a career brimming with milestones.
Amidst the overflow of emotions, Azhar Ali inched towards yet another 100 in Test cricket. At the end of 69 overs, umpires were forced to whip out the lux meters. Light didn't side the cricketers, and that was it on a run-curtailed first day. Undoubtedly it belonged to Pakistan, who, despite a couple of wickets, showed resilience on a tricky pitch. Fifties from Azhar Ali and Babar Azam set the tone for what could be a lengthy Pakistan innings. Younis walked back to the dressing room unbeaten on 10, while Azhar was 15 shy of a century. Grey skies could be a constant through this Test, as has been so often in the Caribbean. Pakistan however will have to brave the weather and the Windies spinners, who seemed to exploit the conditions best, if they want to prevail in this deciding Test.
Brief Scores:
Pakistan 169/2 in 69 overs (Azhar 85*, Babar Azam 55*, Chase 1/27, Joseph 1/39)
Check full scorecard here.