West Indies v Pakistan, 3rd Test, Day 5 Review – Pakistan clinch dramatic series victory as Chase remains stranded on 101
Pakistan won the series 2-1.
Updated - May 15, 2017 11:25 am
220 Views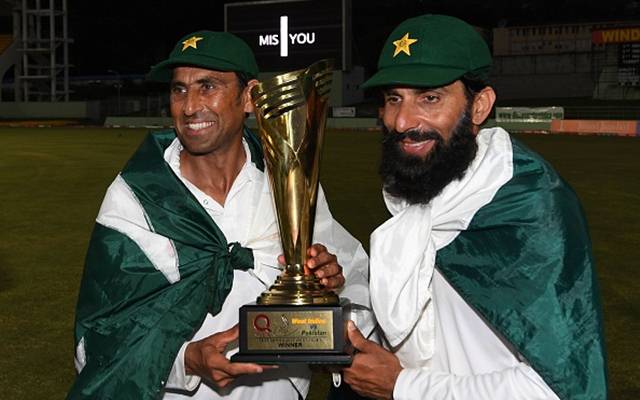 The existence of fairies is questionable, but we're now certain that fairytale ends are a reality. Ask Misbah-ul-Haq and Younis Khan, two names etched in Pakistan's cricket almanac. Lionized for their exaltation of the nation's cricket, both are pioneers in their own rights. On one side there's Younis Khan, who proudly marched into the 10K club as the first member from Pakistan.
Likewise, there's Misbah-ul-Haq, who achieved what Hanif Mohammad couldn't, what Javed Miandad couldn't, and what Imran Khan couldn't – a series victory in the Caribbean. Two of Pakistan's and world cricket's most successful cricketers signed off with crowning glory amid emotional scenes at Windsor Park.
So, what was the story you may ask? Tears filled Younis's eyes as the Pakistan team posed for a group photo; it was after all his last day at the office. Misbah, however, remained the epitome of cool. The visitors rushed out to the field searching for that dodgy series victory, which was currently deadlocked at 1-1. Resuming from 7/1, the West Indies batsman had a further 297 to clinch their first series against a top-eight side since 2012.
A draw would be as good as a win for the hosts, but Pakistan were thirsty for a win. To begin quenching their thirst, Yasir Shah stepped up to strike in the 4th over of the day. He offered a short ball to Kraigg Brathwaite. Upon shaping to cut, Brathwaite slapped it airily to point.
Not for the first time in this series, Mohammad Amir steamed in to rattle the stumps. This time it was Shai Hope who had no answer to another beauty from the left-arm pacer. The West Indies found themselves in a sticky situation at 47/3 when their crisis manager Roston Chase walked in.
Hope and Chase occupied the crease for the next dozen overs before debutant Hasan Ali got to his maiden Test wicket. His victim, Shai Hope, froze completely and played all around the delivery. Hasan's toe crusher would have crashed into middle stump. West Indies quite literally lost Hope, as the scorecard read 66/4.
Following Lunch, the West Indies further slumped, losing half their side. It was that man Yasir Shah into the act once again, who got a classic leg-spinner's dismissal against left-handed batsmen. An inside edge from Vishaul Singh popped up to Babar Azam at short leg, who took a fine catching diving forward. The long-awaited series victory was now much closer to Pakistan.
Shane Dowrich then bit the dust, although Bruce Oxenford's decision was questionable. Yasir Shah, however, was one wicket closer to yet another five-for. Roston Chase was joined by his skipper Jason Holder. The duo, arguably West Indies' two best batsmen through this series, had over half the day to bat out and save this Test.
As they'd been expected to, Chase and Holder began stitching a valuable 50-run partnership, which would have put a Pakistan victory in some jeopardy. However, as twists and turns are always timely affairs in an engrossing story, so was Holder's wicket. Reverse swing had done the trick for Hasan Ali. The Windies skipper missed the ball completely, and Hawkeye confirmed that it would have crashed into leg stump.
A minor resistance was all that Devendra Bishoo could offer, as he fell for 3 off 45 balls. While many waited in anticipation for West Indies' tail to fall like skittles, Roston Chase quietly got to his hundred with a stunning on drive. Under the circumstances, Chase's was one of the most defiant and resilient knocks in recent Test history. With eleven overs to go, Chase was the only man who could possibly save the day. With a win out of the picture for West Indies, they needed to negotiate 11 overs of fierce pace bowling, while Pakistan were desperate to bag the final two wickets.
Often there are some heroes whose acts of bravery go in vain, much like Roston Chase in the Roseau Test. He watched from the other end in consternation as Alzarri Joseph nicked one to the keeper. The onus was now on Shannon Gabriel, who had hardly batted in international cricket, let alone in heart-stopping situations like these. The equation changed – 8 overs to negotiate for West Indies, 1 wicket to conquer the Caribbean for Pakistan.
Maiden overs became the norm for the next 20 minutes, but the inevitable moment came on the final ball of the 96th over. Gabriel had one ball to see out and decided the take the aerial route as fielders were clustered around the bat. To the other disappointment of the West Indies, he only managed an inside-edge, the ball ricocheting onto the stumps. Frenzied scenes at Windsor Park followed. Younis Khan rushed to uproot one stump as a souvenir, while Misbah ul-Haq promptly ran to the grass banks to celebrate with his family. Spare a thought for Roston Chase, whose valiant century will seldom be spoken of.
Misbah ul-Haq's and Younis Khan's final memories of their illustrious careers would be holding series trophy numero uno in the West Indies with the Pakistan flag draping their shoulders. A 101-run win sealed the duo's careers with aplomb. Along with the rest of the Pakistan team, this prolific pair in the nation's cricketing history would celebrate this win long into the night. And there's no reason why they shouldn't live happily ever after.
Brief Scores:
Pakistan 376/10 in 146.3 overs (Azhar Ali 127, Misbah 59, Chase 4/103, Holder 3/71)
West Indies 247/10 in 115 overs (Chase 69, Powell 31, Abbas 5/46, Yasir 3/126)
Pakistan 174/8 decl. in 57 overs (Yasir 38*, Younis 35, Alzarri 3/53, Gabriel 2/24)
West Indies 202/10 in 96 overs (Chase 101*, Hetmyer 25, 5/92, Hasan 3/33)
Check full scorecard here.