What happened in the cricket world today – July 18
Here is the quickfire wrap-up of the events that grabbed the spotlight from the cricketing world today.
Updated - Jul 18, 2021 7:56 pm
403 Views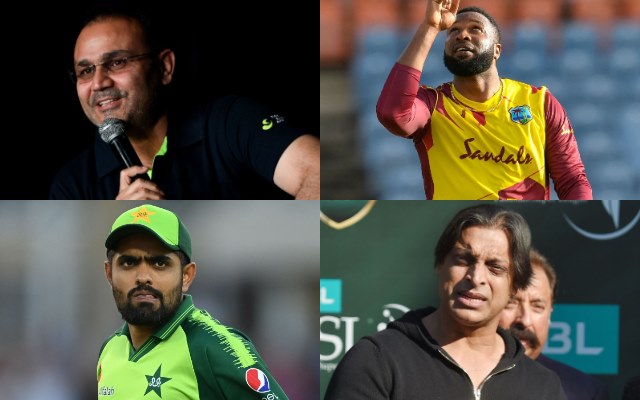 Follow us on Telegram
Here are the titbits of news that matter in the world of cricket today.
1. Some selected players should be nowhere near the team: Rashid Latif
Former Pakistan cricketer Rashid Latif has strongly stated that some players who have been selected in the Pakistan cricket team do not deserve to be in the side.
2. 'This Indian B team can even defeat the Indian team in England' – Virender Sehwag lambasts Arjuna Ranatunga for his 'B' team remark
Indian batting legend Virender Sehwag has torn into Arjuna Ranatunga for labeling the Indian side that is playing against Sri Lanka as a second-string side.
3. Will have a fair idea about South Africa and Australia at T20 World Cup: Kieron Pollard
West Indies captain Kieron Pollard has stated that the West Indian side will have a good idea about the South African and Australian sides in the T20 World Cup, as the 'Men in Maroon' have played against both these outfits recently.
4. 'They'll be playing non-stop' – Deep Dasgupta highlights one factor which would work against Team India in T20 World Cup
Deep Dasgupta reckons that the Indian side might get burned out by the time the T20 World Cup arrives as all the players will be playing non-stop cricket from now till the T20 World Cup.
5. When it comes to batting talent, India are best placed of all the teams: Ian Chappell
Ian Chappell feels that the Indian cricket team is the best-placed side at the moment when batting talent is taken into consideration.
6. 'I'm jealous' – Russel Arnold backs an Indian youngster to be the difference between winning and losing against Sri Lanka
Former Sri Lankan cricketer Russell Arnold feels that Prithvi Shaw will entertain everybody in the series between India and Sri Lanka.
7. 'Babar Azam might be asked to step down or could take the decision himself' – Rashid Latif on skipper's ODI captaincy
Rashid Latif feels that Pakistan's current series against England as well as the upcoming series against the West Indies side is crucial for the future of Babar Azam's captaincy reign.
8. Shoaib Akhtar selects his all-time ODI XI, excludes Virat Kohli and Babar Azam
Former Pakistan speedster Shoaib Akhtar has left out the likes of Virat Kohli and Babar Azam from his all-time ODI XI. The Indian players who made it to Akhtar's all-time XI are Sachin Tendulkar, MS Dhoni, Yuvraj Singh, and Kapil Dev.
Follow CricTracker for all the latest cricket news from around the world
Follow us on Google News