What next for Prithvi Shaw?
From being the "next big thing", Shaw was the epicentre of unprecedented ridiculement and a prime candidate to be dropped from the side. With such a dramatic decline, what does the future have in store for Prithvi Shaw?
Updated - Feb 12, 2021 12:58 pm
2.1K Views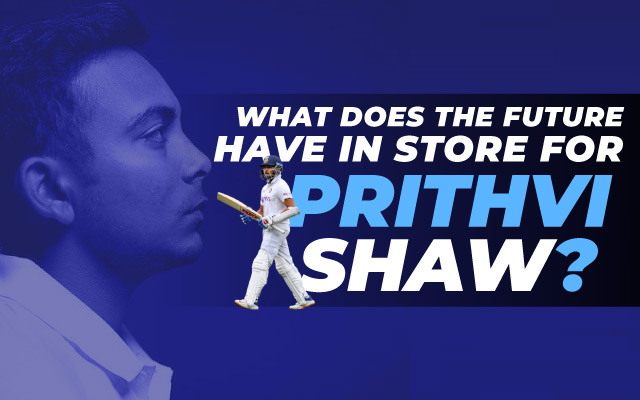 International cricket is a relentless spiral of unfathomable highs and lows. One day you are heralded for inevitable glory, the other you are the devil incarnate. It is futile to crave unerring success as the haunting presence of failure will barbarically hunt you down. No recent cricketer has epitomised this as much as Prithvi Shaw.
Even from the tender age of 15, Shaw was tipped for unparalleled greatness; his astonishing 546 in a school game was deemed as a mere glimpse of things to come. The endless furore surrounding this precocious talent appeared to be justified when an 18-year-old Prithvi Shaw stroked a marvellous 134 on his Test debut. The knock showcased his flamboyant flair and his exquisite timing of cricket ball, qualities that are synonymous with the greats of our game. Fans were simply awestruck by the sheer class that Shaw possessed and proclaimed the immediate arrival of the next Sachin Tendulkar.
However, the gentleman's game is an unforgiving beast: the plummet of Shaw was just as swift as his rapid rise. He was suspended for 8 months of his fledgeling career when he inadvertently consumed Terbutaline, a banned substance when taking cough medicine. Shaw was deprived of 8 months of further development due to his self-inflicted carelessness. When he returned, his form abandoned him and a mere silhouette of his former self emerged hence resulting in a mediocre IPL.
As if to make matters worse, Prithvi Shaw looked wholly out of sorts in the 1st Test of the Australia series; he managed a meagre total of 4 runs in 2 innings. The same fans who marvelled at his undeniable talent fumed at his underwhelming performances and disregarded his calibre. From being the "next big thing", Shaw was the epicentre of unprecedented ridiculement and a prime candidate to be dropped from the side. With such a dramatic decline, what does the future have in store for Prithvi Shaw?
It has been excessively publicised that he is endangered to the nip-backer due to his gargantuan gap between bat and pad. Fans have puzzled over why the previously meticulous in method Shaw is all of a sudden the unfortunate owner of such a basic flaw. However, this is a misconception that we all are guilty of harbouring; even in the days of Prithvi Shaw the "next Sachin Tendulkar", he still had a gaping gap between bat and pad and yet he accumulated bucket loads of runs. What has changed?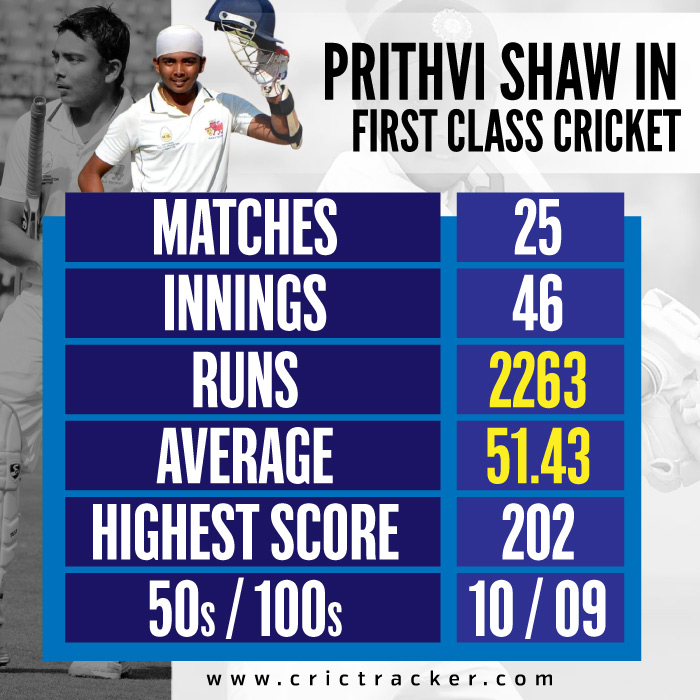 When a batsman makes their debut, their subtle blemishes in their technique are ignored due to the lack of analysis on that player. However, after a few games, teams begin to nitpick the defects in that particular batsman's game using data and subsequently bombard them with weakness-penetrating deliveries. This is precisely what the Australians have executed against Prithvi Shaw. Now his gap between bat and pad, and his other imperfections, is amplified more than ever before.
A similar scenario occurred for Virat Kohli, the inarguable best all-format batsman in the world; in his 2014 Test tour to England, he averaged 13.50 in his ten innings. The English bowlers exploited his blatant weakness to moving deliveries outside off stump to excellent effect. Kohli was immediately deemed to be a flat track bully and incapable of gritting it out on bowler-friendly conditions, similar to the current Prithvi Shaw. However, through sheer hard work and determination, Virat Kohli ascended to the pantheon of the greats and proved his credentials in English conditions.
Also Read
Prithvi Shaw is at an identical crossroads and it is utterly up to him which path he takes: the route to sculpting a career to remember or a path to eternal regret. Shaw must work tirelessly at perfecting his technique as blatantly ignoring his obvious flaw will make him a walking wicket for bowlers. However, it is equally essential for him to retain his god-given flair as that is what propelled to such heights in the 1st place. Straying away from natural instinct has only ever ended in disaster for batting mavericks of the ilk of Prithvi Shaw.
However, solidifying technique is not the sole factor to resurrection in form as cricket is a psychological game as well. Shaw must gradually reimburse the irresistible swagger that graced his batting beforehand. As of now, he appears to be timid and meek whenever he approaches the crease and his aura has truly dissipated. For this to achieve, India must drop Shaw from the team for the 2nd Test and relieve of the surmounting pressure that has burdened his play. While this statement seems contradictory to previous ones, it is obvious that if he plays in the Boxing Day Test, his cricketing conscience will only further crumble due to his malfunctioning technique.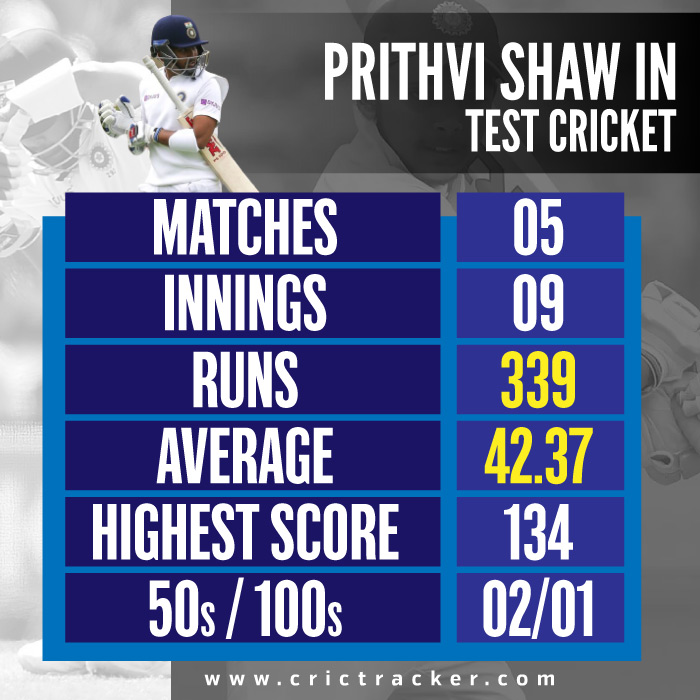 In addition, Shaw must learn to cope with the oscillating opinions of the public which could be a factor of his current form. Their opinions are formed by the present happenings and the past is banished to irrelevance. The players of yesteryear were unparalleled at this crucial skill but with the emergence of Social Media, the task has been made doubly harder. Prithvi Shaw's mental wellbeing is more important than his batting technique and he must find a method to shield it.
As stated before, cricket is an unforgiving beast. However, it is also a rewarding one as those who are valiant enough to overcome the monumental challenges are spared to reap the rewards of their efforts. Shaw's tumultuous career has been an affair of fluctuating form. If Shaw can tame the rugged landscape of his emerging career, he has the capability to conquer the world. That's right, you haven't seen the last of Prithvi Shaw!
~ Written by Rahul Palaninathan
Follow us on Google News