What protocol does a player need to follow if a fan invades pitch in IPL 2021?
BCCI has sent a 50-page document to all the franchises in this regard.
Updated - Mar 23, 2021 1:16 pm
5K Views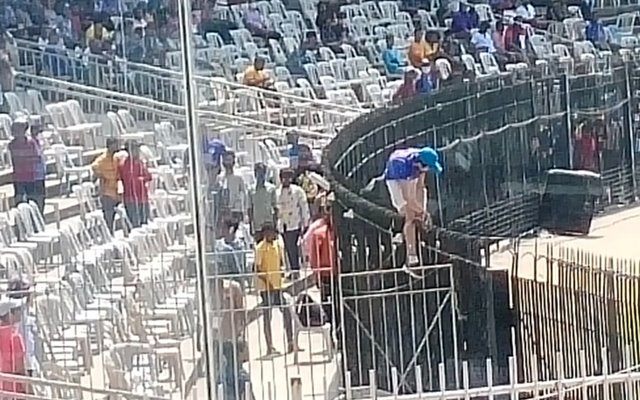 Follow us on Google News
The Indian Premier League (IPL) is back in India and the 14th edition of the tournament is set to commence on April 9. However, times have changed and IPL, to start with, will be played behind closed doors. With the COVID-19 cases increasing again in India, the BCCI has already released strict SOPs for everyone who will be in the bio-bubble during the cash-rich league.
Though the IPL will be played without the fans, for now, the BCCI had earlier stated that the decision to allow spectators will be taken later as the tournament progresses. The board, meanwhile, has also covered that aspect in its SOPs as to what happens if a fan invades the pitch and comes in contact with a player on the field.
In a 50-page document, the BCCI has cleared that, if a fan comes in contact with a player during the match, then that cricketer will have to change his clothes and those used will be put in a different bag for disinfection. Moreover, the fan will be removed from the stadium by the security guards.
"If during a match or practice session, any spectator or fan manages to enter the field of play and momentarily come in physical contact with a player, they will be immediately removed by security guards. At the earliest opportunity, the player must change his clothes and put away the used ones in a separate bag for disinfection and laundry," the BCCI SOP read according to ETV Bharat.
The player should also wash hands for minimum 20 seconds
Moreover, the SOP also stated that the particular player should also wash his hands. At the same time, if the invader has come in contact with the player's bat or any other cricketing equipment, then they must be sanitized as well.
"Also, the player must wash his hands with soap and water for a minimum of 20 seconds before meeting other team members in his bubble. If the pitch invader has touched any of the player's cricketing equipment, the same must be sanitized before use," the SOP further read.
Follow us on Telegram