When Rahul Dravid left a cab in England to interact with Pakistan all-rounder Yasir Arafat
Rahul Dravid was Yasir's first international wicket.
Updated - Jun 10, 2021 4:32 pm
996 Views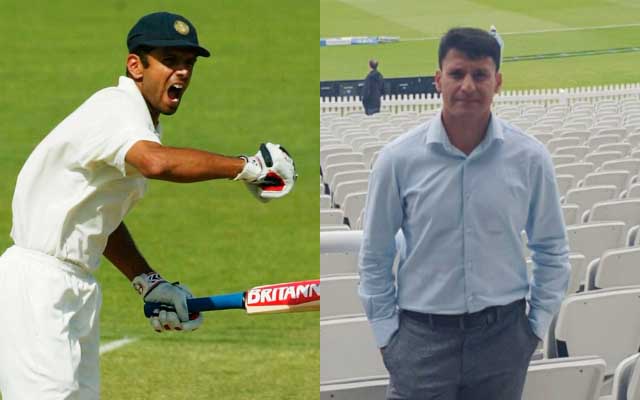 Rahul Dravid is one of the smartest cricketing brains and has a deep knowledge and understanding of the game. Dravid is know for his humble nature and is always ready to help and guide the young cricketers. Former Pakistan all-rounder Yasir Arafat was involved in an interactive session where he narrated a heartwarming incident featuring the former Indian skipper.
In 2014, Rahul Dravid had gone to Lord's to ring the bell for the second Test between India and England. Meanwhile, Yasir was present in the United Kingdom (UK) to participate in the domestic leagues. Recalling his meeting with Dravid, the all-rounder reckoned that he spotted him outside the stadium. The veteran was about to sit in his cab but after hearing Yasir's call, he stopped and told the cab driver to leave.
Dravid then came up to the all-rounder and spoke to him for at least 10 to 15 minutes regarding his cricket career and personal life. Narrating the story on the Sports Yaari YouTube channel, Arafat said, "Rahul Dravid had come to Lord's to do commentary for a match. After the game, he was leaving the stadium. He hailed a taxi and was going to sit in the car when I shouted 'Rahul Bhai' from a distance. 
"He heard my voice and asked the driver to go; he left the cab to talk to me. I have not played much cricket for Pakistan. Still, Rahul spoke to me for 10-15 minutes. He asked me about my cricket and my family. I felt really good," he added.
Taking Dravid's wicket as my first Test wicket was a big achievement: Yasir Arafat
Further, Yasir also recalled how he acted as a replacement for Rahul Dravid in a County match. The Pakistan all-rounder revealed that back in 2003, Dravid played county cricket for Scotland. However, due to some personal reasons, the Indian skipper gave the 2004 edition a miss and the authorities roped him as a replacement. 
Also, Rahul Dravid was Yasir's first international wicket. Yasir featured in three Test matches in his cricket career for Pakistan and managed to pick nine wickets. Playing his first Test match in December 2007 against India, Arafat took a five-wicket haul.
"Taking Rahul Dravid's wicket to open my account in Test cricket was a big achievement for me. I can say Rahul Dravid's wicket is the most prized one of my career," Yasir Arafat concluded.