When Rihanna saved West Indies opener Kraigg Brathwaite
Kraigg Brathwaite and Rihanna share a story from Combermere School in Barbados, where the two studied.
Updated - Jun 7, 2021 10:23 am
8K Views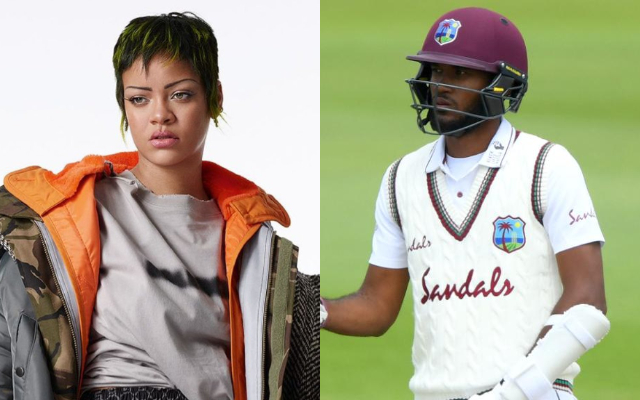 Follow us on Telegram
There are some stories in the world of cricket that often makes us laugh and wonder how small the world really is. Well, this is a story about two people, who have achieved plenty of name and fame in their respective fields. One of them is the Test captain of his national cricket team and the other is a pop culture icon. Any guesses who we are talking about? 
Kraigg Brathwaite, the current West Indies Test skipper, went to Combermere School in Barbados. This same institution has produced 15 Test cricketers who have played for the West Indies. Apart from that, Carlos Brathwaite, the star of West Indies' 2016 T20 World Cup final win, also went to this school.
And so did, English cricketers, Chris Jordan and Gladstone Small. Just a side note, if you think Carlos and Kraigg are related, it is obvious as if you google 'Kraigg Brathwaite brother', the second article is the Wikipedia page of Carlos. However, that is not the case as it has been confirmed by the two.
Coming back to the story of Rihanna, interestingly, the famous pop singer also went to the same school. In fact, during her stay at the school, she befriended Kraigg Brathwaite. The story goes that Kraigg was often bullied by his mates and some of the seniors on the school bus. However, Rihanna came to his rescue on several occasions. 
The time when Rihanna invited the entire West Indies U19 team
It has also been revealed that Rihanna beat up any kid who tried to bother Kraigg. She might have also taken care of him, as he was four years younger than her. The two even stayed in touch after their school ended. In 2012, when Brathwaite was named the West Indies U19 captain for the Junior World Cup that year, he and his teammates got a special gift from the singer. 
She kept front row seats for a concert in which she was performing. She not only invited Kraigg but also the entire U19 West Indies team for that concert in the USA. Since then, times have moved a lot forward. Rihanna has become one of the most influential women in the showbiz industry. Brathwaite, on the other hand, was named the captain of the West Indies team earlier this year, after serving the role of the vice-captain for his team for a long time.
Follow us on Google News