Which of India's 2000s heroes would Virat Kohli want in his Test team
The Indian Test team had become No.1 in the world for quite some time and Indian fast bowlers are currently scaring batsmen all around the world.
Updated - Jul 27, 2020 2:14 pm
293 Views
Follow us on Telegram
Remember the 2000s era? Indian cricket team before it was called Team India, The childhood heroes who made us watch a whole day of a Test Match ball by ball. Cricket was telecasted on Doordarshan, Indian fast bowlers were not famous for being lethal. Sometimes India used to play three spinners too, Australian side we used to hate and those early morning winter days when we used to watch them competing against likes of Lee, McGrath and Warne from our blankets.
Cricket has changed now, the Indian team is different. They are not a bunch of superstars hiding as a gentleman. The Indian Test team had become No.1 in the world for quite some time and Indian fast bowlers are currently scaring batsmen all around the world. Overseas tours are not about winning games anymore but about winning series. But still, there was something about that team led by Sourav Ganguly which still gives us goosebumps.
We do not completely agree with Aakash Chopra that Dada's team could have beaten Virat Kohli's team very easily but we do not have any doubt that Indian batting was stronger at that time. The bowling is better now as we have a lot match-winning fast bowlers but even when we have the likes of Virat, Rohit, Pujara, Rahane there is something lacking in the batting. Maybe that's the formula India is looking overseas to win matches and series like never before.
Let's see which of our childhood heroes Virat Kohli would have wanted in his current Test side:
1. Virender Sehwag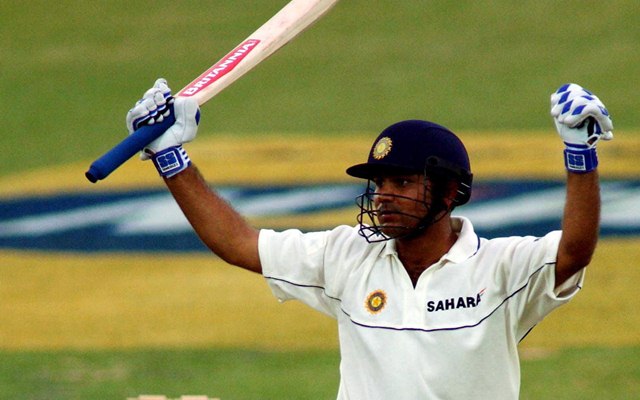 Often regarded as one of the most attacking batsmen of all time and the only opener to score a Test triple hundred for India, Sehwag's best quality was his control over the bowler's mind. The fact that he didn't care about his wicket and used to attack from the first ball of a Test match added a lot of pressure on opposition bowlers. This style suits Virat Kohli's captaincy a lot and like the Indian skipper said, "Drawing a game is the last option."
This 'Nawab of Najafgarh' is remembered for his exceptional Test performances which include his 2 triple centuries, 23 hundred, trying to go for a six when he was playing at 293 and many more such memories. That was the charisma Sehwag had throughout his career. The thing that goes against him is that a batsman who has a career average of almost 50, averages just 30 when he bats in second innings. Also, his average drops the to mid-20s when he travelled to South Africa, England and New Zealand.
India has Rohit and Agarwal opening the batting in Tests with Prithvi Shaw waiting in the pipeline. Agarwal was arguably the most successful opener in Tests last year but Rohit is still taking baby steps in Test cricket. A character like Sehwag would add a lot more value along with solid Mayank Agarwal. But the question stays that whether the limited-overs vice-captain too good a player to underestimate.
Follow us on Google News