WICB Curator comes under fire for terrible outfield conditions
Updated - Aug 22, 2016 1:05 pm
30 Views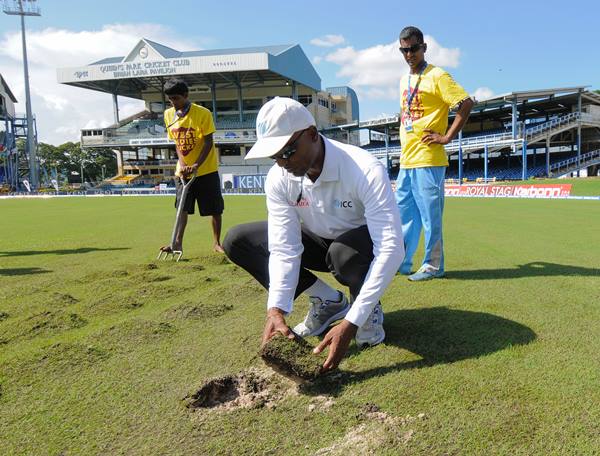 Follow us on Google News
The West Indies Cricket Board (WICB) and their employed curator at Port of Spain in Trinidad have come under a massive amount of flack following the readiness of the ground following just two days of rain. Although there has been some fantastic sunshine in the past two days, the ground and the park have been deemed unfit for action.
The Indians are now on the verge of losing out their temporary spot on the world number one ranking to arch rivals Pakistan. The latter will claim the world number one spot by virtue of their dramatic and phenomenal 2-2 draw against England in England.
The West Indies curators have been on the receiving end of some flak after having to dig up certain parts of the park in order to allow the rainwater to evaporate. The play was called off for the third consecutive day after umpires Nigel Long and Rod Tucker's inspection inferred it was unfit for playing cricket.
This would also record one of the last few times that the outfield has been deemed unfit to play on due to poor drainage conditions at the Queens Park Oval in Trinidad.
According to the reports ofnews18.com, he said, "We have been having rain constantly for the past few weeks so any additional rain would not have helped the situation
"With the downpour on Thursday the rain would have come off the covers and concentrated in certain areas around the square which have become over-saturated", he added while speaking to a local daily on Saturday and expressed his confidence of a day's play.
The Indians under Virat Kohli have been ruthless and aggressive in their approach to Test cricket ever since MS Dhoni stepped down from the hot seat in the fall of 2014. Kohli has gone on to become a highly successful skipper and will be hoping that he guides the Indians back to the top of the world ranking once again.
Follow us on Telegram