Wife of Anil Kumble files a police complaint in Bengaluru
She is reportedly unhappy with her PAN card details being misused.
Updated - Apr 2, 2018 4:30 pm
3.5K Views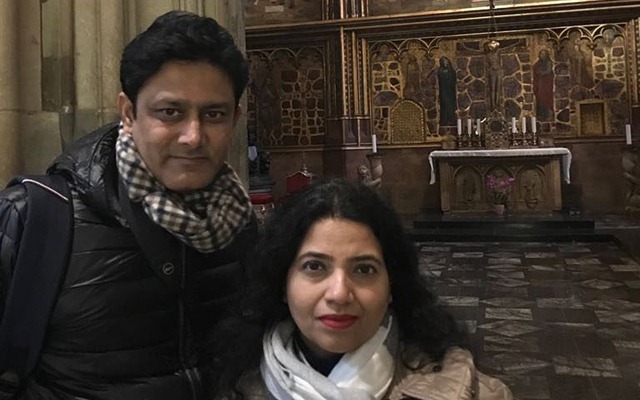 Follow us on Google News
Chethana Ramatheertha, wife of former Indian cricketer Anil Kumble, has found herself in an unwanted position at the moment. She has reportedly been dragged in a case wherein her account details have been fraudulently been used. As per the recent reports in t2online, Chethana lodged a police complaint in Bengaluru in the same case.
She is reportedly unhappy with her PAN card details being misused. She filed a cheating case against a watch manufacturing company, which is based in Mumbai. Chethana noted that her PAN card and the other details were used to conduct some other fraudulent transactions.
Absolutely miffed with this, the wife of Anil Kumble approached the Cubbon Park Police Station in the city of Bengaluru. She has accused the Time Keepers Boutique Private Limited, Mumbai in her complaint. She, specifically, has put the allegations against a person named S Vageeshwaran for buying wrist watches worth over Rs 32 lakh using her PAN card details.
Reportedly, the issue came to her notice when her financial accountant informed her about the taxes she was expected to pay. She was asked to pay tax worth INR 32,956 for the purchase of two watches. Anil Kumble has not made any remarks on the case till now. Also, Chethana has also not taken the help of the media in the matter thus far.
Police start their investigations
"I shared my PAN details with Sathya Vageeshwaran, an employee of the shop, and wrote a cheque for Rs 8 lakh, the cost of the watch. I received the watch a few days later, but I was unaware that my PAN details were misused until I discovered it in my income tax return form," she quoted.
The police have reportedly started their investigations and the Bengaluru Police are expected to be in contact with the Mumbai police soon. The investigations and the interrogations should reveal more details in the case as the days progresses. For now, the police have not given any official remark in the case. An official statement is yet to be made by the authorities.
For the latest cricket news, follow CricTracker.
Follow us on Telegram