World Cricket requires a leg-spinner like Shane Warne, says Graeme Swann
Woakes got injured because of the IPL, says Swann
Updated - Jun 11, 2017 4:00 pm
19K Views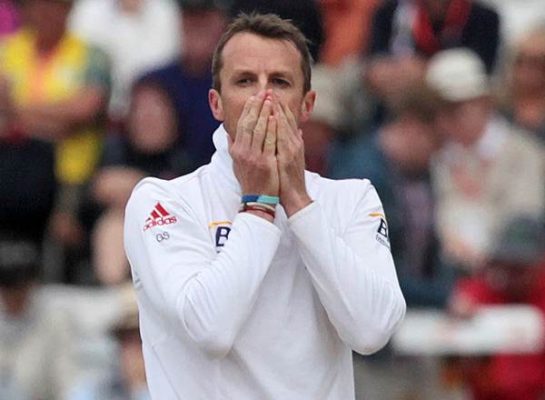 Former England off-spinner Graeme Swann, in a recent interview, expressed his concerns over the lack of world-class leg-spinner such as Shane Warne, amongst many other issues. He also went on to describe Ashwin's rapid strides in Test matches, England players being exposed to the IPL and gave away few pointers to succeed in India in the long interview.
The legendary off-spinner has been part of some of the most memorable triumphs for England which includes three Ashes-winning series and beating India in a Test series after 8 years on their own turf. Together with Monty Panesar, and batting efforts of Alastair Cook and Kevin Pietersen, the England team managed to achieve the feat.
Swann went ahead to state that cricket is 'begging' a spinner of the calibre of Shane Warne. That said, Swann seemed satisfied with the current crop of off-spinners ruling World Cricket by the names of Ravichandran Ashwin from India, Nathan Lyon from Australian and Mehedi Miraz Hasan from Bangladesh.
"International cricket is begging for a match-winning leg-spinner again. We need a Shane Warne to come along. He is the best bowler ever to have played the game, without a doubt. Because leg-spin is impossible to bowl. You can't learn it. You're either born to do it, or not. What any team would do for Shane Warne! But there are some good off-spinners around the world. Ashwin's flying the flag. Nathan Lyon's a good bowler. Then there's Mehedi Hasan Miraz from Bangladesh. As long as there are spinners in the game, I'm happy." quoted Swann in an interview with Sportstarlive.
When asked about the progress of Ravichandran Ashwin who picked a whopping 82 wickets in 13 games this season, the English off-spinner was impressed with his consistency and his reluctance to try new ammunitions in his arsenal.
Swann on Ashwin
"He's become a lot more consistent. I don't think he's changed his game so much. He's not invented new weapons like Shane Warne pretended to all the time. But he doesn't bowl bad balls. And also the more wickets you get, the more your reputation grows, people start playing the reputation rather than the ball coming down at them." added the Nottinghamshire offie. He later confessed that being dismissed on the last day of the Chennai Test match was one of the most forgettable times in England's test history
"Being bowled out in Chennai is one of the worst days' cricket in English history. None of them got bowled out. They gave 10 wickets away on a flat pitch. So reputation comes into it. And he'll believe his own reputation as well, that makes you a better bowler. It's all in the mind, Test cricket. And his batting as well, now he's a genuine all-rounder." claimed Swann.
Woakes got injured because of the IPL, says Swann
On being asked about the effects of IPL on England players, Swann boldly stated that Chris Woakes was ruled out of the ongoing ICC Champions Trophy due to his stint at IPL. But he also admitted that spending quality time with the likes of MS Dhoni in the RPS camp did a world of good for someone like Ben Stokes.
"In the IPL, you are surrounded by the best one-day players in the world. Stokes sat down and had a half-hour conversation with M. S. Dhoni. It's only going to make him a better cricketer. Stokes, now, truly believes he is world class. In the IPL he was getting man of the match every week, and the confidence from that rubs off onto the other players. Woakes got injured because of the IPL; it's a shame for England but it will do their game a world of good." commented Stokes.
Pointers to succeed in India
The off-break bowler who has clinched as many as 255 wickets in the 60 matches he played for his country later gave away few pointers to succeed in the Indian sub-continent while looking back at their successful tour to India back in 2012.
"You can't believe they're going to bowl you out. You have to look at the wicket.they are brilliant for batting. So we scored heavily; Kevin Pietersen was batting sublimely at the time. We posted big totals and then myself and Monty (Panesar) believed that we were going to bowl them out and win the game. And we saw India playing our reputation rather than the ball coming down. Test cricket is such a mental game." concluded Swann.