World Cup 2019: Virat Kohli & Co. to wear high-tech device under vest to track workload
Regional manager Pankaj Wankhede said that the devices can be worn during practice and net sessions, while also during international matches in the mega event.
Updated - May 18, 2019 7:22 pm
2.6K Views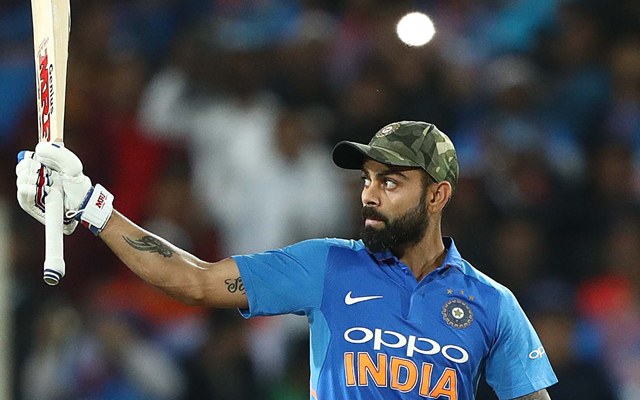 Follow us on Telegram
The game of cricket has been evolving at the rate of nauts given the technological advancements in the sport. It started with the third umpire being introduced in 1992 to the DRS in 2008; the sport has undergone many changes with the LED lit stumps making it easy for umpires to adjudicate runouts and stumpings.
Now Team India is getting all high tech and will be wearing a high-resolution unit under their vests during the upcoming ICC World Cup 2019 in England and Wales, which will be used to monitor their movements on the field and keep track of their workload during the tournament. The equipment is being provided by UK-based company STATSports, which announced the deal after contract signing between them and the BCCI.
The device will monitor fitness levels and other metrics of players
You might have seen players from New Zealand, Australia and England playing cricket, especially their fast bowlers and a bulge seen on their backs, that is the device used to monitor many things of a player and how his body is responding to conditions. "Few other national cricket teams (England, Australia, Sri Lanka) do use them of different brands. It is the most user-friendly and accurate device. The vest is worn under T-shirt and only a bulge is seen at the back," Pankaj Wankhede, the Regional Manager (South Asia) was quoted as saying by Deccan Chronicle.
According to Mr. Wankhede, the Indian team players were given a demo of the device in December of 2018, with a full description of what it does and how the results are analyzed. He further said that the devices can be worn during practice and net sessions, while also during the international matches in the upcoming mega ICC event, like players from England and Australia do.
"Indian cricketers are the busiest athletes in the world. The game of cricket is very physically demanding. Our system (GPS) will monitor their fitness level, measure hundreds of physical metrics including distance, speed, acceleration, deceleration, high-speed running, and dynamic stress load. And, this will enable the physio and trainer to assess players' fitness level and rehabilitation of the injured players," he elaborated on the workings of the device and how it's beneficial to the team.
[interaction id="5cdfe7affd3c1bb250eb6691"]
Follow us on Google News