World Cup 2019: Will the showpiece event be a Veni, Vedi, Vici moment for Vijay Shankar?
The batting all-rounder feels learning is an everyday process it shouldn't stop with World Cup.
Get every cricket updates! Follow us on
Simplicity, preparedness and focused. This is how a player — seemingly plugged the hole of India No.4 conundrum — Vijay Shankar's personality can be summarized. After why did Kattappa kill Bahubali? The most infamous question remained unanswered for a long time was, who will be India's No.4 batsman? To which chief selector MSK Prasad put a full-stop by enlisting the lanky all-rounder's name, hailed from a Tamil Nadu town Tirunelveli.
This is no surprise for the Indian players but definitely, most of the cricket fans were stoked with the news. Vijay Shankar sprung into action in the international circuit only when Hardik Pandya was banned from playing the New Zealand tour. The Tamil Nadu player's debut match was on January 18 in Melbourne when India toured Australia. He batted in one match and scored a match-winning 45 against Kiwis this February and later When Australia toured India, he played all the five home matches. Vijay scored a 120 in 4 matches he batted and picked two wickets to register his best figures in the one-dayers.
That's it! His fate was sealed. After playing 9 international matches the so-called "3D player" punched his ticket for England and Wales to represent India in the World Cup 2019, which many players dream of. It seems like everything happened in a jiffy for Vijay but here comes the challenge ahead of World Cup. "I feel like I should stick to the basics. It has been nothing short of a rollercoaster ride for me to get selected for the World Cup. I am really happy to play a part in the World Cup and feel fortunate to share the dressing room with senior players," said the batting all-rounder Vijay Shankar, who won the recent Vijay Hazare Trophy playing for Tamil Nadu.
What's cooking between Rayudu and Shankar?
IPL 2019 was not very dear to the all-rounder as he couldn't stand up the billings. He scored 244 runs of 15 matches and picked up only 1 wicket in the 5 innings he bowled. But, there is a huge difference between T20 and ODI cricket. So, fingers crossed for Shankar's World Cup stint. But, interestingly Shankar met Ambati Rayudu and had a friendly chat amid the match between Chennai Super Kings and Sunrisers Hyderabad.
Cut to a couple of days before both the players had a chat on the ground. Shankar's name was added in the 15-man squad for World Cup. The very next day, Rayudu took a sly dig at the selection committee with a Twitter post, which read "Just Ordered a new set of 3d glasses to watch the world cup."
Here is the tweet
Just Ordered a new set of 3d glasses to watch the world cup 😉😋..

— Ambati Rayudu (@RayuduAmbati) April 16, 2019
In a couple of days, Chennai Super Kings took on Sunrisers Hyderabad, where both the players who were in the fray to punch the World Cup ticket, faced each other and had a friendly chat.
When asked about the chat they had, Vijay said, "It was a lighthearted conversation. As cricketers, we understand each other's thinking. It will be hard for a player to digest getting pulled out from a showpiece event. I told Rayudu 'I can understand whatever you are going through and I can feel you.'" Despite being a senior player Rayudu couldn't grab the eye-balls of the selectors as his exploits with the national team didn't deliver at par with the expectations.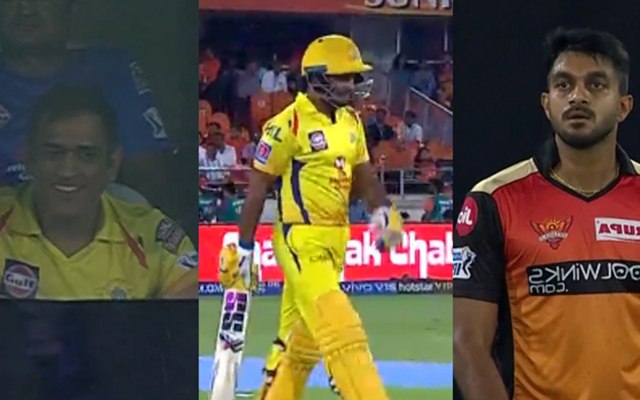 Seniority is something which comes from experience and being around the experienced players, a cricketer gets a lot to learn from them. "Obviously, there were tips from the senior players when in the overseas tournament. They told me to play my game and keep getting better with every opportunity I get. I personally think I need to work on all aspects of the game to give my 100 per cent," said the 25-year-old in a telephonic conversation with the CricTracker.
World Cup campaign
It all together will be a new ball game to play in the World Cup without having much experience in the English condition. The team has beefed up with good batting line-up for the showpiece event led by Virat Kohli. Well, every player will play a crucial role but the No.4 should be the hilt to dispatch rivals' bowling line-up home with broken bones. The siren has rung for Vijay to prepare well ahead of the World Cup.
When asked about his preparation for the English conditions, which certainly consists of flat pitches, Vijay said, "I like to keep things very simple. Initially, there was a lot of happiness around but as the tournament is getting closer I feel the ode of responsibility I must shoulder. I like to be prepared for everything and this is the World Cup, the most prestigious tournament. So, I am definitely focused to give my best."
Learnings from IPL
Suddenly there were a lot of onlookers for Vijay's performance after he got selected for the World Cup. He couldn't meet the expectations but only from setback comes the experience. This IPL season might have been a good experience for Vijay. Batting at No. 4 for Sunrisers Hyderabad his highest was unbeaten 40 in 14 innings he got the opportunity to bat.
Talking about the learnings, the Tirunelveli lad said, "It's always important to learn everyday as the senior players told me."
Will this World Cup be a moment of 'Veni, Vedi, vici' (I came, I saw, I conquered) for the lanky all-rounder? Or will it be head down outing? Well, World Cup commences on May 30, and Team India is leaving for England on Wednesday. So let's wait and wait and see.
[interaction id="5cdfe7affd3c1bb250eb6691″]