World cup winning Indian blind cricket team captain earns 15000 per month
Updated - Jul 25, 2015 7:48 am
29 Views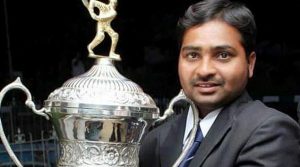 World cup winning Indian blind cricket team captain earns 15000 per month: Shekar Naik the captain of Indian visually challenged cricket team revealed in an interview to the Hindusthan Times, that despite his dedicated service to the nation for 13 long years, his monthly salary is only Rs. 15000.
This is in sharp contrast to the amount of money that the regular Indian national cricket team members get paid for their endeavors. "Despite representing India for 13 years, I don't get any MONEY for playing cricket. It's my NGO, Samarthanam, where I work as a sports co-ordinator, which pays me Rs 15,000 as monthly salary," Naik told HT over phone from Bengaluru, where he is based now.
While Indian captain MS Dhoni is the 9th most marketable athlete in the world, this staggering stat is a true testimony to how plentifully they have been paid while all that the blind cricket team captain makes is 15,000 a month. A painful stat that is a harsh reality check for Indian cricket administrators. Shekar's mind boggling credentials are second to none. The highest run-getter among all blind cricketers in the world, Naik has played 63 matches across all formats and scored 32 centuries and 15 half-centuries.
He has also led India to two World Cup titles, first in the T20 format in 2012 defeating England in Bangalore and then the 2014 Blind Cricket World Cup against Pakistan in Cape Town.
In the T20 final, Naik had scored an astounding 134 runs off just 58 balls, which surely was one of those innings that speaks volumes of the exceptional prowess of Naik. The Cricket Association for the Blind in India (CABI) is also yet to get recognition from the BCCI, which is facing a massive crisis over the conduct of some of its officials.
"Even small countries like Bangladesh and Sri Lanka are recognised (by their boards. . .Despite sending several letters to the BCCI in this regard, the board never gave us anything more than assurances. If Dhoni and his team-mates can get recognition and earn crores of rupees, why can't our players? They too play for the same Tricolour," said CABI president SP Nagesh.
Naik, however, remembers his team's meeting with Prime Minister Narendra Modi after coming back from South Africa. "Modiji promised us that he will attend the opening or the closing ceremony of the next year's World Cup (to be hosted jointly by India and Pakistan)."
Naik was to an impoverished family and he also was derided and ridiculed many times inhumanly for his blindness. But it was his mother's words, asking him to do "something special in life" and set an example for the villagers which changed his life. His mother passed away in 1998, the same year got his first call up to play for the state. He was 12 then.
Naik said that though his friends and colleagues call him the next Tendulkar, it was Sehwag with whom his batting style more closely resembles. "I wish I could meet him one day. I would like to invite Sehwag for the next T20 World Cup," Naik added.