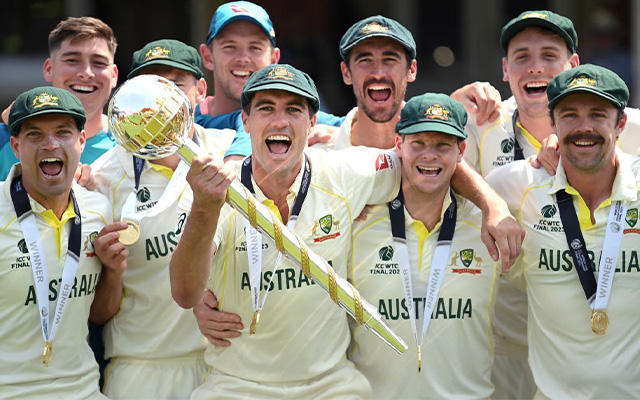 Team India's bid to end their drought in ICC events ended in heartbreak after the Asian outfit were brushed aside by Kane Williamson's New Zealand in the final of the inaugural edition of the World Test Championship (WTC). While Rohit Sharma has been handed a chance to redeem that loss against Australia in the upcoming WTC final at The Oval, Pat Cummins will be eyeing his maiden ICC honour as the skipper.
New Zealand's Kane Williamson went into the history books after becoming the first captain to triumph in the WTC final in 2021 in Southampton. Kiwi pacer Kyle Jamieson became the first player to be named the Player of the Match in a WTC final after his all-around heroics secured an eight-wicket victory for the Kiwis.
Even though England have failed to grab the ticket to the WTC final on both occasions so far finishing at third and fourth positions in 2019-2021 and 2021-2023 cycles, respectively on the WTC Points Table, their former skipper Joe Root is the leading run-scorer in WTC matches. He has accumulated 3575 runs in 42 matches with 11 centuries, the most in the competition. Australian batting ace Marnus Labuschagne is in second place with 3184 runs in just 32 outings and ten centuries to his name.
Meanwhile, it is a much more intense battle among the leading wicket-takers in the competition, with spinners claiming the top two positions in the list. Australian spinner Nathan Lyon finds himself at the top of the wicket-takers column with 139 wickets in 33 matches. Hot on his tail is veteran Indian offie Ravichandran Ashwin, who has accounted for 132 wickets in six fewer matches than Lyon. Pat Cummins, Stuart Broad and Tim Southee conclude the list.
WTC Winners & Runners List (2019-2023)
| | | | | |
| --- | --- | --- | --- | --- |
| Year | Winner | Won by | Runner Up | Venue |
| 2021-23 | Australia | 209 Runs | India | Kennington Oval, London |
| 2019-21 | New Zealand | 8 Wickets | India | Southampton |
WTC Winners List with Captain, Man of the Match
| | | | |
| --- | --- | --- | --- |
| Year | Winner | Captain | Man of the Match |
| 2021-23 | Australia | Pat Cummins | Travis Head |
| 2019-21 | New Zealand | Kane Williamson | Kyle Jamieson |
Most Wins in World Test Championship (WTC)
| | | |
| --- | --- | --- |
| WTC Team | WTC Trophy | WTC Winner |
| New Zealand | 1 time | 2019-21 |
| Australia | 1 time | 2021-23 |
Most Runs in World Test Championship (WTC)
| | | | | | | | | |
| --- | --- | --- | --- | --- | --- | --- | --- | --- |
| Player | Team | Mat | Runs | HS | BF | SR | 100s | 50s |
| Joe Root | ENG | 42 | 3575 | 228 | 6186 | 57.79 | 11 | 14 |
| Marnus Labuschagne | AUS | 33 | 3251 | 215 | 6016 | 54.03 | 10 | 14 |
| Steven Smith | AUS | 33 | 2748 | 211 | 5456 | 50.36 | 8 | 13 |
| Babar Azam | PAK | 24 | 2459 | 196 | 4326 | 56.84 | 8 | 15 |
| Ben Stokes | ENG | 35 | 2305 | 176 | 3845 | 59.94 | 6 | 10 |
Most Wickets in World Test Championship (WTC)
| | | | | | | | | |
| --- | --- | --- | --- | --- | --- | --- | --- | --- |
| Player | Team | Mat | Wkts | Avg | Eco | 4w | 5w | 10w |
| Nathan Lyon | AUS | 34 | 142 | 28.56 | 2.67 | 6 | 9 | 2 |
| Ravichandran Ashwin | IND | 27 | 132 | 20.03 | 2.55 | 8 | 6 | - |
| Pat Cummins | AUS | 30 | 127 | 21.53 | 2.71 | 6 | 4 | - |
| Stuart Broad | ENG | 28 | 112 | 23.25 | 2.96 | 6 | 3 | 1 |
| Tim Southee | NZ | 24 | 106 | 26.15 | 2.82 | 6 | 6 | - |
*Last Updated on 11th June 2023